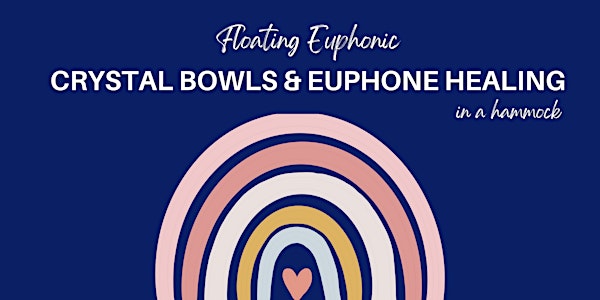 Floating Euphonic CRYSTAL BOWLS & EUPHONE HEALING in a hammock
Be the first to be lulled by mesmerising sounds from Euphone and Crystal Bowls into a peaceful and therapeutic state of being in a hammock
When and where
Location
Mindful Space 10 Winstedt Road #Block A, 02-02 Singapore, 227977 Singapore
About this event
Floating EUPHONIC ALCHEMY CRYSTAL BOWLS HEALING in a hammock
Date: 20 August 2022 (Saturday)
Time: 6:00pm - 7:10pm
Venue: Mindful Space
Energy Exchange: $55 - $58.69 (Eventbrite fees apply)
Self-Love and Self-Care are essential to maintaining balance. Looking after our physical, mental and spiritual wellbeing is what refreshes, rejuvenates and energises us so that we can move forward with our lives in a more balanced, harmonious way.
Come relax in your very own cocoon, enter a timeless space of listening and floating on a tapestry of specially tuned healing frequencies from the Alchemy Crystal Bowls and Euphone to allow healing energy to move through the body in a way that can help to gently release energetic blocks, reduces tension, stimulates circulation and also aids the relaxation of the conscious mind and achieves alpha and theta brainwave states that promote that deeper sense of relaxation.
You be the privilege group of being the first in Singapore to experience the enchanting and rich tones from Euphone which is a handmade unique friction activated free bar Sound Healing instrument. When combined with the divine transcendental sound vibrations from the Alchemy Crystal Bowls, they become a powerful, healing tool which will bathe our consciousness and allow us to reconnect with our true self.
Their sound is so pure that it is as if having a gentle deep-cleanse on a cellular level and an energetic massage from inside out. They facilitate DEEP REST & RESET for the nervous system, bringing us back into a state of vibrational alignment and harmony. This is the state we seek to achieve through meditation, that is necessary for healthy emotions, adrenal function, digestion, metabolism, intestinal & bladder function, blood pressure, heartbeat, & fluid balance in the body.
Not only is this a powerful way to integrate the ebbs & flows of the human experience, it is also a sound journey that guides us into ourselves and allows us to let go, tune in, unwind, recalibrate, and be held in the present moment. There is no "right way" to do this, no striving, nothing to achieve. A rare opportunity for you to show up exactly as you are and simply Be.
Come discover an out-of-this-realm experience just by relaxing inside a hammock. It allows you to release and renew! It will be like nothing you've ever tried before, a truly musical medicine that awakens and heals the spirit!
Benefits of Sound Healing:
• Deeply relaxing
• Reduced tension, stress, anxiety & depression
• Boosts your health
• Supports mental, emotional & spiritual well-being
• Helps clears energetic blockages
• Improves quality of sleep
• Deeper states of consciousness
• A chance to recharge
• Improved sense of Self-awareness
• Lower blood pressure
• Improves mental clarity and brain functioning
• And many more…
All are welcome! Come with an open mind and heart and no experience in mediation is required.
Space is limited, book early to avoid disappointment.
You can DM me directly to make a booking. (No Eventbrite fee and payment can be made through PayNow)
Come in comfortable attire and refrain from wearing clothes with zip and sharp or pointed jewelry/accessories that may damage the hammock.
You are highly recommended to bring your own eye pillow, blanket, jacket or/and cushion in order to thoroughly enjoy the session in total comfort.
The space will be sanitised before and after the event and sanitising spray and hand gel will be available. Please do not attend the class if you are feeling unwell.
Do read through and observe the venue guidelines. Arrive at least 20 mins earlier prior to the session and latecomers will be rejected from attending the session once it starts.
This session will be held at Mindful Space. Address: 10 Winstedt Rd, Block A 02-02, Singapore, 227977 (Beside ACS Junior or Newton MRT).
Direction to Mindful Space will be provided in the order confirmation email.
Minimum 5 to run.
By Sound Therapist Wendy Lum
(FACEBOOK): www.facebook.com/wenyogaheal
(INSTAGRAM): www.instagram.com/wenyogaheal
IMPORTANT NOTE:
All Wenyogaheal Sound Bath / Sound Healing sessions indoor will be MASK ON.
There may also be constant changes to the Covid-19 safe management regulations depending on Government announcement and the Covid -19 situation then. We will adapt and change the safe management regulations accordingly and we seek your kind cooperation to adhere to them.
If you have any questions, you are welcome to email to hellowenyogaheal@gmail.com or direct message through Instagram or Facebook.