How To Make Kid's Gift Box Arrangement
About this event
Warmest Greetings from Flower Frenzie😊🌸..
Release your flowerista potentials at our Flower Wizardry Class! .. to create a
Kid's Gift Box Arrangement
19 December 2020, 10.00-12.00pm, Saturday 🌻
✨ 🧚🏻‍♀ 🧚🏻‍♂ Learn how to unleash your magical potentials to create floral arrangements like us! 😊🌸🧚🏻‍♀ 🧚🏻‍♂✨
Only RM109 per person 🤗🌸
Don't miss this chance. Seats are limited. Grab your opportunity now!
🏃🏻‍♀ 🏃🏻‍♂ 💨
KaBLOOM with us at Flower Frenzie cause "Your Flowers.. Our Passion"
Hey there!
Want to know and learn more about the types of FLOWERS, necessary tools & materials that are needed to make your OWN FLOWER ARRANGEMENT?
Increase your creativity while enhancing your talent and also get to learn how to earn EXTRA INCOME with it too? If your answer is YES! Then..
RELEASE your FLOWERISTA POTENTIALS at our 1/2 DAY MAGICAL FLOWER CLASS CONDUCTED by our EXPERIENCED FLOWERISTAS and you'll get to BRING HOME YOUR OWN FLORAL CREATION too!!
Hai Semua!
Ingin mengenali dan belajar lebih lanjut tentang jenis-jenis BUNGA, alatan & bahan yang digunakan untuk membuat sesuatu GUBAHAN BUNGA?
Ingin tingkatkan kreativiti diri dan mempelajari kemahiran gubahan bunga sambil menjana PENDAPATAN SAMBILAN? Sekiranya anda menjawab YA! Maka..
TUNJUKKAN POTENSI BAKAT FLOWERISTA anda di KELAS GUBAHAN BUNGA MAGIKA kami yang akan berlangsung selama 1/2 HARI yang akan dikendalikan oleh FLOWERISTA kami yang BERPENGALAMAN, dan anda juga bakal MEMBAWA PULANG GUBAHAN HASIL KERJA TANGAN anda SENDIRI!
WHAT WILL YOU MISS OUT IF YOU DON'T JOIN THE CLASS?
Lose out on a GOLDEN OPPORTUNITY to gain floral arrangement skills that you never knew you had!
Lose out on the opportunity to earn EXTRA INCOME that can potentially increase your annual earnings!
Lose out on the chance to become a KA-BLOOM FLOWERISTA like us! ;)
APA AKAN TERJADI JIKA ANDA TIDAK MENYERTAI KELAS INI?
Terlepas PELUANG KEEMASAN untuk mencungkil bakat terpendam menggubah bunga yang mungkin ada pada diri anda!
Terlepas peluang untuk memperolehi PENDAPATAN SAMBILAN yang mungkin mampu menambahkan pendapatan bulanan anda!
Terlepas peluang untuk menjadi FLOWERISTA KA-BLOOM seperti kami! ;)
WHO SHOULD JOIN?
Suitable for LADIES and MEN!
Open to all ages (18 years and above).
Especially for graduates from school and university, housewives, and retirees that are looking for their time to be filled or for those that want to generate extra income by applying their hard skills to become a florist.
SIAPA PATUT SERTAI KELAS INI?
Sesuai untuk LELAKI dan WANITA
Tidak mengira had umur (18 tahun ke atas)
Lepasan Graduan Sekolah
Suri rumah tangga
Pesara yang ingin memenuhi masa lapang
Pekerja yang ingin mencari "EXTRA INCOME"
WHY IS IT IMPORTANT TO JOIN THIS CLASS?
Housewives, retirees, university graduates and SPM leavers can have FUN & SPEND THEIR FREE TIME in this class.
Able to MAKE YOUR VERY OWN FLORAL ARRANGEMENT that will be MUCH APPRECIATED by the receiver, especially your loved ones.
KENAPA PENTING BAGI ANDA UNTUK SERTAI KELAS INI?
Dapat MENGISI MASA LAPANG SEHARIAN anda terutama kpd suri rumah / pesara dan pelajar lepasan universiti dan SPM.
Boleh menghasilkan GUBAHAN BUNGA sendiri yang LEBIH DIHARGAI oleh penerima dan orang tersayang.
ALL PAYMENT MAY BE TRANSFERRED ONLINE TO
FLOWER FRENZIE MAYBANK ACCOUNT NO. 5144-95106-134 LATEST BY 19 DECEMBER 2020.
THEREAFTER, SIMPLY EMAIL US AT FLOWERISTAACADEMY@GMAIL.COM WITH :
1) PROOF OF PAYMENT IN ORDER TO RESERVE YOUR SEAT.
2) APPROACHABLE CONTACT NUMBER
THANK YOU.. "YOUR FLOWERS..OUR PASSION"
PEMBAYARAN BOLEH DILAKUKAN SECARA ONLINE KE AKAUN
MAYBANK FLOWER FRENZIE NO. 5144-95106-134 SELEWAT-LEWATNYA PADA 19 DECEMBER 2020.
SILA EMELKAN BUKTI PEMBAYARAN KE FLOWERISTAACADEMY@GMAIL.COM UNTUK MENEMPAH TEMPAT ANDA.
TERIMA KASIH.. "YOUR FLOWERS..OUR PASSION"
ANY FURTHER ENQUIRIES MAY BE CONTACT TO THIS NUMBERS:
FLOWER FRENZIE ADMIN: 0326816553/ 0182563055
ZELDA : 0122926554
AZMIR: 0122926553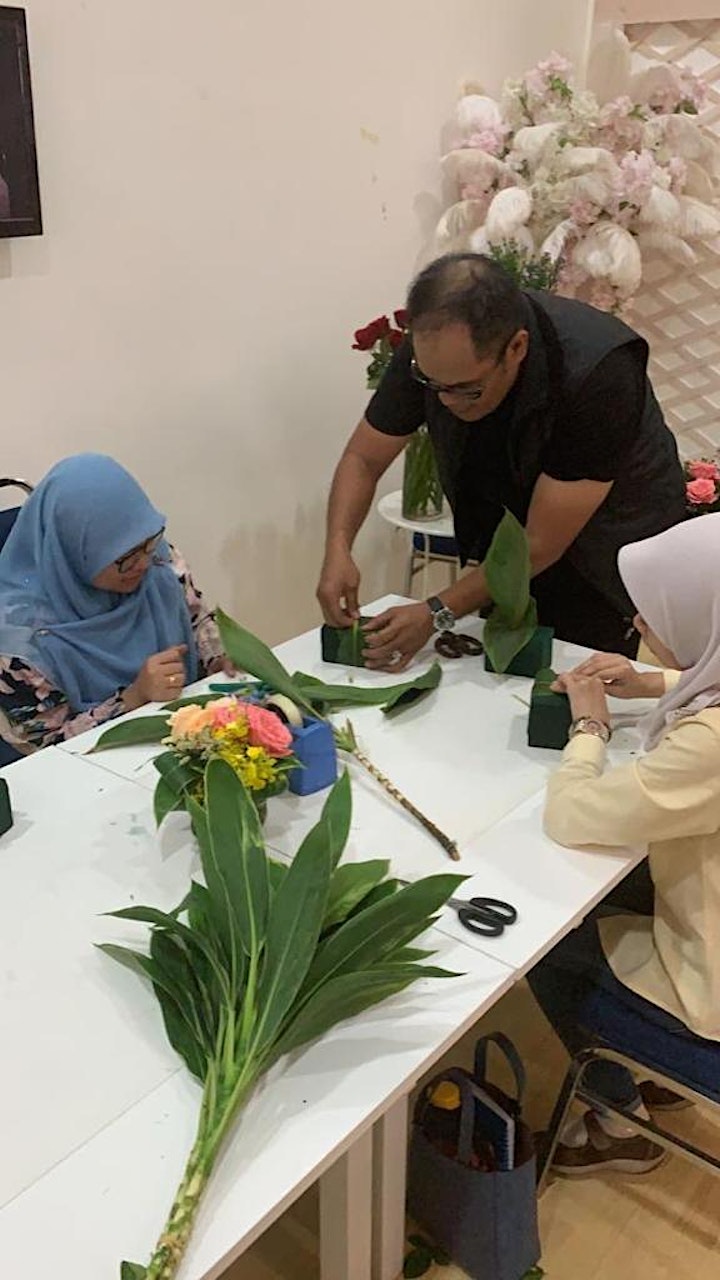 ABOUT OUR PRIME FLOWERISTA
Hashimuddin bin Mohd Yusop or fondly known as Sham, has vast experience in the world of floral arrangement and has been in the industry for 28 years.
He had started his career in the floristry industry as a Florist Helper in Shangri -La Hotel Kuala Lumpur back in the early 90s, and had since then worked his way up working in the floristry line in other 5-Star hotels in Kuala Lumpur namely Sheraton Imperial Kuala Lumpur, as a Senior Florist. He had then worked with a re-known florist company and had gain vast experience in creating many floral arrangements during many uncountable large grand events at the hotels as well as at other venues such as the Istana Negara and Istana Kuala Kangsar.
He had headed many florist team in creating floral arrangements for many large corporate functions and weddings held at many 5-star hotels and private residences.
Other than that, Sham had also experience in creating and arranging weekly floral arrangements for many couture boutique such as HERMES, CHOPARD, TIFANNY, THE CARAT CLUB AND CARTIER.
Sham had also participated in a few floral education and international seminar held by the AMERICAN INTERNATIONAL FLORAL DESIGNER (AIFD) - MALAYSIA and AMTROL FLOWER DESIGNING (Branch of Tezuka Yuko Flower Designing School, Japan).
He had won the third price – bronze medal.- artificial flowers category during participation in competition for floral fest held by Perbadanan Putrajaya at Putrajaya.
At present, Sham is the Chief Florist cum Creative And Operations Director of Flower Frenzie and is responsible for the overall creations and designs for the hotel floral arrangements, namely HILTON KUALA LUMPUR, DOUBLETREE BY HILTON, ALOFT SENTRAL, PREMIERA HOTEL, PULLMAN KLCC, INTERCONTINENTAL KUALA LUMPUR, SHERATON IMPERIAL KUALA LUMPUR, BERJAYA TIME SQUARE HOTEL, LE CHATEAU - BUKIT TINGGI and others, with the help of our dedicated flowerista team.
He is also currently overseeing operations and creations of corporate and office weekly floral arrangements, namely at PETRONAS at the Menara Berkembar KLCC, PNB, The Singapore High Commission, Bloomberg and many more.