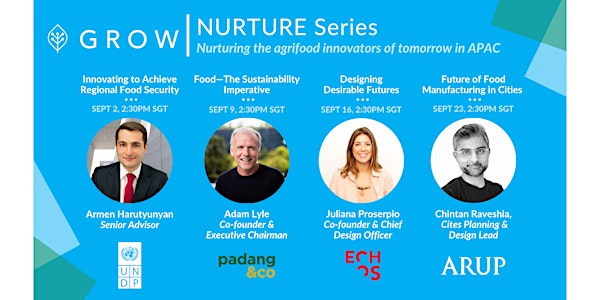 Food—The Sustainability Imperative (Padang & Co) | NURTURE Series by GROW
Talks delivered by 4 thought leaders from UNDP, Padang & Co, Echos, and Arup to expand your thinking about agrifood innovation.
About this event
What does the road towards regional food security in APAC look like? What drivers of change and technologies will get us there? What mindsets and skills do we need to foster to meet the UN's Sustainable Development Goals? How should we design and think systematically about innovating for the future of agrifood?
In GROW's NURTURE Series, four thought leaders from the UNDP Global Centre for Technology, Innovation, and Sustainable Development; Padang & Co; Echos; and Arup will deliver talks to share their insights on these questions and more. The talks aim to support agrifood innovators in APAC and inspire entrepreneurs to help shape a more sustainable, resilient, and innovative food system. Each talk will be followed by a moderated Q&A.
This event page is for the second talk of the NURTURE Series—Food—The Sustainability Imperative by Adam Lyle (Co-founder & Executive Chairman at Padang & Co.)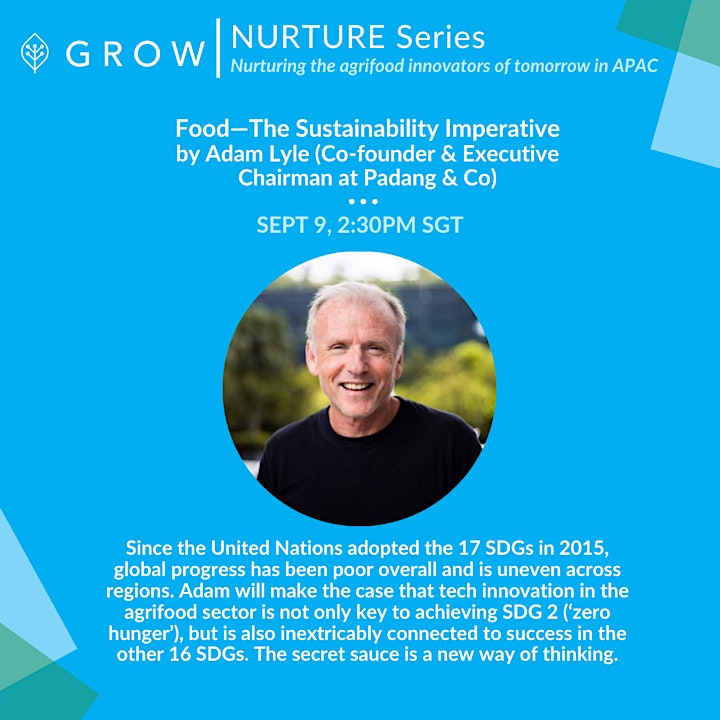 About Adam:
Adam is the co-founder and executive chairman of Padang & Co, an innovation catalyst started in 2012. Padang drives the adoption of open innovation practices, matching startups and MNCs to enhance innovation capabilities, solve problems, and develop new opportunities. Padang also designs, develops, and manages enterprise-led and industry focused innovation hubs. A sustainability practitioner and innovation specialist, Adam is passionate about the role that the AgriFood Tech sector can play in achieving the SDGs by 2030. To this end, Padang launched thecountdown2030.com to track and stimulate conversations and drive meaningful activity in pursuit of the goals.
Sign up for the other 3 talks in the NURTURE Series:
Innovating to Achieve Regional Food Security by Armen Harutyunyan (Senior Advisor at UNDP)
Sept 2, 2:30pm SGT
What does a roadmap towards regional food security look like? Armen Harutyunyan explores different perspectives of the roadmap towards regional and national food security in Singapore and beyond. He'll also discuss key drivers of change and how technologies in digital farming, supply chain management, and alt. protein will help us achieve global food security.
____
Designing Desirable Futures by Juliana Proserpio (Co-founder & Chief Design Officer at Echos)
Sept 16, 2:30pm SGT
Learn how to design desirable futures and influence ecosystems from a systemic perspective. When thinking about design, Juliana Proserpio shares how we need to use the values of empathy, collaboration and experimentation to engage and invite the ones who are part of the ecosystem to be co-creators and influencers of change.
____
Future of Food Manufacturing in Cities by Chintan Raveshia (Cites Planning & Design Lead at Arup)
What does a self-sufficient food manufacturing city look like? Chintan Raveshia, Cites Planning & Design Lead at Arup, envisions what urban food manufacturing looks like in cities and shares the frameworks Arup has built as smart city planners for major cities like Singapore. His talk will present future scenarios of food industrial estates and ask the tough questions required to build urban food manufacturing hubs.
____
The NURTURE Series is organized by GROW, Singapore's first agrifood tech impact accelerator backed by AgFunder, one of the most active agrifood tech VCs in the world. Keep up to date with GROW events and join our GROW community here.