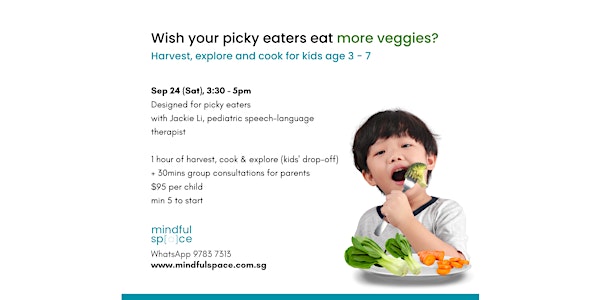 For Picky Eaters: Mighty Food Explorers age 3 – 7
For Picky Eaters: Mighty Food Explorers age 3 – 7
When and where
Location
Mindful Space 10 Winstedt Road Block A, 02-02 Singapore, 227977 Singapore
About this event
Mighty Food Explorers
Do you have a picky eater at home? Children demonstrate food selectivity for a variety of reasons. They are not "picky" just because they are being difficult or stubborn. Picky eating can result from factors like a history of negative oral experiences, sensory-processing differences, or oral-motor issues.
In Mighty Food Explorers, children will participate in a hands-on cooking session to expand their food repertoire. They will learn about new foods through food play, and work through a series of sensory steps towards accepting non-preferred foods.
Participating in a group setting means there is a bonus of positive peer influence to try new foods! We want our children to willingly try new foods because they are genuinely curious about them.
Parents will have a chance to learn from Jackie tips and strategies for raising a more adventurous eater, as well as to ask questions pertaining to picky eating in the group consultation segment.
Theme: Vegetables!
This session is designed for children age 3 – 7 who:
Are selective/picky eaters
Have to have foods "just right"
Won't try new foods
Are fussy/resistant during meal times
Date, Time & Rate
Sep 24 2022, Saturday
3.30pm-5pm
60mins of food exploration (harvest, explore and cook)
+ 30mins of group consultation for parents
with Jackie Li, pediatric speech-language therapist
$95 per child (Jackie Li's rate for private food therapy session cost $180)
minimum 5 to start
Note
Bring a small food container
Non-halal and gluten-free
Food exposed leafy greens, carrots, beans, butter, salt, anchovies, soya sauce
In the registration, update us
what are your child's non-preferred foods.
how much cooking experience your child have at home (none, not much, sometimes, often)
Dietary restrictions / allergies
About Jackie
Jackie has 12 years of experience working as a paediatric speech language therapist ​in clinical and classroom settings. Jackie believes that children learn best in a fun and meaningful setting. She has experience in working with children ages 0 to 7 of varying learning needs, including autism spectrum disorder, global development delays, speech sound disorders, oral-motor weakness, apraxia, language disorders, picky eaters, swallowing disorders, as well as children who require alternative modes of communication.
Jackie is trained in Sensory Oral Sequential Approach to Feeding (Basic and Advanced). SOS Approach to Feeding is the only results-driven feeding program with 30 years of proven clinical experience helping children learn the skills they need to eat well. As an advocate of respectful discipline, she strives to influence parents and educators to treat children with love and respect. Her feeding therapy sessions are designed with one goal in mind: for children to have a positive experience with food.
Armed with the knowledge she has gained from SOS, Jackie created Little Food Explorer, an online course for Singapore parents to understand why their children are picky with food, and more importantly, to learn tips and strategies in raising a more adventurous eater.
Mindful Space
97837313
https://www.mindfulspace.com.sg/