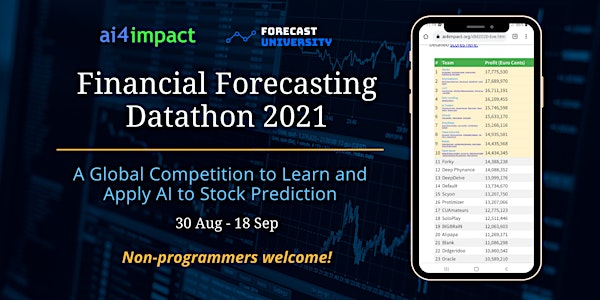 FORECAST UNIVERSITY Financial Forecasting Datathon 2021
A Global Bootcamp and Competition to Learn and Apply AI to Stock Prediction (https://www.ai4impact.org/financial-forecasting-datathon-2021)
Refund Policy
Contact the organiser to request a refund.
Eventbrite's fee is nonrefundable.
About this event
HOW TO BUILD AI TO FORECAST FINANCIAL MARKETS?
In this Datathon, you will play a role as a financial trader.​
You will learn neural network techniques for forecasting, build your own deep learning models, and deploy your models to run live predictions of globally traded company stocks.
The top teams who generate the most profitable models will stand a chance to become AI4IMPACT FORECAST UNIVERSITY FINANCIAL FORECASTING DATATHON 2021 GLOBAL CHAMPION.​
All are Welcome! No Programming Background Required to Participate.
WHAT WILL YOU GET?
LEARN HOW TO BUILD YOUR OWN AI FORECASTING APPS: You will learn AI concepts and apply them immediately to build actual forecasting applications. This is a great way to boost your CVs and portfolio.
DIRECT MENTORSHIP FROM GLOBAL AI EXPERTS: Learning alone can be daunting. That's why our AI Experts will directly mentor you from Day-1.
YOUR OWN AI DEVELOPMENT PLATFORM FOR FORECASTING: We will provide you tools and compute facilities so you can start building and launching your own forecasting apps on Day-1.
ACCESSIBLE TO NON-PROGRAMMERS: If you've never done any computer coding before, good news! We designed this bootcamp specifically  for those without programming experience!
WHAT IS YOUR LEARNING JOURNEY?
LEARN (30 August - 5 September): Self-Paced Learning and Mentorships from AI Experts
DO (6 - 12 September): Build your own financial forecasting models using real-world financial datasets. AI4IMPACT Experts provide online mentorship and masterclass
CONTEST (13 - 17 September): Submit a 5-minute video detailing your approach by 17 July 2020. Your models will be used to trigger virtual stock trades. The top 8 teams with the highest profits will be invited to proceed to the Finale.
CONTEST (13 - 17 September): Submit your models and whitepapers. Your models will be used to trigger virtual stock trades. The top X teams with the highest profits will be invited to proceed to the Finale.
FINALE (18 September): The top X teams will present their solutions to a panel of expert judges. The top 3 teams will be declared as FORECAST UNIVERSITY - FINANCIAL FORECASTING 2021 CHAMPION.
WHAT WILL I ACHIEVE AT THE END?
Championship Certificate: for the top 3 Datathon winners
Certificate of Excellence: for the finalists who showcase great results, based on expert judges' discretions
Certificate of Completion: for all teams who beat the persistence benchmark during the contest stage
Frequently Asked Question (FAQs)
​Q: I have no knowledge of programming. Can I still participate? Yes! The Datathon is accessible to non-programmers. No prior programming experience is needed. Learn and apply the concepts taught and work hard to get a good solution.
Q: Do I have to set up / install anything for the Datathon? Everything will be accessible through your internet browser (Firefox or Chrome).
Q: Where is the competition held? On the Internet :)
Q: What is the objective of the Datathon? We want you to learn practical AI concepts and immediately apply them in building an end-to-end AI prediction application in the area of finance
Q: Can I use external tools or frameworks during the Datathon? No. ​To ensure fairness, we need to ensure the AI models submitted are their own creation and not using any ready-made models. We want all participants to experience the end-to-end process of AI development from data to deployment.  
Q: How large can my team be? You need to register in a team of 3 - 5 members. This Datathon is an intense program with lots to learn. You are strongly encouraged to sign up as a group.
Q: Can I submit multiple models during CONTEST stage? Each team should submit just one model for the Datathon. However, you are encouraged to tweak your model as the competition progresses.
Q: Do I need to be at a university to join? This competition is open to anyone. Register to learn and compete.
About ai4impact
ai4impact's mission is to help everyone, regardless of age or background, learn AI and build applications. Since its launch in 2019, we have successfully helped 1500+ non-programmers develop useful AI solutions.
We believe AI can help change our lives for the better, and everyone -- yes, that includes you, dear reader! -- should be able to utilize this amazing technology for social good.
If you have any questions, contact us at ai4impact@gmail.com