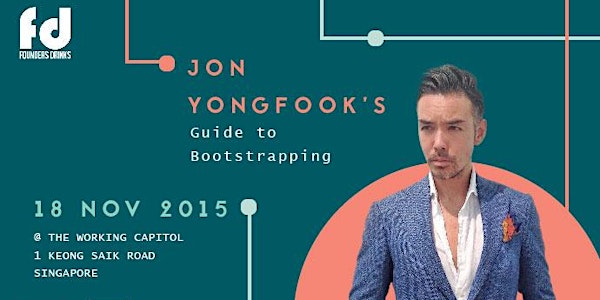 Founders Drinks November: Jon Yongfook's Guide to Bootstrapping
When and where
Location
The Working Capitol 1 Keong Saik Road Singapore, Singapore 089109 Singapore
Description
Founders Drinks November:
This Founders Drinks, we are welcoming serial entrepreneur Jon Yongfook to the Founders Drinks community. He is someone who knows and understands the true definition of what #startuplife really is - having founded/worked for/advised/mentored startups for the last 15 years. Come and learn from Yongfook's experiences in the best practices in bootstrapping, hiring, equity, business models and more. Who knows, you may just get a clearer insight into your very own journey.
About the topic:
In 2013 Yongfook built a software business while working from the beach, with no outside funding. The business grew over the next 2 years, and now he is using the profit from that software business to bootstrap a hardware business. Learn how he did it, the dos and don'ts, and why he think bootstrapping is the best way to get any business going.
About the speaker:
Jon Yongfook is an entrepreneur based currently in Singapore but is really a man of the world. He most recently founded Beatrix, a social media content marketing SaaS. Previously, Yongfook was Director (web) at Japanese e-commerce flash sales site Glamour Sales and Product Director (International) at Cookpad. Yongfook also launched Open Source Food in 2007, a recipe-sharing social network with an advertising-based revenue model which was acquired in 2009.
---
About the event:
Date: 18 November 2015 (Wednesday)
Time: 7:00 PM – 9:00 PM (Registration opens at 06:30 PM)
Venue: The Working Capitol
Address: 1 Keong Siak Road, Singapore 089109
Cover: $10.70 (Pre-registration) / $20 (At-the-door) (Includes FREE BOOZE)
---
Sponsors:
DBS BusinessClass
DBS BusinessClass is a programme connecting SMEs and start-ups to the brightest business masterminds in Asia and around the world. Entrepreneurs can consult industry experts, investors, fellow entrepreneurs and DBS SME Specialists via the DBS BusinessClass mobile app. Since its launch in October 2014, more than 10,000 SME owners and entrepreneurs have signed up as members, tapping on the expertise of 45 seasoned industry veterans.

Download the DBS BusinessClass App and get a free drink on us! (Limited to the first 20)


The Working Capitol
The Working Capitol is a community workspace redefined. A hybrid of open co-working spaces, private offices, events space, and a café, it is a multifaceted destination targeting the burgeoning trend of knowledge-based entrepreneurs looking for environments that reflect new ways of working and developing your business.
Housed in a reformed 1920's biscuit factory on Keong Saik Rd, The Working Capitol's members operate across the creative and tech spheres - innovative in their approaches and seeking flexible lifestyles.
Book a tour to find out more about becoming a member.
---
About Founders Drinks
Founders Drinks is a monthly social networking event organized by e27 for the tech startup community to promote networking and knowledge sharing. We invite speakers to talk about challenging topics in the technology, startup space.
You will find passionate entrepreneurs, developers, and investors kicking back with a drink and sharing their success and failures stories at Founders Drinks. This is where friendships and partnerships are struck.
Whether you're new to the tech startup space or an industry veteran, there's always something and someone new to meet at Founders Drinks.
For more information on sponsorship packages and how your brand can be involved, please contact our Business Development team at sponsorships@e27.co.