| | |
| --- | --- |
| FREE 1-to-1 Coaching for Aspiring Traders | |
Event Details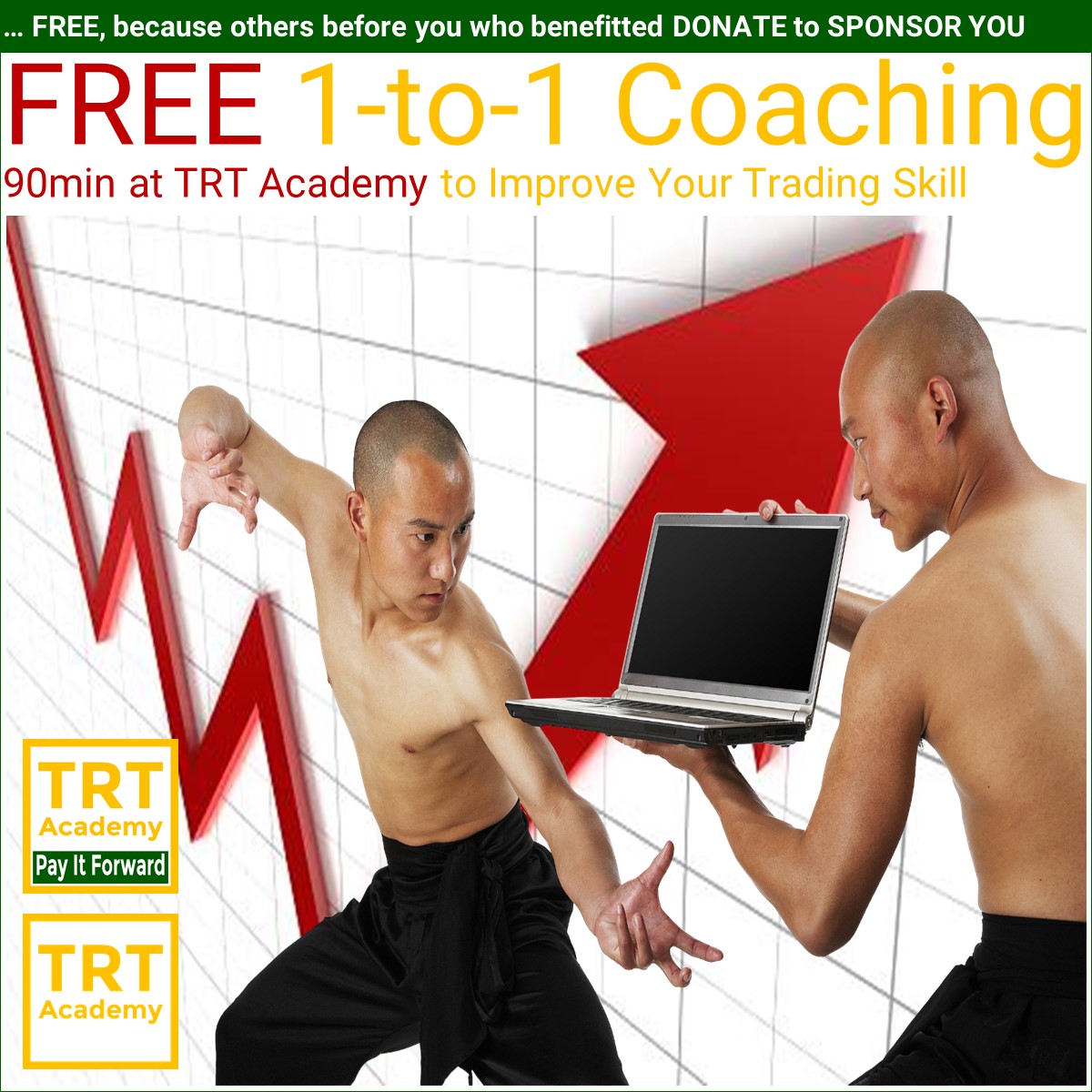 Many aspiring traders begin their trading journey, either by DIY learning from publicly-available information online, or by signing up an expensive mass-market "3-day-2-night" get-rich-quick trading course. But after 1 month… 5 months… 1 year… 3 years... they are still not really making money from their trading. Some even bust their trading accounts, and lost their initial trading capital. 
Are you one of them?
Do you know why your trading is not making money?
If you are really committed to trade more successfully,.. and if you are willing to make the time and the effort to practice, practice and practice to achieve skill mastery,.. then we want to invest our time and effort to make you a more successful trader!
Thomas SAW, he has been freely imparting his trading skills and experiences to help private traders trade more successfully for more than 10 years. 
He had already achieved financial independence by his late-30s through trading options and stocks, then later also forex and futures, part-time during his after-work hours. And he finally retired from regular full-time employment in early 2000s, shortly after his 40something birthday, to fully enjoy his financial freedom.
Since then, between holidaying with family and continuing to trade part-time for a few hours every week, Thomas SAW has devoted most of his time embarking on a personal mission to champion good-quality education for private traders. He believes continuous learning is key to achieving success in trading skill mastery, thereby leading to financial freedom.
This is a genuine coaching clinic with real, actionable advice.
 Course Preview 
 Sales Presentation 
 "Get-Rich-Quick" Programme 
 Bullsh*t to Waste Your Time
Book your FREE 1-to-1 Coaching Clinic now!
What's the "catch" for this FREE lobang?.. Absolutely Nothing! We just want to attract your attention, and to visit TRT Academy's NEW City Learning Centre. :-)
When & Where

at TRT Academy City Learning Centre
5 Purvis Street
Talib Court, #02-07
Singapore, 188584
Singapore

Organiser
TRT Academy
TRT Academy was founded by Thomas SAW in 2009 to provide a community environment for aspiring traders to receive good-quality education, peer support from other fellow traders, and coaching from successful practing traders.
TRT Academy is not a profit-oriented business. As practicing traders, we are making our money from trading. Not from providing trading education. We collect a fee from you for atteding some of our higher-value programmes, as a gesture to ensure that you are really committed to attending and learning. Your fee is a contribution towards the operational expenses to maintain the facility and the infrastructure for all your "LIVE" market learning sessions. And our "Extended Learning Support & Re-Attending of the Same Programme" policy will ensure that your skillset is always kept abreast with the changing market conditions.
As practicing traders, we strongly advocate that trading is a skillset best learnt by hands-on practice, practice and more practice to achieve mastery. The best learning environment for practicing trading skills is the dynamic conditions of real markets. As such, 80% of all our education programmes are "LIVE" market learning sessions, conducted during regular US market hours. And we intentionally maintain small class size, so that you will receive all the personal attention you deserve and need to excel in your learning.
FREE 1-to-1 Coaching for Aspiring Traders