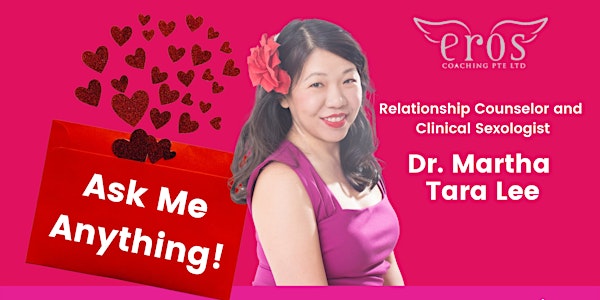 FREE A.M.A. Ask Me Anything! – Dr Martha Tara Lee
In this FREE informal virtual Ask-Me-Anything session, you get the chance to ask Dr Martha Tara Lee
About this event
This session will be interactive, intimate, and personal.  There is an emphasis in maintaining safety and confidentiality, as well as in all present being non-judgmental, respectful of others, and thinking of others in their best light possible.
Do submit your questions if you prefer before the session as I can make sure I get to them! :)
All sharing and emotions are welcomed. Do note this is not a replacement for psychotherapy or intensive therapy.
Some commonly asked questions have included:
Is there such a thing as female ejaculation?
Is it normal to masturbate?
How often should couples have sex?
… What is your question?
Why Ask Martha?
Four degrees: Doctorate in Human Sexuality; Masters in Counseling; Masters in Public Policy & Management; Bachelor of Arts (Communication)
Related training: Certificates in Practical Counseling; Life Coaching, and Sex Therapy
Author of four books: Love, Sex and Everything In-Between; Orgasmic Yoga; From Princess to Queen; and {Un}Inhibited
Creator of several online programs: Ready, Get Sex, Go; Sex Possible; Sex Jumpstart; Tongue Twisters; Clean and Clear; Make Love Week; Sex & Sexuality 101
12 years of experience coaching more than 1,300 individuals and couples combined face-to-face, as well as at least another 4,000 people over 450 events (lost count really!)
Date: Monday 14 February 2022
Time: 7:30 – 9:00p.m. Singapore Time (Latecomers will be locked out of the session. Recording available for 30 days for registered attendees)
Fee: Free
Venue: Online via Zoom
For more information, https://www.eroscoaching.com/events/free-a-m-a-ask-me-anything-relationship-counselor-clinical-sexologist-dr-martha-tara-lee