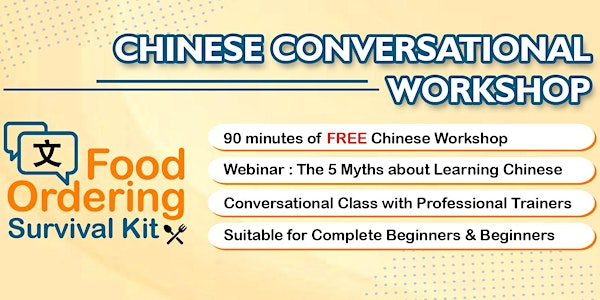 FREE Chinese Conversational Workshop
Chinese Conversational Workshop - Completely FREE! Suitable for Complete Beginners & Beginners.
About this event
Save the Date!
✨90 Minutes of FREE Chinese Workshop✨
📅 Fri, 5 Aug 2022
⌚ 7-8:30PM
💻 Online via Zoom
Registration: https://www.elitelinguistic.com/food-ordering-survival-kit-workshop/
==========================================================
Webinar: The 5 Myths about Learning Chinese
Chinese is well-known to be one of the most difficult languages in the world, especially the tones and the Chinese characters.
Is it always true? Are there things that are easier compared to other languages?
With more than 10 years of experience teaching Chinese, Weina Laoshi will share with you some common misconceptions about learning Chinese and how one should approach learning this language.
In the 2nd half of this workshop, break out into small groups and learn about how to order food in Chinese. With the guidance of Elite's experienced trainers, you will pick up vocabularies and simple expressions to order your first dish in Singapore.