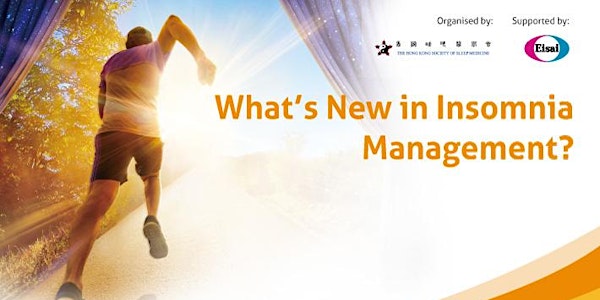 FREE COURSE: What's new in Insomnia Management? Acquire 0.5-2.00 CME Points
Acquire 0.5-2.00 CME Points from this FREE module The goal of this activity is to update doctors on the management of insomnia.
When and where
Location
Hong Kong 37th Floor, Citicorp Centre, 18 Whitfield Rd Causeway Bay, HKI Hong Kong
About this event
MIMS EDUCATION: What's New in Insomnia Management? FREE 0.5-2.00 CME POINTS
The information contained on this site is intended for Healthcare Professionals only. Insomnia is a prevalent and persistent problem that is closely linked with common mental disorders such as anxiety and depression.1 This course will discuss management of the sleep disorder with particular focus on lemborexant, a dual orexin receptor antagonist used in the treatment of insomnia.​
IMPORTANT INSTRUCTION:
This is an online module. For interested HCPs, it is a must to enroll in this link to access the module: https://bit.ly/MIMSEducatiocation_InsomniaManagement
EARN MIMS POINTS with every enrollments and redeem exciting rewards! For more info about MIMS Points, please visit: ​https://education.mims.com/hk
A certificate can be downloaded upon successful completion of the quiz. Please use the information on the certificate to claim your CME points.​
Learning outcomes​:
The goal of this activity is to update doctors on the management of insomnia. Upon completion of the educational activity, healthcare providers should be able to:​
Understand the current disease landscape of insomnia and unmet needs in Hong Kong​
Outline the available treatment options for insomnia including both pharmacological and non-pharmacological interventions​
Learn about the pharmacodynamics of lemborexant and its use in the treatment of insomnia​
Prescribe lemborexant to suitable patients or switch appropriate patients from other medications to lemborexant​
Topics covered​
The current landscape of insomnia and unmet needs in Hong Kong​
An overview of management options used for insomnia​
Mechanism of action of lemborexant​
Key efficacy and safety data of lemborexant from clinical trials​
Profiles of patients for whom lemborexant treatment may be appropriate​
Switching patients from other medications to lemborexant​
Case studies of patients with insomnia​