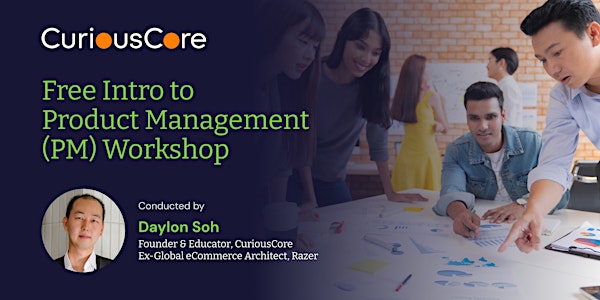 Free Intro to Product Management (PM) Workshop
Learn the fundamentals of PM by joining CuriousCore's Free Intro to Product Management (PM) Workshop conducted by our founder Daylon Soh
About this event
Step into the world of Product Management with Daylon Soh, ex-Global eCommerce Architect at Razer.
In 1 hour, understand the basics of Product Management and how good product management teams can help a business grow and adapt to an ever-changing market. Find out more about some of the processes taken by Product Managers as they work to understand the users' needs and how they ideate to create new products to meet those needs.
WHO IS THIS FOR?
Team leads in IT, marketing, strategy, innovation, product and business transformation projects working on product cycles
Business owners or startup entrepreneurs
Individuals looking to move into a Product Management role
Product Managers
Designers, developers. and consultants delivering products and services
WHY DO I NEED TO ATTEND THIS DURING COVID-19?
You have a desire to scale your business or career and think improving and building a digital experience is the answer
More businesses and companies who are building up their digital solutions are still hiring during this period
Facilitated by a practitioner who has ex-students (freelancers to employees) thriving and applying skills taught
Network with other like-minded professionals after the class