FREE FOREX TRADING WEBINAR SERIES 2022 BY GLOBAL MARKETS ERUDITIO - DAY 1 - FOREX BASICS
About this event
We are pleased to invite you to be part of the GME Family and have access to our FREE FULL-COURSE FOREX TRADING WEBINAR SERIES happening from January 26 to February 04, 2021.
This event is a six-day Forex webinar and is sure to bring quality market education to participants. During the six-day webinar, you will explore global market opportunities and effectively learn the following courses:
One registration per day per person is required to be included in our list of attendees. Don't forget to register for the rest of the webinar schedules!
What will I learn on Day 01
Introduction to Forex Trading?
This webinar will highlight how we can take advantage of the global markets in the timeliest approach. Specifically, we will learn about the basic and necessary realities in Forex trading with the following topics:
✅ Important concepts in currency trading.
✅ The terminologies you need to know and understand before trading.
✅ The general rules of Forex trading.
✅ The market structure and the role of the broker.
✅ The currency pair explained.
✅ Forex market features.
✅ Truths and myths of volatility and liquidity.
✅ Market risks and profit potential.
About the Event Speaker
Our speaker is our very own Founder and CEO, Ms. Sachie Mitsui Turiano. She is also a Forex educator, trader, an economist, a former member of the Philippine Stock Exchange, Inc. team of the Corporate Planning, Research & Investor Relations Division, and the former Head of Research and Currency Strategist of Alpari Group Philippines (Research and Analytics). She was featured for market insights by some of the biggest and known reliable media channels for market information, Bloomberg Philippines , BusinessWorld and ANC, and we are lucky to have her conduct this all-out five-day webinar for our clients.
How do I get access to the webinar for FREE?
In order to have access to this six-day webinar for free, each participant must have a live account with any of our recommended brokers with at least a minimum trading capital of 100 USD.
NOTE: This amount will SERVE AS PART OF YOUR TRADING CAPITAL and NOT AS PAYMENT for any webinar fees. We only have limited slots for this event, and we put priority on our clients who have their funded live trading accounts with us.
Non-account holders and non-funded account holders will only be given access for DAYS ONE(1) and TWO(2). Only clients with at least 100 USD on their live trading account with any of our recommended brokers will be given access for the complete 6 days.
If you wish to receive playback, please register with your trading account email address, ensure to have at least $300 of net deposit on your trading account and must have completed the 6-day webinar series.
Don't have an account yet? Contact us at our Facebook Page and an account manager will readily assist you.
Global Markets Eruditio believes that market education must come first, and we are here to bring you the quality education you deserve for showing commitment in this given opportunity. So, what are you waiting for?
REGISTER NOW while slots last and we'll see you there!
FREQUENTLY ASKED QUESTIONS (FAQs):
1. How do I access the webinar?
Upon registration, you will receive a Zoom link with a password that only registered participants can use for each booked date. This will be your access to the webinar.
2. Do I need to register for each webinar to get a ticket?
Yes, you must register separately for each webinar date. This is to for you to receive the individual Zoom links and passwords for each booked webinar. Please do not forget this reminder.
3. What is the schedule of discussions for each covered topic?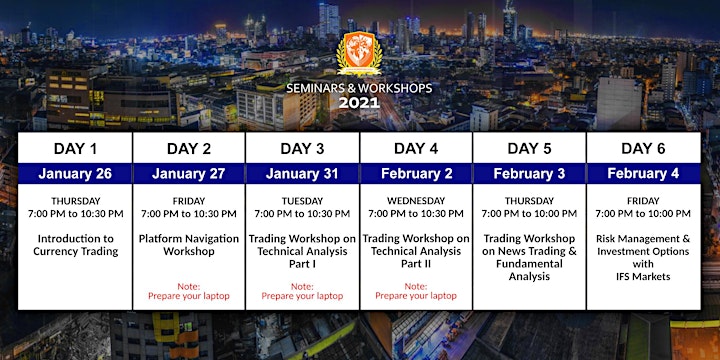 4. What do I need during the webinar?
To have the best learning experience during the webinar, please make sure you have a laptop, stable internet connection, pen and paper for taking notes, and a ready span of attention for the entire duration of the session.
5. How can I contact the organizer with questions about the webinar?
You may contact us directly by sending us a message on our Facebook page at Global Markets Eruditio
Organizer of Free Six-Day Forex Trading Webinar 2022 Series - Day 1 Forex Basics
Global Markets Eruditio is a brand under Fortem Auctrix, Inc. (FAI), a dedicated education provider and customer support team for Filipino forex trading and global markets enthusiasts. FAI-GME's mission is to empower Filipinos to become more financially informed and guided by educating them of the true opportunities and risks in trading the largest financial market. GME shares a community that helps fellow learners become sustainable traders, businessmen and investors in the global market arena.
Risk Disclosure: All financial products involves risk and you should ensure you understand the risks involved as certain financial products may not be suitable to everyone. Trading in margin foreign exchange and derivatives carries a high level of risk and you may incur a loss that is far greater than the amount you invested.