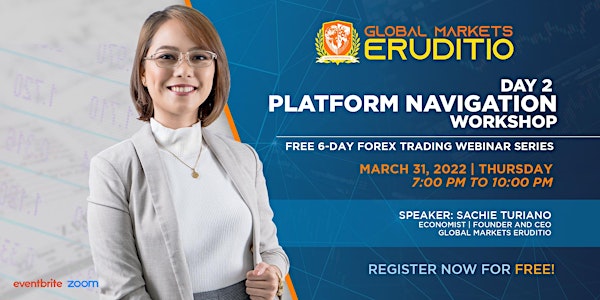 Free Six-Day Forex Trading Webinar Series - Day 2 Platform Navigation
FREE FOREX TRADING WEBINAR SERIES 2022 BY GLOBAL MARKETS ERUDITIO - DAY 2 - PLATFORM NAVIGATION
About this event
We are pleased to invite you to be part of the GME Family and access our FREE FULL-COURSE FOREX TRADING WEBINAR SERIES from March 30 to April 08, 2022.
This event is a six-day Forex webinar and will bring quality market education to participants. During the webinar, we will explore global market opportunities and effectively learn the following courses:
One registration per day per person is required to be part of our list of attendees. Don't forget to register for the rest of the webinar schedules!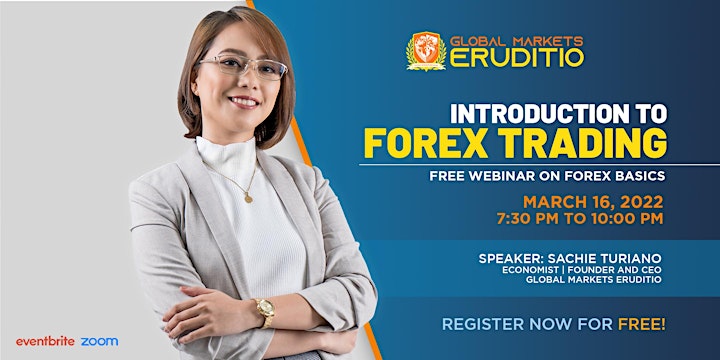 What will I learn on Day 02: Step-by-step Tutorial on MT4 Platform Navigation Class?
This webinar will highlight how we can effectively navigate the trading platform and take advantage of the market in the most detailed approach. Specifically, we will learn about the following topics:
✅ MT4 Platform Overview
✅ How to Navigate the MT4 Main Panels (Toolbar, Chart Window, Market Watch Navigator, Terminal)
✅ How to Customize Charts
✅ Basics of Chart Reading
✅ Basics of Candlestick Reading
✅ How to Read Time frames
✅ How to Execute and Close Trade Orders
✅ How to Draw Charts, Trends and Plot Indicators
✅ How to Generate Trading Records
About the Event Speaker
Our speaker is our Founder and CEO, Ms. Sachie Mitsui Turiano. She is also a Forex educator, trader, an economist, a former member of the Philippine Stock Exchange, Inc. team of the Corporate Planning, Research & Investor Relations Division, and the former Head of Research and Currency Strategist Alpari Group Philippines (Research and Analytics). She was featured for market insights by some of the most reliable media channels, such as Bloomberg Philippines, BusinessWorld, and ANC. We are lucky to have her conduct this all-out six-day webinar for our clients.
How do I get access to the webinar for FREE?
To access this six-day webinar for free, each participant must have a live account with any of our recommended brokers with at least a minimum trading capital of 100 USD.
NOTE: THIS AMOUNT WILL SERVE AS PART OF YOUR TRADING CAPITAL and NOT AS PAYMENT FOR ANY WEBINAR FEES. We only have limited slots for this event, and we put priority on our clients who have their funded live trading accounts with us.
Non-account holders and non-funded account holders can only access DAYS ONE(1) and TWO(2). Only clients with at least 100 USD on their live trading account with any of our recommended brokers will be given access for the whole six days.
If you wish to receive playback, please register with your trading account email address, ensure to have at least $500 of net deposit on your trading account, and must have completed the 6-day webinar series.
Don't have an account yet? Contact us on our Facebook Page, and an account manager will readily assist you.
Global Markets Eruditio believes that market education must come first, and we are here to bring you the quality education you deserve for showing commitment to this given opportunity.
REGISTER NOW while slots last, and we'll see you there!
FREQUENTLY ASKED QUESTIONS (FAQs):
1. How do I access the webinar?
Upon registration, you will receive the Zoom link with a password via email that only registered participants can use for each booked date. This link will be your access to the webinar.
2. Do I need to register for each webinar to get a ticket?
Yes, you must register separately for each webinar date for you to receive the individual Zoom links and passwords for each booked webinar. Please do not forget this reminder.
3. What is the schedule of discussions for each covered topic?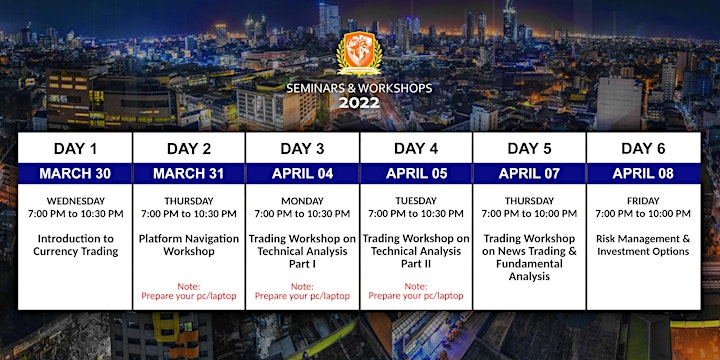 4. What do I need during the webinar?
To have the best learning experience during the webinar, please make sure you have a laptop, a stable internet connection, pen and paper for taking notes, and a ready span of attention for the entire duration of the session.
5. How can I contact the organizer with questions about the webinar?
You may contact us directly by sending us a message on our Facebook page at Global Markets Eruditio.