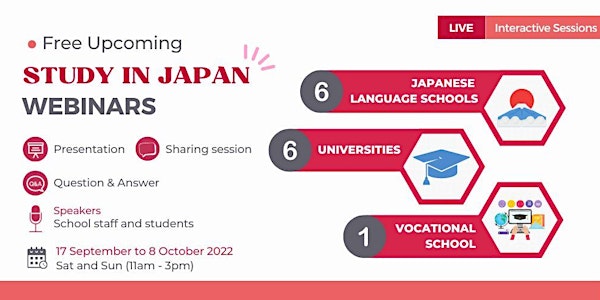 [FREE] Study in Japan Webinars 24 Sep- 8 Oct 2022
Konichiwa! Join our [FREE] Study in Japan Webinars featuring 6 Universities and 3 Japanese Language Schools in Japan! [ 25 Sep - 8 Oct]
About this event
[INFORMATIVE WEBINARS THIS UPCOMING SEPT - OCT]
Konichiwa! 🇯🇵 Now that Japan borders have reopened, have you thought about studying or exploring career options in Japan? No Japanese language background? Fret not! Do you know that there is a rapidly growing number of Japanese Universities offering 100% English-Taught Degree programs? And there are Japanese language schools in Japan that accept total beginners too!
In collaboration with 12 top educational institutions (5 Japanese Language Schools, 6 Universities and 1 Vocational School) in Japan, we are hosting free webinars this Sept & Oct for aspiring students like you! Gain deeper insights on what it takes and how it is like to study in Japan! 💪
⏰ Dates: 25 September to 8th October 2022 (only on Saturdays and Sundays)
🔗 More information & Register for the respective webinars here - https://bit.ly/3DL5md1
FREE OF CHARGE, and each registration takes less than 3 mins!
All webinars are held separately, hence please sign up for each respective webinar if you are interested in multiple ones (highly encouraged).
Come hear directly from the school staff on the details of the school, programs, and the current/graduated students' personal experiences!
🙋🏻A Q&A session will also be available at the end of each session for you to ask anything you would like!
=======
Japanese language schools suitable for:
⛩ Those who wants to learn and pick up Japanese language speaking and writing skills, and immerse yourself in the rich Japanese culture and heritage. If you are also aspiring to enrol in a Japanese-taught university/graduate program after that, many of these Japanese language schools also offer University/Graduate preparatory courses, and even Business Japanese courses for those who are looking to expand their career opportunities in the future!
Universities suitable for:
👨🏻‍🎓 Those who are looking for a holistic university education abroad! Choose from a wide variety of Bachelor programs majoring in Arts, Science and Business, and also Masters Program in Business, Engineering and many more!
✨BONUS: Many of these Universities offer 100% English-taught courses, which means you are going to learn and study whatever course you are enrolled in (for eg. Business, Economics, etc) completely in English, and no Japanese language proficiency is required!
=======
Whether you are a young student looking to further your studies abroad, or an adult looking to learn Japanese language to increase your career opportunities, one of these webinars will definitely be informative and useful for you!
Sign up now before slots last! Catch you there