Sales Have Ended
Registrations are closed
Congratulations for taking action! You're now one step closer towards your career growth! p/s Please check your email for the ticket confirmation and workshop webinar Zoom link :) Cheers, Mei Phing
Sales Have Ended
Registrations are closed
Congratulations for taking action! You're now one step closer towards your career growth! p/s Please check your email for the ticket confirmation and workshop webinar Zoom link :) Cheers, Mei Phing
Learn how to grow your career online and offline with a 3-step strategy with steps for a successful job search and career advancement!
About this Event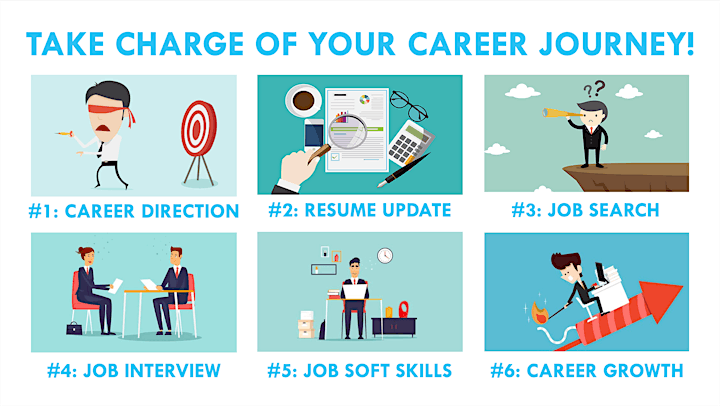 In this special webinar...
🚀 # 1: Learn how to grow your career online and offline with a 3-step strategy
🚀 # 2: Learn about the main steps to become successful in your job search
🚀 # 3: Learn about the main steps to advance in your career
WHO SHOULD ATTEND:
✅ Jobseekers
✅ Working Professionals
WEBINAR OUTLINE:
✅ 9:00 - 9:10 PM - Zoom Login & Introductions
✅ 9:10 - 9:40 PM - Mei Phing's Career Talk
✅ 9:40 - 9:50 PM - Live Q&A
✅ 9:50 - 10:00 PM - Thank You & Photos :)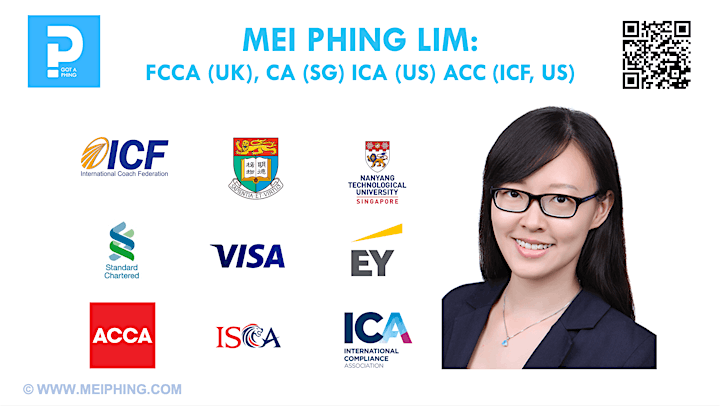 ABOUT ME:
Mei Phing Lim⚡Career Coach 🚀
Mei Phing Lim is a Professional Career Coach who has empowered 100's of professionals from over 30 countries to grow their careers online and offline. She is also featured in the Top 70 Rising Personalities on LinkedIn Malaysia 2020. With expertise in effective resume-writing, interview skills, corporate soft skills and LinkedIn profile branding; Mei Phing is regularly featured as a keynote speaker on career growth and personal branding at international events and conferences.
Prior to coaching, Mei Phing spent the last decade as a Governance, Risk and Compliance specialist with demonstrated leadership experience in the corporate world. She was consistently ranked top performer and fast-tracked to senior roles throughout her career in global companies. She is a Fellow of the Chartered Certified Accountant (FCCA & ACCA, UK) and Associate Certified Coach (ICF, USA). Mei Phing is a culture enthusiast and has travelled to 37 countries and counting.
COACHING & TRAINING:
✅ Career Interest & Direction - Gain clarity on your career path (and not get stuck)
✅ CV & Resume Review - Position your background, skills and experiences for your dream job
✅ Job Search Strategy - Practical tips for job hunt and connect with the right people
✅ Interview Skills - Boost your interview techniques and increase chances to get hired
✅ LinkedIn Profile Branding - Build a strong LinkedIn profile to attract career opportunities
✅ Job Soft Skills Upgrade - Develop and improve on your soft skills to do well at work
✅ Leadership Confidence - New leader or manager? Learn how to effectively lead your team
WHO I WORK WITH:
✅ Jobseekers
✅ Working Professionals
✅ New Directors, Managers & Team Leaders
✅ Corporate Organisations, Global Education Institutions (ACCA, HKU, NTU) & Student Associations
WORK WITH ME:
📌 1-1 Coaching Session
📌 Group Workshops - private (DM to book) & public (eventbrite)
📌 Event Conference Speaker
LEARN MORE:
🚀 LinkedIn: https://www.linkedin.com/in/meiphing
🚀 Instagram: https://www.instagram.com/meiphing.co/
🚀 More Links: https://linktr.ee/meiphing
TERMS & CONDITIONS:
- The free webinar will be conducted online via zoom - please install the Zoom application in advance and check your internet connection.
- If you are unable to attend the live webinar, there will not be any replay available. Sign up only if you can make it! :)
- This workshop is specially for working professionals or jobseekers interested to advance their corporate careers (not for coaches, consultants, counsellors, marketers, businesses of a similar nature who intend to re-sell, re-use, re-promote this knowledge for $$$ purposes) ; event access will be cancelled if such status is validated at the discretion of the organiser.