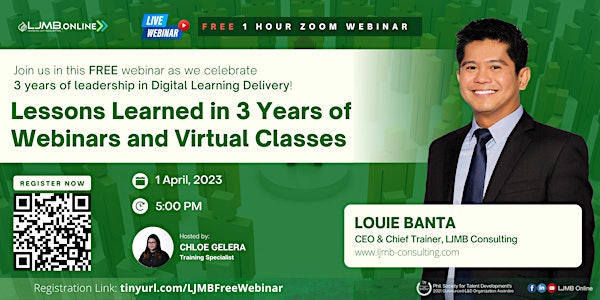 Free Webinar: Lessons Learned in 3 Years of Webinars and Virtual Classes
Join us in this FREE webinar as we celebrate 3 years of leadership in Digital Learning Delivery!
By LJMB Online | Learning Just Made Better, Inc.
Date and time
Saturday, April 1 · 2 - 3am PDT
About this event
Cheers to 3 Years!
As we celebrate our 3rd year anniversary as a leader in Digital Learning Delivery, we offer this FREE 1-hour interactive webinar on all the lessons we learned during our Swift Shift to Digital Learning.
Join us on April 1, 2023 at 5:00pm to 6:00pm for this game-changing webinar.
Register now because space is limited!
About the organizer
LJMB Online is your Highly Customized, Engaging, and Practical Digital L&D and OD in the Philippines!
From April 1, 2020 to March 30, 2021, during the COVID-19 crisis/quarantine, we have delivered 350+ virtual classes reaching 20k+ particiapnts from 450+ organizations across 15 countries and 4 continents.
Founded as Learning Just Made Better, Inc. (LJMB), we are a 16-year old Training/Learning-Human Resources-OD partner of over 450+ companies from more than 22 industries.