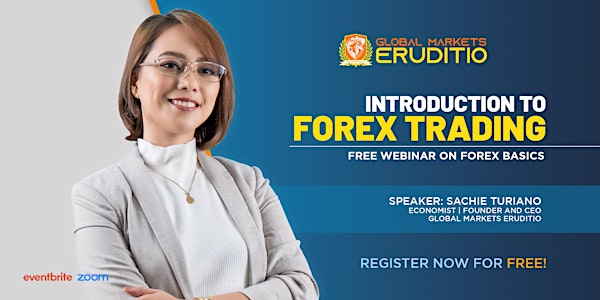 Free Webinar on Introduction to Forex Trading
FREE FOREX TRADING WEBINAR BY GLOBAL MARKETS ERUDITIO - MT4 PLATFORM NAVIGATION
About this event
We are pleased to invite you to our FREE FOREX TRADING WEBINAR!
In this webinar, we will learn about the basic and necessary realities in Forex trading, specifically the following:
☑️ Important concepts in currency trading
☑️ The terminologies you need to know and understand before trading
☑️ The general rules of Forex trading
☑️ The market structure and the role of the broker
☑️ The currency pair explained
☑️ Forex market features
☑️ Truths and myths of volatility and liquidity
☑️ Market risks and profit potential
About the Event Speaker
About the Event Speaker
Our speaker is our very own Founder and CEO, Ms. Sachie Mitsui Turiano. She is also a Forex educator, trader, an economist, a former member of the Philippine Stock Exchange, Inc. team of the Corporate Planning, Research & Investor Relations Division, and the former Head of Research and Currency Strategist of Alpari Group Philippines (Research and Analytics). She was featured for market insights by some of the biggest and known reliable media channels for market information, Bloomberg Philippines , BusinessWorld and ANC, and we are lucky to have her conduct this all-out two-hour webinar for FREE.
REGISTER NOW while slots last and we'll see you there!
FREQUENTLY ASKED QUESTIONS (FAQs):
1. How do I access the webinar?
Upon registration, you will receive a Zoom link with a password that only registered participants can use for each booked date. This will be your access to the webinar.
2. What do I need during the webinar?
To have the best learning experience during the webinar, please make sure you have a laptop, stable internet connection, pen and paper for taking notes, and a ready span of attention for the entire duration of the session.
3. How can I contact the organizer with questions about the webinar?
You may contact us directly by sending us a message on our Facebook page at Global Markets Eruditio
WHAT'S NEXT?
Join our FREE 6-Day Full Course Forex Trading Webinar Series from June 08 to 17, 2022.