Sales Have Ended
Registrations are closed
Hi there, We're sorry we've run out of tickets. Our goal is to make sure that participants experience the exclusivity of the event with a conducive environment for learning. But don't worry, we have prepared wait list tickets available for you. Our team will contact you a day before the event to give a heads up for the availability of your slot. We hope we will be able to accommodate enthusiastic participants such as yourself for this worthy event! Otherwise, you may check the rest of our seminar schedules at https://rbxph-educationfirst.eventbrite.com. Cheers! GME Team
Sales Have Ended
Registrations are closed
Hi there, We're sorry we've run out of tickets. Our goal is to make sure that participants experience the exclusivity of the event with a conducive environment for learning. But don't worry, we have prepared wait list tickets available for you. Our team will contact you a day before the event to give a heads up for the availability of your slot. We hope we will be able to accommodate enthusiastic participants such as yourself for this worthy event! Otherwise, you may check the rest of our seminar schedules at https://rbxph-educationfirst.eventbrite.com. Cheers! GME Team
LEARN TO NAVIGATE THE MT4 PLATFORM FOR FOREX TRADING WITH A FREE WEBINAR BY IFS MARKETS (PHILIPPINES)
About this event
We are pleased to invite you to our FREE FOREX TRADING WEBINAR on Platform Navigation!
In this webinar, we will learn about the essentials in navigating through the in MT4 Platform, specifically the following:
✅ MT4 Platform Overview
✅ How to Navigate the MT4 Main Panels (Toolbar, Chart Window, Market Watch Navigator, Terminal)
✅ How to Customize Charts
✅ Basics of Chart Reading
✅ Basics of Candlestick Reading
✅ How to Read Time frames
✅ How to Execute and Close Trade Orders
✅ How to Draw Charts, Trends and Plot Indicators
✅ How to Generate Trading Records
About the Event Speaker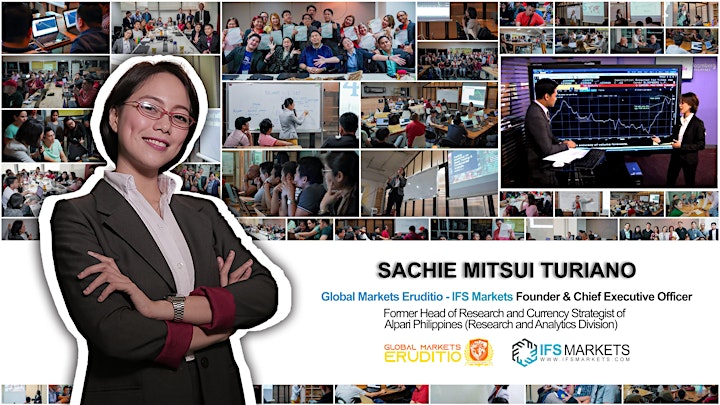 Our speaker is our very own Country Lead, Ms. Sachie Mitsui Turiano. She is also a forex educator, trader, an economist, a former member of the Philippine Stock Exchange, Inc. team of the Corporate Planning, Research & Investor Relations Division, and the former Head of Research and Currency Strategist of Alpari Group Philippines (Research and Analytics). She was featured for market insights by some of the biggest and known reliable media channels for market information, Bloomberg Philippines , BusinessWorld and ANC, and we are lucky to have her conduct this all-out two-hour webinar for FREE.
REGISTER NOW while slots last and we'll see you there!
FREQUENTLY ASKED QUESTIONS (FAQs):
1. How do I access the webinar?
Upon registration, you will receive a Zoom link with a password that only registered participants can use. This will be your access to the webinar.
2. What do I need during the webinar?
To have the best learning experience during the webinar, please make sure you have a laptop, stable internet connection, pen and paper for taking notes, and a ready span of attention for the entire two-hour session duration.
3. How can I contact the organizer with questions about the webinar?
You may contact us directly by sending us a message on our Facebook page at IFS Markets Philippines.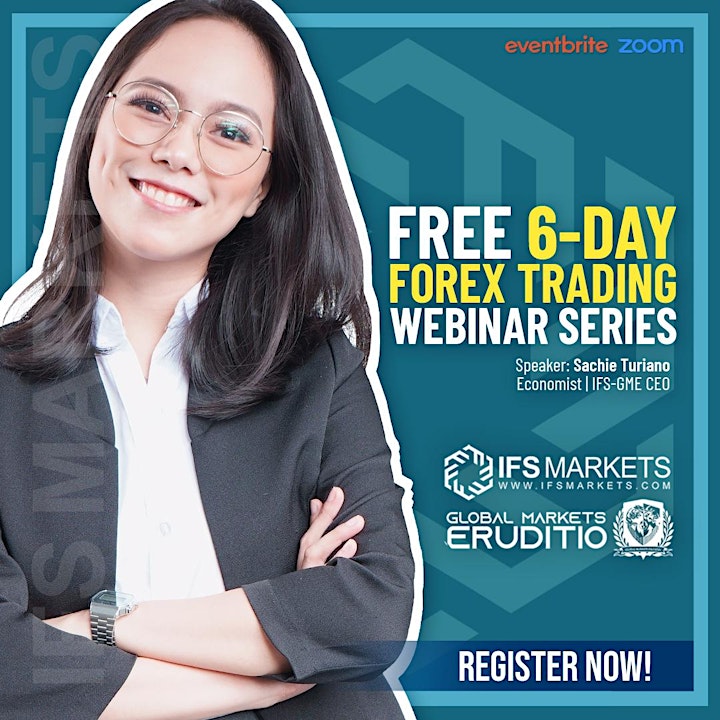 Forex myths debunked:

#IFSMarkets
#WhatIFS
#IFSMarketsPhilippines
#EducationFirst
#TheGreatPush
#IFSWebinarSeries
#IFSWebinars2021
Organizer of Free Webinar on MT4 Platform Navigation
Global Markets Eruditio is a brand under RBX PH, a dedicated education provider and customer support team for Filipino forex trading and global markets enthusiasts. RBX PH G.M.E. 's mission is to empower Filipinos to become more financially informed and guided by educating them of the true opportunities and risks in trading the largest financial market. G.M.E. shares a community that helps fellow learners become sustainable traders, businessmen and investors in the global market arena.
Risk Disclosure:All financial products involves risk and you should ensure you understand the risks involved as certain financial products may not be suitable to everyone. Trading in margin foreign exchange and derivatives carries a high level of risk and you may incur a loss that is far greater than the amount you invested.