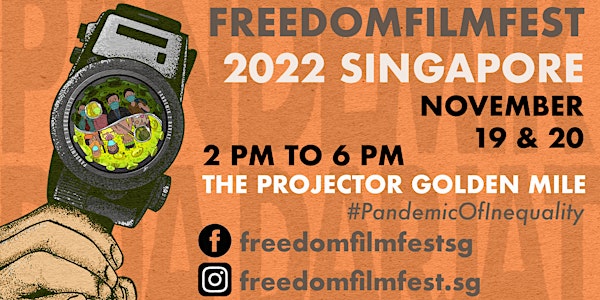 FreedomFilmFest Singapore 2022 - A Pandemic of Inequality
FFF SG presents "A Pandemic of Inequality" - featuring 11 films and 5 conversations / panel discussions
When and where
Location
The Projector 6001 Beach Road #05-00 Singapore, 199589 Singapore
About this event
FreedomFilmFest (FFF) Singapore will return in-person after two years of virtual screenings, with a two-day festival at The Projector at Golden Mile Towers on 19 and 20 November 2022.
The Festival is a platform for critical social issues and celebrates independent filmmaking by showcasing a variety of eye-opening, daring, award-winning films that are not easily accessible on mainstream media.
The theme this year is "A Pandemic of Inequality", featuring 11 films and five chats/panels, highlighting the struggles of overlooked or marginalised groups such as domestic workers living through COVID-19, the Orang Asli, and youth activists.
ABOUT THE 2022 EDITION
This year's edition will feature 5 programmes, comprising 11 films and five conversations/panel discussions.
Each programme explores a different issue with a selection of films paired with a conversation/panel by filmmakers and local representatives to situate the issue in a Singaporean context.
Audiences can look forward to exclusive behind-the-scenes stories, deep dives into issues, and discussions of strategic actions for various causes.
VENUE: Blue Room, The Projector, 6001 Beach Rd, #05-00 Golden Mile Tower, Singapore 199589
ENTRY: EVENTS ARE FREE WITH REGISTRATION. Each registration is limited to two tickets. Please register again if you'd like to book more.
CONTACT: Shamima - freedomfilmfestsg@gmail.com
All films are pending classification by IMDA. Please check out below for the latest ratings.

PROGRAMME 1: SINGAPORE SHOWCASE
Sat, 19 Nov 2022 - 2 to 4pm
Film: There to Document
27 mins, 2021, Director: Celeste Tan
They were there to document. An intergenerational community reflects on the 10-year history of FreedomFilmFest in Singapore. Started by Malaysia's Pusat Komas in 2003, activists in Singapore brought the festival here in 2010. Over the last decade, the SG edition has brought plural perspectives from around the world to local audiences and sparked discussions about unjust laws, inequality, migrant rights and under-represented communities.
The whole festival has continuously and fearlessly presented the struggle towards justice, especially in Southeast Asia. This film celebrates the festival as part of Singapore's shifting landscape, examining its place in the changing sociopolitical realities we live in.
Panel Discussion: Space and Spirit
Join Fong Hoe Fang (Function 8), Wan Jie Che (Art Consultant / Operations Strategist, The Glass Hut) and KC Chew (Former Chair, The Substation) in an honest chat about navigating the struggle of keeping alive alternative spaces in SG. Find out how they infuse inclusivity and passion into creating safe, thriving spaces for alternative artists and what keeps them going persistently. Moderated by Stephanie Dogfoot.
Film: Three Ways to Falter
4 mins, 2021, Director: Rachelle Lee Xin Yi
A young Singaporean woman interprets her family and life through the prism of the COVID-19 pandemic. Watch the trailer
Film: Second Prison
(11 mins, 2020) Director: Kueh Yong Peng
"Second Prison" is the story of an ex-convict Matthew and an ex-prison officer Hilary who became friends and together, they created a business enterprise known as "The Caffeine Experience", and helping other ex-convicts along the way. This film celebrates their unlikely friendship. Watch the trailer
Chat with Film makers of Three Ways to Falter and Second Prison

PROGRAMME 2: THE RIGHT TO LIVE WITH DIGNITY
Sat, 19 Nov 2022, 4 to 6pm
Film: Grey Scale
21 mins, 2022, Director: Evelyn Teh
Told through the eyes of a single elderly woman, Grey Scale is a story about living alone and growing old in a gentrifying neighbourhood. During the prolonged pandemic lockdown, new challenges forced her to adapt to the rapidly changing world around her. The story presents the quiet struggles among the elderly in their quest towards independent and dignified aging. Watch the trailer
Film: Peluang Kedua (Second Chance)
(15m05s, 2022) Director: Mohammad Alshatri
A documentary film which reveals the concept of second chance through the story of Pannir, a death row prisoner who wants to contribute to society through his younger sister Angelia and other family members. Pannir founded an welfare organisation called 'Sebaran Kasih' (Spread Love Malaysia) while being incarcerated in Singapore.
Chat: Capturing the Personal (Session to be confirmed)
Through art, conversations about structural issues sometimes find a more personal, intimate voice — Grey Scale and Peluang Kedua both trace the stories of individuals over infrastructure, the everyday over administration. Join our discussion on artistic decisions to feature individual faces and habits in discussing social issues. Panelists: Jose Jeuland; (rest TBC)

PROGRAMME 3: ARCHIVING OUR OWN STORIES (ORANG ASLI SPOTLIGHT)
Sun, 20 Nov 2022 - 2 to 3.10pm
Film: Klinik Ku Hutan (The Forest, My Clinic)
(14 mins, 2020) Directed by the collective Apa Kata Wanita Orang Asli (Voices of Orang Asli Women)
Deep in a forest in Perak, two young Orang Asli women from the city named Nget and Abong are enjoying the beauty and calmness of nature. But their enjoyment quickly turned into despair when Abong suddenly falls gravely ill. In their quest for healing, they discover their elders' knowledge in the medicinal properties of herbs and their deep spiritual and physical ties with the forest. They experience true healing when they finally reconnect with their traditional values and identity. Watch the trailer.
Film: Rahsia Rimba (Secrets of the Forest Guardians)
(5 mins, 2022) Directed by the collective Apa Kata Wanita Orang Asli (Voices of Orang Asli Women)
Kedek journeys into the forest and connects with her ancestral past and indigenous identity. She gathers strength from her ancestors and the spirits of the forest to defend her community. Watch the trailer.
Film: Selai Kayu Yek (Roots of My Land)
(12 mins, 2020) Directed by the collective Apa Kata Wanita Orang Asli (Voices of Orang Asli Women)
Aleh, a young Orang Asli woman, struggles to find support from her village when her family's ancestral land is encroached. In fear of losing her land that she also uses to grow ubi kayu, she seeks out famous Orang Asli YouTuber Rien to expose and share her story. But Rien refuses at first as she believes that their community should pursue a better life in the city instead of farming on their land. Aleh and Rien eventually realise that they share similar struggles because of their identity. Together, they find their voice and speak out. Watch the trailer.
Panel: Archiving Our Own Stories
Oft-untold stories of Singapore comes alive through the voices of Singaporeans Shahrom Taha and Firdaus Sani, (OrangLaut.sg)will be joined by the filmmaker Yaliyana Lenab from Apa Kata Wanita Orang Asli (Voices of Orang Asli Women), a collective of Malaysian women dedicated to storytelling as they articulate their lived realities and demand for equality and rights for their community.

PROGRAMME 4: DREAM BEYOND THE DOMESTIC
Sun, 20 Nov 2022 - 3.10 to 4.30pm
Film: Homebound
(16m 51s, 2022) Directed by Ismail Fahmi Lubis
Tari longs to return home to Indonesia after more than 10 years working abroad in Taiwan. When the Covid-19 pandemic struck her plans unraveled, revealing a lack of rights for vulnerable migrant workers and systemic misinformation. Tari narrates her own journey and reveals personal stories related to her decision to work in Taiwan, her strained family relationships, the risks involved in working abroad and the traps she has fallen into. Tari shares intimate details of how her relationship with her son has suffered, revealing the guilt she has felt for leaving him behind. Homebound is an intimate animated documentary portrayal of a migrant worker's experience abroad and is an urgent wake up call for those who have contributed to a system that takes advantage of 1000s of women each year.' Watch the trailer.
Film: Rasa & Asa
(27 mins, 2021) Directed by: Okui Lala, Nasrikah
Indonesian domestic workers Ningrum and Binti could not return home to their families when the Covid-19 pandemic hit. Together with other domestic workers from PERTIMIG (Indonesian Migrant Domestic Workers Association in Malaysia), they find support and hope by learning to document their lives on their handphones. In their own voice, they share their experience working and living in Malaysia during the lockdown. Rasa dan Asa celebrates their solidarity and persistence to advocate for their rights. Watch the trailer.
Panel: Dream Beyond the Domestic
The undervalued hidden labour of female domestic workers are brought to the forefront in this panel discussion, while also revealing the secret lives and ambitious dreams of these women. Hear from Jaya Anil Kumar. Senior Research and Advocacy Manager at local NGO HOME, as well as Okui Lala, film maker of Rasa and Asa and Novia from local domestic worker group IPPMI SingapuraCo-moderated by Umi Kalthum (Actor, The Wild Rice's Supervision)

PROGRAMME 5: YOUTH ACTIVISM & CHANGE
Sun, 20 Nov 2022 - 4.30 to 6pm
Film: Padauk: Myanmar Spring
(56 mins, 2021) Directors: Jeanne Marie Hallacy & Rares Michael Ghilezan
Padauk: Myanmar Spring takes the viewer to the streets of Myanmar during the heady days following the February 2021 military coup. Through Nant—a young, first-time protester—we meet three human rights activists whose lives have been turned upside down by the coup. As the protests continue, Nant comes to understand the truth of a brutal regime that has continued to wage war against its own people for decades. Against a foreboding backdrop, Nant's political awakening regarding the plight of others in her ethnically diverse country gives hope for the future. Beautifully augmented by poetry and art, Padauk: Myanmar Spring shows the resilience and determination of the people of Myanmar, and the sacrifices they've made.
Chat: Youth Activism for Myanmar
Viewing Padauk from Singapore, how do we react to the protests in Myanmar? What can we learn from the struggle of young protestors, and how do we stand in solidarity with them? Hear from an artist and activist who have worked in Singapore to raise awareness and funds for Myanmar in light of the 2021 military coup. Panelists: Phoo Myet Che (Laphet Wyne), Bev Devakishen (Singapore Climate Rally)
ABOUT THE FREEDOM FILM FEST
FreedomFilmFest Singapore has been running for 13 years and is a partner of the Malaysian FreedomFilmFest, established by Malaysian NGO Pusat Komas in 1993.
FreedomFilmFest is an annual human rights documentary film festival organised by the Freedom Film Network, Malaysia. Established in 2003, Freedom Film Network adopts the themes encompassed in the United Nations' Universal Declaration of Human Rights It established a documentary film grant competition in Malaysia which encourages first-time activist filmmakers to turn their winning proposals into films.
The inaugural Singapore edition of FreedomFilmFest was held at The Substation, organised by Martyn See, Seelan Palay and Ho Choon Hiong. Later on, the festival was adopted by local civil society Function 8, with the aim to make the festival a supportive platform for local filmmakers. With initiatives such as film grants and film labs, the festival organisers hope to encourage more films touching on often hidden and unheard stories of Singapore to be made.
This year, a total of 11 films and five conversations/panels discussions will explore:
Singaporean Spaces (SG Showcase)
The Right to Live with Dignity
Archiving Our Own Stories (Orang Asli Spotlight)
Dream Beyond the Domestic (Domestic Worker Rights)
Youth Activism & Change