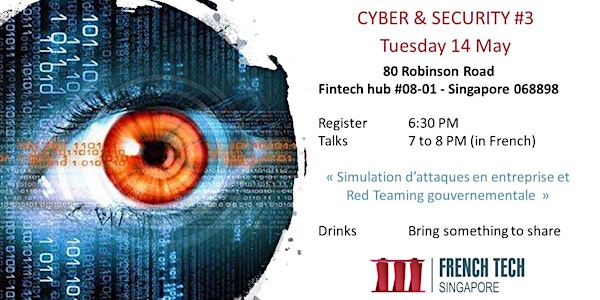 French Tech Cyber Security Gathering #3
By La French Tech Singapore
Date and time
Tue, 14 May 2019 18:30 - 21:00 +08
Location
Fintech Hub 80 Robinson Road #08-01 SINGAPORE 068898 Singapore
Description
Pour notre 3eme event, rejoignez-nous autour des sujets suivants :
1 - " Simulation d'attaques en entreprise et Red Teaming gouvernementale" avec la participation de :
Nicolas COLLERY - Information Specialist @ DBS Bank

Romain DESEISTRET - Business Development Director @ Cyber Test Systems

Florian CASANOVA - Asia Regional Representative @ Defense Conseil International
2 - Sujets d'interet pour un prochain event
3 - Organisation de la communaute

---
Nombre de places restreint : 20 assises et 10 débout
Priorite aux membres de la French Tech Cyber et Securite !
Pas de sponsoring donc nous comptons sur vous pour amener quelques boissons et/ou snacks à partager svp.
Merci d'avance.
About the organiser
A global movement celebrating French innovation, entrepreneurship & startups.
A growing community made of a new generation of entrepreneurs, investors, engineers and innovators gathered under the same banner. A movement inspired by a startup nation. Singapore is home to a vibrant French Tech hub built on a foundation of world class talent and imbued with a strong entrepreneurial spirit. An ecosystem that sets entrepreneurs up for success.
Our Manifesto : 
We are entrepreneurs. We run startups. We love new technologies.

We are a creative and smart community. 

We believe in the power of collaboration. We build open ecosystems around us.

Technology will solve the biggest challenges of our era, but WE are responsible for shaping a world where Mother Earth and humans come first.

We care about people. Technology must be inclusive and accessible for everyone. To solve global problems, we need to think local.

We do things. Ideas are easy, execution is tough. The one who does knows.

We constantly get out of our comfort zone. We aim to embrace change, not resist it.

Don't ask us what we can do for you. Give first, give forward. Your journey starts by bringing something to the table. Contributing is belonging.

Don't ask us what you can do for us. Find a gap. Fill it.

We value feedback. It's fine to make mistakes, it's even better to correct them.

We're very serious about this. But we don't take ourselves seriously for doing it. We do all this genuinely, informally and playfully.