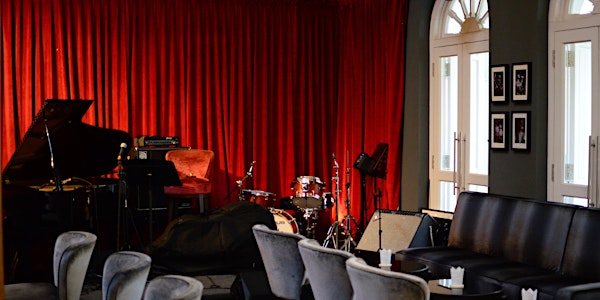 Friday Night Jazz: Pat "King" Koh Trio
By The Singapore Jazz Club
Date and time
Fri, 1 Jul 2016 20:30 - Sat, 2 Jul 2016 01:00 +08
Location
The Singapore Jazz Club 101 Jalan Sultan The Sultan Hotel Singapore, Singapore 199002 Singapore
Refund Policy
Contact the organiser to request a refund.
Description
The Singapore Jazz Club
Presents
Limited Early Bird S$15.00 + booking fee
Advance S$20.00 + booking fee
At The Door S$25.00 (CASH ONLY)
Dubbed Singapore's Donny Osmond,
Pat "King" Koh
started getting used to whatever stage his parents put him on at a very early age. His fame in Singapore came in the early years of Talentime, & he soon found himself singing throughout Singapore & Malaysia. He soon became involved with The Far East Broadcasting Corporation & recorded with them. Patrick was also heavily involved with major musicals in Singapore's famed Victoria Theater with Celebrate Life & The Witness. After National Service, he attended college in the U.S., and within a couple of years, recorded with The Benson Company at Kenny Roger's studio in Nashville, Tennessee with well-known composer/arranger/orchestra director, Lari Goss & the well-known group Alabama's sound-engineer. He was soon traveling extensively throughout the US, the Caribbean & Europe. Much of Patrick's jazz stylings & phrasing come from his two years spent in New Orleans, singing, while doing post-graduate work.
Patrick's smooth & passionate voice has seen him entertain intimate gatherings with such personalities as Art Linkletter & former Philippine first lady, Imelda Marcos, as well as filled stadiums. He has performed at well-known landmarks in Europe and the US, such as Notre Dame in Paris, St. Paul's Cathedral in London, Canterbury Cathedral in the UK, Cologne Cathedral in Germany and the National Cathedral in Washington D.C. His musical abilities also include teaching music, conducting orchestras, and choirs of up to 300 voices, directing plays, musicals, pageants, emceeing & judging major beauty pageants and acting in the Hawaii Five-O TV series. Patrick has also recently performed in Japan, Australia & the famed Waiheke Jazz Festival in NZ.
Patrick, aka Pat "King" Koh in Honolulu, currently performs with his 6-piece ensemble & trio on a weekly basis at such great Honolulu jazz spots as Café Julia, Jazz Minds & The Dragon Upstairs.
Born in Tokyo, guitarist Ernie Morikubo moved to Hawaii at an early age. He started learning to play the guitar under famed Hawaiian guitar legend, Larry Fukunaga, and soon after started playing with a local Japanese wedding bands. Through the years, Ernie has played locally with The Morning Good & Carol Yoon. He is versatile in all music genres, from Hawaiian to Jazz.
Bob Hassett started playing the bass guitar at age 11, and played surf music in his first band at age 14. He later embarked on traveling the US and Canada in a touring club band, packing out clubs in various venues from Vancouver to Miami. He has played with such notables as Fats Domino, Steve Perry, Los Blues, Bo Didley and Frank Sinatra Jr. In Hawaii, Bob's versatility has also seen him perform with various groups in various musical genres.
info & reservations +65 84813034
101 Jalan Sultan #02-00 | The Sultan Hotel | Singapore
singjazzclub.com | facebook.com/sgjazzclub | twitter.com/sgjazzclub | instagram.com/sgjazzclub
- No refunds or exchanges allowed.
- Minimum age for admission: 18 years of age
- Dress Code: Smart Casual. No Flip-flops, Shorts, Singlets and Bermudas etc will not be allowed into the venue.
- Management reserves the right to refuse entry
About the organiser
The Singapore Jazz Club is Singapore's premier destination for jazz and music lovers alike. Located in the trendy Kampong Glam area within the Sultan Boutique hotel, the venue is an elegant and intimate listening room that plays jazz and jazz inspired music and features Singapore's best known musicians as well as regional and International acts.