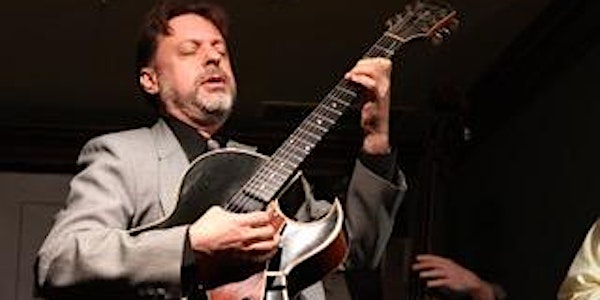 FRIENDS OLD & NEW by Greg Chako @ The Jazz Loft
American Jazz Guitarist and Mint 400 Records/ Raining Music recording artist Greg Chako reunites with his Asian All-Star friends
By The Jazz Loft @ Blu Jaz
When and where
Date and time
Sat, 7 Jan 2023 19:45 - 22:15 +08
Location
The Jazz Loft @ Blu Jaz 11 Bali Lane Level 3 Singapore, Singapore 189848 Singapore
Refund Policy
Contact the organiser to request a refund.
Eventbrite's fee is nonrefundable.
About this event
American Jazz guitarist Greg Chako was a major force in the Singapore jazz scene around the turn of the 21st Century. He led the 'House' Trio at Raffles' Bar & Billiard Room from 1995-2002.. He released four albums during that time: Live at Raffles, Sudden Impact, Integration & Integration II. He performed throughout the region. Notable shows included: Jazz in the Park, Chi-Jazz and Just Jazz Festivals, and the 2002 Heineken Jazz Festival in Kuala Lumpur.
After relocating to Japan in 2003, he visited Singapore frequently, recording three more albums at Lion Studios engineered by the late John Herbert. Those albums featured a wide variety of players from Singapore and were titled: Paint a Picture, Tell a Story, Where We Find Ourselves, and Everybody's Got a Name. It's clear that Chako's professional career got it's start in Singapore, and his return to the island after 20 years will be long awaited and much anticipated.
Three of the musicians participating on his records will be joining Greg for what could well be his final live performance in Singapore. They are: Christy Smith on bass, Mei Shuem on piano, and Greg Lyons on sax. Playing drums for this feature performance is a young titan of the modern Singapore scene, Ben Low.
The group will be playing songs from Greg's recorded works, including tracks from his newest 11th album, Friends, Old & New.
The Band:
Ben Low on drums
Christy Smith on bass
Mei Sheum on piano
Greg Chako on guitar
Greg Lyons on saxophones
Doors open at 7.00pm
Sets at 7.45 and 9.15pm
Cover charge $22 for both sets
BIOGRAPHY:
In a pro career spanning 35 years and five countries, Cincinnati-born jazz guitarist Greg Chako has released eleven albums and been the subject of a documentary called, "An American Cat in the Lion City." His most prolific period to-date as a recording and performance artist occurred while he lived in the Far East for 17 years, where he evolved into a masterful, expressive composer with rich story telling abilities. His varied arrangements and 60 recorded original compositions merge Mainstream, Hard Bop, Latin & World instrumental music. His music has spent time on the Jazzweek, CMJ and RMR Jazz Charts, including multiple Top Ten spots, and has consistently received critical acclaim from the Jazz community:
In 2022, he signed with Mint 400 Records and Raining Music, their jazz oriented sub label. He hopes to exceed his past successes in Asia by releasing new albums through the label as soon as June 2022, and continuing at a rate of one or two albums per year.
LIVE PERFORMANCES: https://youtu.be/gkE_U82CUzw
ON THE WEB:
WEBSITE: https://gregchako.com/
JAPAN WEBSITE: https://gregchakojapan.com
SPOTIFY: https://open.spotify.com/artist/01EDhAC6p051MLtU9SWyrU?si=Jf_lq8MqRCuWP7kDoU7XLA
FACEBOOK: https://www.facebook.com/gregchakomusic/
INSTAGRAM: https://www.instagram.com/gregchakomusic/
PRESS:
All About Jazz: https://www.allaboutjazz.com/musicians/greg-chako
All About Music: https://www.allmusic.com/artist/greg-chako-mn0000189038/biography?1650152620716
News Clippings: https://gregchako.com/news-clippings
Sound Waves Magazine: https://www.swaves.com/Back_Issues/Aug02/GREG_CHAKO.html
BMN Interview: https://bloodmakesnoise.net/home/blog/greg-chako-integration-interview-and-track-premiere
Professor Vince Lewis for Just Jazz Guitar, said his music, "Transcends geographic boundaries and cultures and communicates the happiness and friendship that all music should provide."
Jazz Dimensions in Germany said his music, "Is full of nuances, integrating fusion, blues, and swing. His guitar shines as he creates a new style, breathing exotic jazz-ethno music full of spirit and solid musical foundation."
Keith "MuzikMan" Hannaleck of Jazz Reviews said Greg's recordings, "Are a jazz mosaic painted with the very best of culture, ethnic, and musical sensibilities. That striking combination provides a sumptuousness and extensiveness that is rarely found in any genre."
About the organiser
In June 2022, the iconic Singapore music venue Blu Jaz reopened its live music program with the Jazz Loft, located on the 3rd floor of it's premises at Bali Lane.
The mission of this new space, is to showcase jazz, and improvisation, as an evolving art form, rather than a museum-piece, presenting those artists, both local and international, that are part of the forward motion, and artistic development of the music.