Event Information
Refund policy
Refunds up to 7 days before event
Eventbrite's fee is nonrefundable.
This one-day master class is one of the most comprehensive and value-packed brand strategy workshops in Asia.
About this event
As the saying goes, "If you are not a brand, you are a commodity".
Brand building is a powerful tool to help businesses differentiate themselves to achieve long term profitability. However, many organisations lack a strategic understanding of the branding process resulting in uncoordinated efforts. In addition, some people see the brand building as a "campaign" or "social media marketing" effort and fail to nurture and grow the brand/s over time with new initiatives. The truth is that brand building is strategic and requires clarity and focus.
This one-day master class is one of the most comprehensive and value-packed workshops in Asia. It's JAMMED full of everything you NEED (and would want) to know about Brand Strategy Techniques, Processes, Systems, Best Practices and Pitfalls.
This master class is for you if you are:
Considering rebranding, refreshing or revitalising your brand or launching a new brand, you want to ensure a triumphant return on your investment.
Struggling to articulate what your brand stands for and what makes it different from your competitors.
Growing your brand regionally or internationally, and need to find a distinctive positioning angle.
Planning to introduce new brands to your portfolio and establish the relationship between the different brands.
Cashing out your brand/s and want to increase the perceived value to your buyers.
From Bland To Brand master class is designed to provide leaders, business owners and marketers with a clear brand strategy blueprint to build a sustainable and robust brand.
The master class comes with practical and thought-provoking insights from global and Asian brands that enable you to make a more visible, authentic, different, credible, memorable and much-loved brand.
Key Takeaways
In this master class, you'll learn:
Brand Strategy Blueprint - The "must-haves" in building a powerful brand
Powerful Positioning Strategies - Which best fits your value proposition
Create Brand Assets - Identify what brings value
Brand Architecture - Make smart brand portfolio decisions and manage growth
Do's and Don'ts for Brand Success - Avoid pitfalls and acquire best practices
Globalise, localise or "glocal" – Essential consideration set
Brand Management – What to put in place
The Bland to Brand Masterclass is perfect for you if:
You're a business leader who wants to improve brand performance
You're a brand owner who wants to build a financial asset
You're a marketer who wants to master brand strategy
You're a creative professional who wants to be more strategic
About The Trainer - Ms Catherine Chai
Ms Catherine Chai is the founder of Broc Consulting, a 13-year old brand consulting company based in Singapore.
She has spent the last two decades helping B2B and B2C organisations to increase business value and sustainability through developing robust brand strategy roadmaps and grooming in-house brand champions. Some of the brands she had worked on include Raffles Hotels & Resorts, Brands Essence of Chicken, Bee Cheng Hiang, TDK, Tote Board Group, Kao, Manhattan Fish Market, Tee Hai Chem, Tote Board Group, iZeno, Straits Construction, to name a few.
Catherine is the author of From Bland to Brand - The Essential Branding Handbook for Asian Businesses.
Client Testimonials
"Catherine provided me a meaningful, fulfilling and formative training on branding. I really appreciated her approach in order to explain how to personify our brand. Her support will be very useful for developing my company in various areas and countries. I highly recommend her to companies with similar projects as us. "
Rémi Nguyen - Founder - Director, MLR Company Limited
"Excellent interaction with the trainer who is generous in sharing her knowledge and advice"
May Goh - Corporate Communications Director, Ngee Ann Polytechnic
"Catherine has the ability to draw on her expansive knowledge to inspire, educate and connect with others at all levels in our organisation. Not only has she helped us chart a new brand identity, she equipped and motivated our employees to understand our strategy and deliver on it - in a fun and engaging way. My company has greatly benefited from her expertise"
Wong Chee Herng - CEO and Group Managing Director, Straits Construction
"When deciding on the consultant to work with, besides track record, we use core values as the yardstick to assess, and Catherine came through with flying colours. She impresses us with her passion and professionalism. For companies looking to strengthen their brands, we strongly recommend Broc Consulting under the leadership of Catherine. Your brand will be in steady hands, Catherine's passion and commitment are unparalleled, and she works with only one goal in mind – strengthening your brand and bring out its untapped potential"
Han Koon Juan - Executive Director, Tee Hai Chem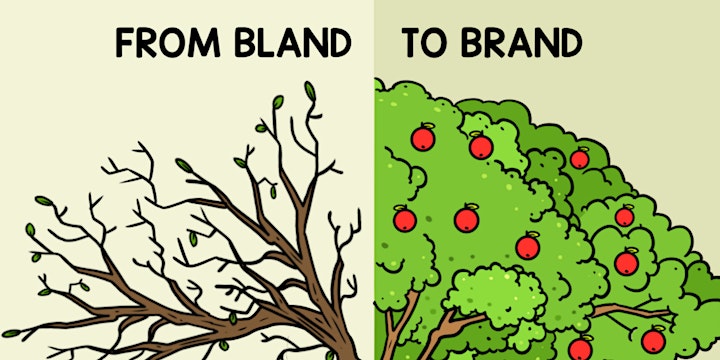 Date and time
Location
Refund policy
Refunds up to 7 days before event
Eventbrite's fee is nonrefundable.
Organiser of FROM BLAND TO BRAND MASTER CLASS (VIRTUAL)