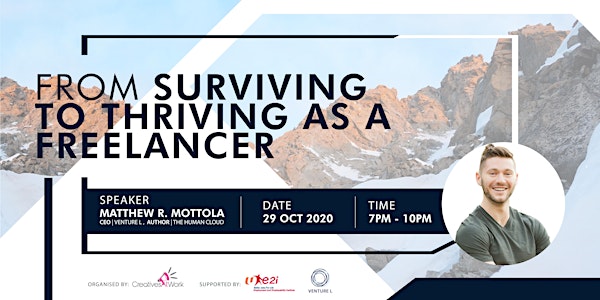 From Surviving to Thriving as a Freelancer
From Surviving to Thriving as a Freelancer
About this event
Hey Freelancers, you're probably quite stressed right now. You have a project due tomorrow, another one due next week, yet before bed you have marketing, operations, and billing.
This isn't what you imagined when you heard about "working for yourself". You imagined no boss. No office. Yet this is too much work outside of the already daunting client work.
You're not alone. Every freelancer has felt exactly how you're feeling right now. Stressed. Overworked. Yet you need to lock a client next month.
Fortunately there's a better way, and that 'way' is scaling your freelance business. Scale doesn't mean selling out and becoming the agency you left. Scale means growth and control. Growth in making more money, and control in having the freedom you were promised when you started freelancing.
In this session we'll learn how to scale our business from Matthew Mottola, author of the Human Cloud and CEO of Venture L - an operating system where top freelancers run their business. Matthew's taken a full circle around the freelancing sun. He started as a freelancer, then led companies hiring freelancers, and now helps top freelancers scale their business. He's seen the secrets behind why leading companies like Microsoft hire freelancers and helped today's leading freelancers position themselves and execute for these same companies.
It'll be a jam packed session covering:
Why freelancing is a business
What clients need from you
What your business needs from you
How to go from a freelancer to a "scaled" freelancer
So bring a notepad and get ready to take control over freelancing business.
About The Speaker
Matthew R Mottola builds the human cloud, the digital and remote model of work that over half the US workforce will transition to within the next five years.
Matthew is the Co-Founder and CEO of Venture L, the leading platform for freelancers to run their business, and author of upcoming book The Human Cloud.
Matthew has led and transformed today's leading companies. At Microsoft, in joint partnership with Upwork, he built the Microsoft 365 freelance toolkit - the unlock for enterprises to embrace the human cloud at scale - bringing Microsoft from nascent to an industry leader in under two years. At Gigster, he built Ideation - a service that used freelance developers, data scientists, and product managers to consistently generate what should be built in the software development lifecycle. At Georgia Tech, he helped develop the entrepreneurship curriculum with Faculty of the Year awardee Arn Rubinoff and guest lectures.
Matthew is a recognized voice for leadership teams, public investors, and media. His work has been featured by Forbes and Fortune to name a few. He is an international keynote speaker, speaking at leading conferences Remote Work Summit and YPO's Innovation Week to name a few. He advises through expert knowledge networks. He is the author of StartUp Not StartDown, upcoming book The Human Cloud, and contributor to leading industry reports.
LinkedIn: https://www.linkedin.com/in/matthewmottola/
Website: https://matthewrmottola.com/
Twitter: https://twitter.com/matthewrmottola
Venture L: https://venturel.io/
The Human Cloud Book: https://www.gethumancloud.com/