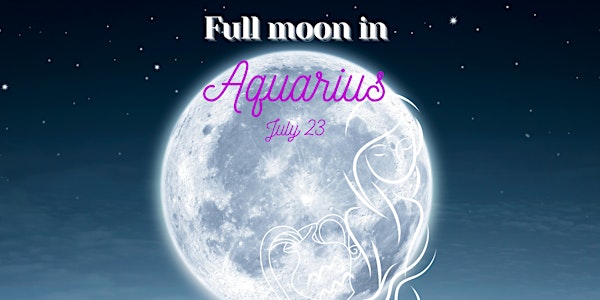 Full Moon in Aquarius Ceremony - (Online) - July 23/24
Walk forth in trust on your authentic path
Refund Policy
Contact the organiser to request a refund.
About this event
Walk forth in trust on your authentic path
Imagine you're standing on a path where finally you get a glimpse of what is at the horizon. The full moon in Aquarius offers us a gift of vision for our future potential. This higher alignment comes from a strong sense of self and trust in our innate knowing.
Gather in ceremony to reflect upon the dreams and desires that stem from our unique beingness that were seeded many moons ago. We'll gently bring them back to life through sharing, meditation and art therapy. It is time. Tension built from where you were and where you are going is ready to release by recognising the forward, supportive energies.
It feels like the cosmos is preparing us for something significant. What we learn and give attention to will expand into the next full moon in August, which happens to also be in Aquarius! Wisdom flows. Take the plunge.
Full Moon Ceremony Details
Join online from the comfort of your own home. An intimate, safe and peaceful space is co-created with you, so you can explore your inner reflections, connect with like-minded souls, and set intentions from the heart.
What to expect:
Receive guidance before, during and after community ceremony; such as sacred space and altar suggestions, and information on how the full moon may impact you personally
Meet and connect in an intimate space with kind-hearted people on parallel paths
Learn how current cosmic energies may be influencing your life
Participate in a group inward ritual
Have dedicated time to journal or express verbally or non-verbally
Respect for all beliefs
Compassionate and welcoming, always all ways
When:
Friday, July 23 from 7-8:30 PM (GMT-8 or PST)
Saturday, July 24 from 10-11:30AM (GMT+8 Singapore)
Zoom link will be provided.
Exchange:
The suggested exchange is $15, however I want to make this accessible to anyone called to attend, so you may offer a value that is meaningful to you. More or less, you choose what is in alignment with yourself.
Space to be seen and expressed is respected, which is why there are only 10 spots available. Who you truly are is lighting the path towards your bright future, and it's so needed in these times.
Be with you in ceremony.
With love,
Michelle