About this Event
As busy urban people, many of us are cut off from our feelings and not in touch with our subtle bodies - the physical energies that move within us. This means we are often anxious, speedy and restless.
生为忙碌的都市人,绝大部分的人都与自己的情感隔绝,无法联接自己的微细身。微细身即是我们体内移动的能量。这意味着我们经常处于焦虑,急躁和不安当中。
This year's retreat will more deeply explore ways we can calm our subtle body and open our hearts so that we that can live in a way that is 'fully being.'
今年的禅修营将会更深入地探索如何运用不同的方法让我们的微细身找到安逸和敞开心扉,让自已成为"全然当下"。
Once we are in touch with this 'basic okayness' or essence love, we can then work on training our minds to cut through confusion and experience the true nature of mind and reality.
当我们能够连接自身的"基本安好"和本质爱后,我们就可以开始训练自身的心和思维来消除困惑并体验心性和实相的真实本质。
This teaching is called Trekcho and it is a profound part of the Dzogchen tradition of Vajrayana Buddhism. This year, Rinpoche will begin to introduce this teaching in Singapore.
大圆满(卓仟)是金刚乘中最高、最顶尖的教法,这训练方法称为立断。今年仁波切将开始在新加坡传授这套教法
H.E. Tsoknyi Rinpoche III is the son of the great Dzogchen Master Tulku Urgyen Rinpoche. He has been teaching students across the world for almost 30 years and recently led meditations at the World Economic Forum in Davos.
第三世的措尼仁波切是大圆满大成就者祖古乌金仁波切的儿子。 仁坡切在世界各地教学近30年,近期更在达沃斯世界经济论坛上指导禅修。
Tsoknyi Rinpoche's deep understanding of the traditional teachings combined with his great insight into modern people's suffering make Tsoknyi Rinpoche's teachings truly life changing.
措尼仁坡切对传统教法有深入的了解与体悟,并对现代人的苦处与烦恼有着深刻的感悟。这使得仁波切的教法真正可以帮助我们改变生活。
This retreat will combine teaching and meditation. It is not a stay-in retreat and is open to all.
这次的禅修营结合教学与实修。并无提供住宿,欢迎大家来参加学习。
For more on Tsoknyi Rinpoche's subtle body teachings:
更多有关措尼仁波切微细身的教学 : 1. https://youtu.be/QKcdOA9Dh7k,2. http://www.pundarika.tw/?tw&teaching_10=412
Retreat fee includes lunch and snacks.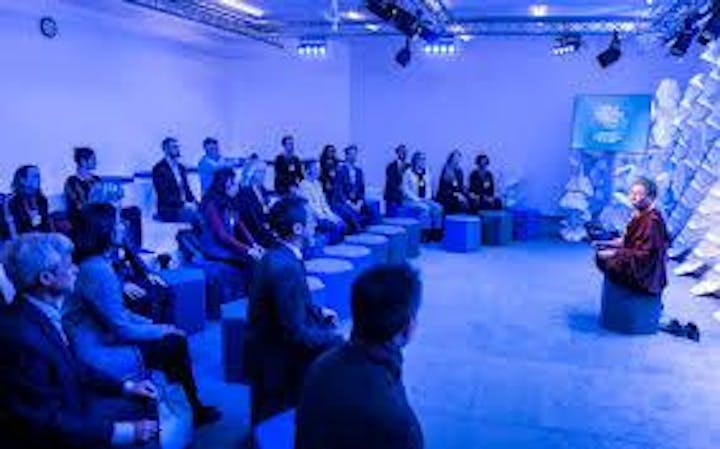 Tsoknyi Rinpoche leads meditation at the World Economic Forum