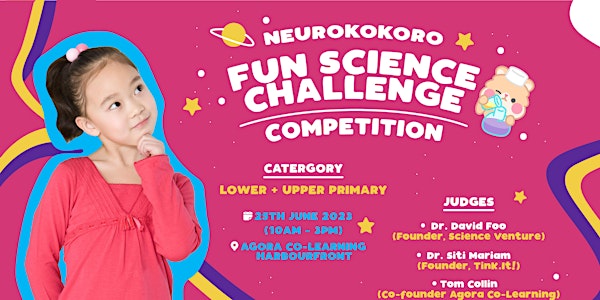 FUN Science Challenge Competition
Ran out of ideas for your child during the holidays? Why not fuel your child's passion for science at the FUN Science Challenge Competition!
Date and time
Sun, 25 Jun 2023 10:00 - 15:00 +08
Location
Agora Colearning (Harbourfront Centre) 1 Maritime Square #04-01 Lobby Singapore, 099253 Singapore
About this event
Is your child an aspiring scientist? Come join us in an exciting and engaging FUN Science Challenge Competition for your child to showcase their scientific skills. Let their creativity flow with a FREE science kit worth $20, choosing from a topic of their choice – Force, Light, Work, or Energy – and watch as they experiment and deliver a 10 to 15-minute presentation of the finished product to our judges. Spend quality time together with your child in preparing for this event happening on 25th June 2023, from 10AM to 3PM. Who knows? Your child might even walk away with amazing prizes at the FUN Science Challenge Competition.
If that's not enough, look no further than our 3-Days FUN Science Challenge Camp happening from 9 to 11 June, 11AM to 4PM, featuring Neurokokoro's Brain Train Science workshop, presentation skillset and practical coaching on the science kit. At the end of the camp, all participants will receive a certificate of attendance to acknowledge their hard work and dedication. Lunch will also be provided each day, ensuring that your child stay energized and focused throughout the camp.
What are you waiting for? Register now and stand a chance for your child to be crowned the winner of the FUN Science Challenge Competition!
P.S. Your registration fee priced at $50 will be waived if you sign up for our 3-Day FUN Science Challenge Camp here!!