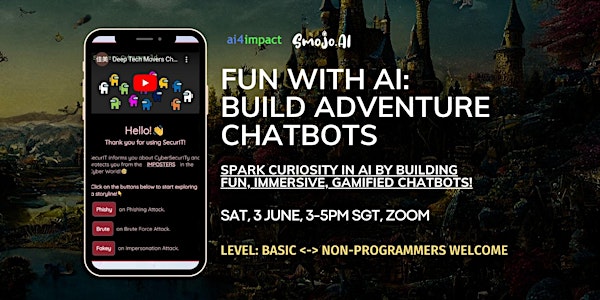 Fun with AI: Build Adventure Chatbots
[FREE LIMITED SEATS] Short, Intensive Bootcamp for Kids and Adults to Build Fun, Immersive, Gamified Chatbots!
Date and time
Sat, 3 Jun 2023 00:00 - 02:00 PDT
About this event
Looking for fun & productive June holiday activities?
Fun With AI - Crash Course is a 2-hour intensive bootcamp designed to help kids, parents, and professionals gain hands-on experience building real-world AI applications, in a fun way!
No programming experience is required to excel.
Why Fun With AI?
Trusted by Educational Institutions
Mentored by Industry Practitioners
Project-Based, Gamified Learning
Short, Fun, Incentive Workshop Designed for Non-Programmers
Gain a Competitive Edge in DSA/Scholarship Applications with Chatbot as Portfolio
What Will You Learn?
Computational Thinking: breaking down a problem into smaller pieces to come up with a solution; an invaluable skill for tackling real life problems.
Creative Thinking: creating meaningful chatbots - custom user interfaces, user interactions, storyboard, etc.
Confidence: having a sense of achievement seeing their work come to life and being used by friends and family.
Fun: learning AI and technology is not scary or boring anymore. Explore new ways of learning through passion projects and community support
What Will You Gain?
LEARNING & MENTORSHIP
Online learning materials for chatbot development (Video, Tutorials, Exercises)
2.5-hour live mentorship by AI Experts
Access to advanced chatbot templates for post-learning
AI DEVELOPMENT FACILITIES
Dedicated compute resources for AI Learning and Development
Cloud-Based file and app hosting
IT infrastructure for web application development and deployment
Real-time data processing Infrastructure
PROJECT EVALUATION AND CERTIFICATION
Experts' feedback and evaluation of chatbot projects developed by participants
Certification (Certificate of Championship and Certificate of Completion)
Who is the Trainer?
Joshua Doray (12 y.o.) - Chatbot Developer at Smojo.AI
Frequently Asked Question
Q: I have no knowledge about programming. Can I still participate? Yes! We designed this bootcamp to be accessible to non-programmers.
Q: Do I have to setup / install anything for the bootcamp? Everything will be accessible through your internet browser (Firefox or Chrome).
Q: Where is this bootcamp held? On the Internet :)
Q: How large can my study group be? You can have up to five team members. This is an intense program with lots to learn. We highly recommend you sign up as a group.
Q: Will I still have access to the learning and development platform after the bootcamp? Yes, we hope you can continue learning and building more advanced chatbot to further develop your technical portfolio.
Q: What should I do if I have any other questions? Email us at ai4impact@gmail.com.
About ai4impact
ai4impact's mission is to help everyone, regardless of age or background, learn AI and build applications. Since its launch in 2019, we have successfully helped 30,000+ non-programmers develop useful AI solutions.
We believe AI can help change our lives for the better, and everyone -- yes, that includes you, dear reader! -- should be able to utilize this amazing technology for social good.
About the organiser
AI4IMPACT is formed because we believe AI should be accessible to anyone with expertise in some domain - science, medicine, engineering, business, law or finance. Since its launch in 2019, AI4IMPACT has successfully trained 30,000+ non-programmers to create useful AI solutions in a few weeks. Through AI, we hope to change our lives for the better, through new medicines, new engineering marvels and by helping us predict the future better.
More details at www.ai4impact.org