Be equipped with knowledge by Fundamentals of PDPA 2020 to protect YOUR company's data. Technology is growing faster than we know.
About this event
Course Overview
1. Introduction to Personal Data Protection Act (PDPA)
2. Data Protection Provisions and Do Not Call Provisions
3. Role of Data Protection Officer (DPO)
4. Create An Organisation's Data Inventory Map (DIM) and Identify Possible Areas of Non-Compliance
5. Develop a Process for Dispute Resolution
6. Training and Communications to Staff for Compliance to Data Protection Provisions
7. Managing Data Breaches
Who should attend this Course?
1. Compliance Managers
2. Data Protection Officers (DPOs)
3. Human Resource Personnel
4. Administrative Personnel
5. IT Personnel
6. Sales and Business Development Personnel
7. Any other person who need to be involved in data protection matters
Course Duration
A. Face-to-Face (This will be the default delivery mode for better learning experience.)
• 3 Days (20 hours of Classroom Training & 3 hours of Assessment)
B. Virtual cum Face-to-Face (This will be alternate delivery mode due to COVID-19 situation.)
• 2 Days virtual training
• 1 Day Face-to-Face Training & Assessment
Assumed Skills and Knowledge
Participants are assumed to be able to:
• Understand relevant organisational strategies, objectives, culture, policies, processes and products / services;
• Have information gathering skills to gather and collate necessary data;
• Have analytical skills to assess policies and procedures;
• Have business writing skills to prepare management report;
• Have interpersonal and communication skills to interact with relevant stakeholders;
• Have facilitation skills to ask the right questions to elicit necessary information; and
• Be aware of compliance requirements of organisation.
Trainer : Trainee Ratio
1 : 20 ( Trainee ratio will be decreased if course is done physically during Covid – 19 to suit the measurements as announced by the Government)
Assessment
Individuals will be assessed through Written Assessment 1 (Written Test: 1 hour) and Written Assessment 2 (Case Study: 2 hours).
Certification
A Statement of Attainment (SOA) for "BM WSQ: Facilitate Compliance with Legislative and Regulatory Requirements" will be awarded upon successfully completion of the course.
Course Fees
Full Fees without subsidy (inclusive of GST)
S$650.00
Course Fees Subsidy
Participants can apply government subsidy for the Course Fees
Refer to SSG's website for details: https://www.ssg-wsg.gov.sg/employers/funding-assistance-schemes.html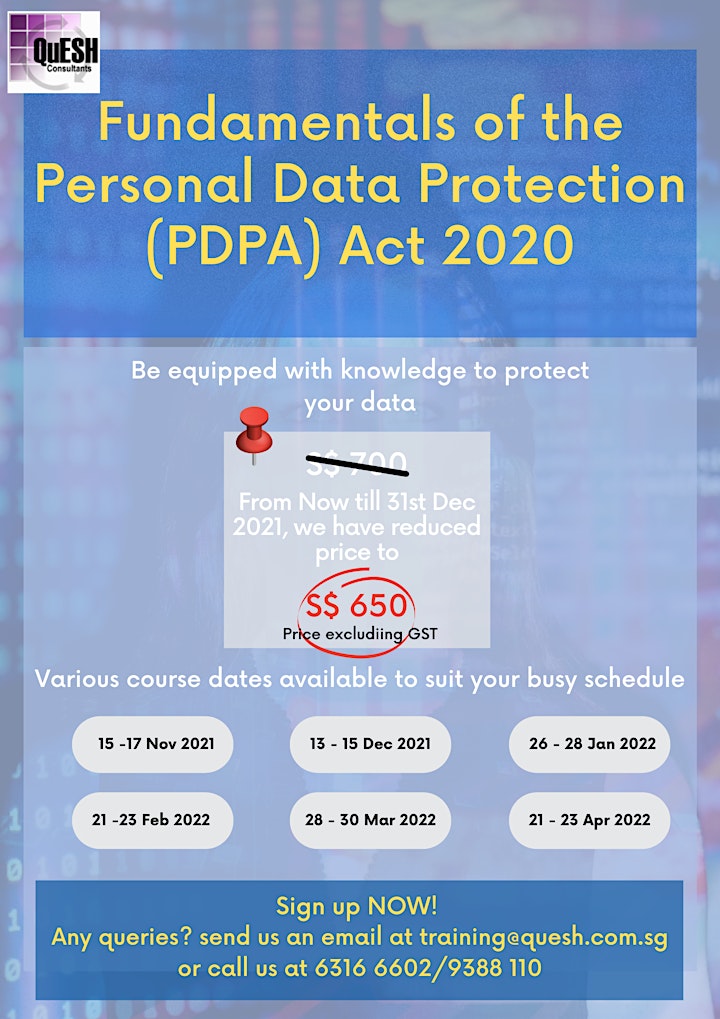 Organiser of Fundamentals of Personal Data Protection Act 2020