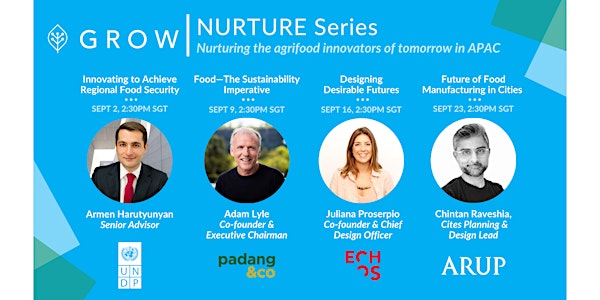 Future of Food Manufacturing in Cities (Arup) | NURTURE Series by GROW
Talks delivered by 4 thought leaders from UNDP, Padang & Co, Echos, and Arup to expand your thinking about agrifood innovation.
About this event
What does the road towards regional food security in APAC look like? What drivers of change and technologies will get us there? What mindsets and skills do we need to foster to meet the UN's Sustainable Development Goals? How should we design and think systematically about innovating for the future of agrifood?
In GROW's NURTURE Series, four thought leaders from the UNDP Global Centre for Technology, Innovation, and Sustainable Development; Padang & Co; Echos; and Arup will deliver talks to share their insights on these questions and more. The talks aim to support agrifood innovators in APAC and inspire entrepreneurs to help shape a more sustainable, resilient, and innovative food system. Each talk will be followed by a moderated Q&A.
This event page is for the final talk of the NURTURE Series—Future of Food Manufacturing in Cities by Chintan Raveshia (Cites Planning & Design Lead at Arup).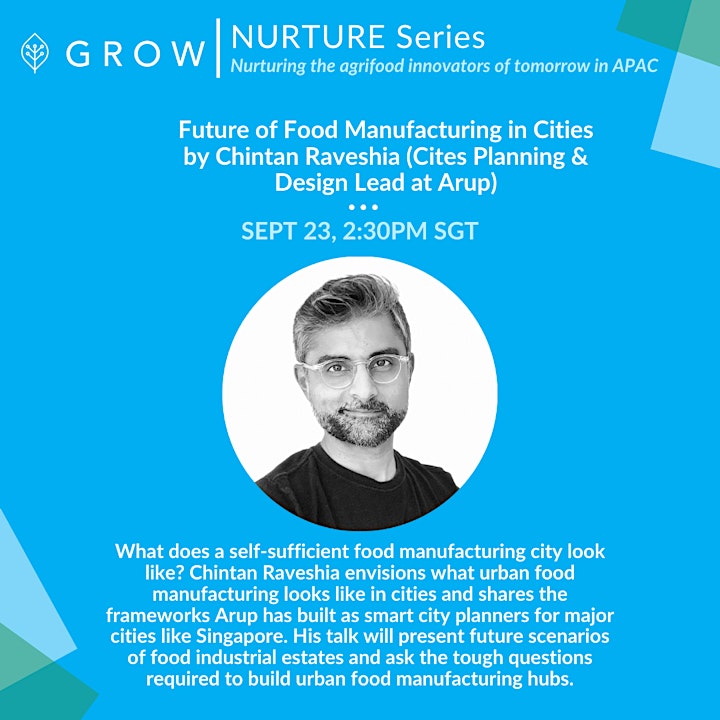 About Chintan:
Chintan is a trained architect and an urban designer and leads the Cities Planning + Design team for Arup in South East Asia. With over 16 years' experience living across 3 continents, his projects in SEA range from planning the new capital city for Indonesia to developing a vision for the future of Smart HDBs in Singapore. Under Arup Singapore's Future Cities Hub, his research projects focus on future of food manufacturing, walkability and autonomous vehicles in cities.
Sign up for the other 3 talks in the NURTURE Series:
Innovating to Achieve Regional Food Security by Armen Harutyunyan (Senior Advisor at UNDP)
Sept 2, 2:30pm SGT
What does a roadmap towards regional food security look like? Armen Harutyunyan explores different perspectives of the roadmap towards regional and national food security in Singapore and beyond. He'll also discuss key drivers of change and how technologies in digital farming, supply chain management, and alt. protein will help us achieve global food security.
____
Food—The Sustainability Imperative by Adam Lyle (Co-founder & Executive Chairman at Padang & Co.)
Sept 9, 2:30pm SGT
Since the United Nations adopted the 17 SDGs in 2015, global progress has been poor overall and is uneven across regions. At current rates, it will take the world another 74 years to achieve the targets. Adam Lyle will discuss how innovation in the Agri-Food sector is not only to key achievement of SDG 2 (Zero Hunger), but is also inextricably connected to success in the other 16 SDGs. The secret sauce is a new way of thinking.
____
Designing Desirable Futures by Juliana Proserpio (Co-founder & Chief Design Officer at Echos)
Sept 16, 2:30pm SGT
Learn how to design desirable futures and influence ecosystems from a systemic perspective. When thinking about design, Juliana Proserpio shares how we need to use the values of empathy, collaboration and experimentation to engage and invite the ones who are part of the ecosystem to be co-creators and influencers of change.
____
The NURTURE Series is organized by GROW, Singapore's first agrifood tech impact accelerator backed by AgFunder, one of the most active agrifood tech VCs in the world. Keep up to date with GROW events and join our GROW community here.