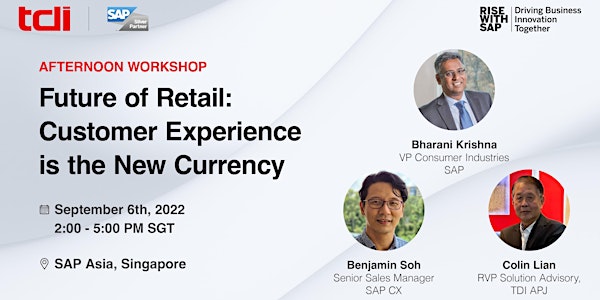 Future of Retail: Customer Experience is the New Currency
Discover the "store of the future" through our sharing sessions and guided experience tour. Registration extended until 2 September, 12:00PM
When and where
Location
SAP Asia 30 Pasir Panjang Road Singapore, 117440 Singapore
About this event
The rise of 5G technology and digitalization have been transforming the store experience for years. Whatever retail future you imagine — across apparel, grocery, or consumer goods — it will likely be built upon technology such as in-store robotic fulfilment, contactless checkout, live personalized pricing, and more.
Step into the "store of the future" during our event - Future of Retail: Customer Experience is the New Currency on 6 September. We will bring you on a guided tour at SAP Experience Center to discover how Retailers can experiment and innovate with Internet of Things (IoT), machine learning, blockchain, Big Data, analytics, and data intelligence.
By attending this event, you will understand the shifting trends in Retail industry and gain insights on how to increase your share of your customer's wallet by providing a seamless customer and shopping experience.
Final chance to get your free pass. Registration extended until 2 September, 12:00PM.