Event Information
Refund policy
Refunds up to 7 days before event
Fun learning by a multiplayer, facilitated online game that simulates taking the "real world" into the future. What future are you creating?
About this event

GAIA GAYA is a platform of making SDGs everybody's business. You can choose to join GAIA GAYA online sessions for free or paid, on Zoom Meeting.
GAIA GAYA #15: Our World Game - Taking the World from Today into the Future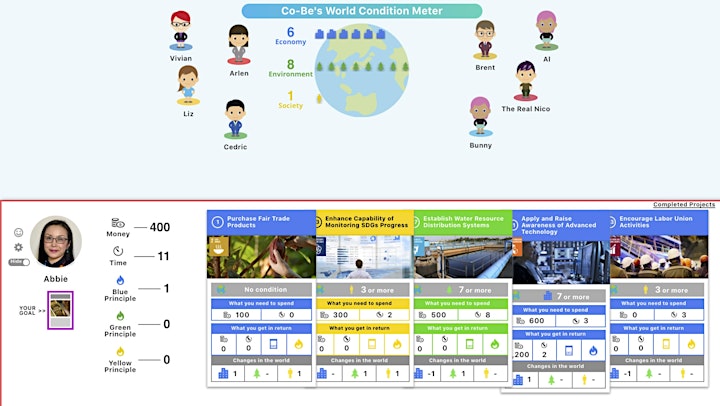 GAIA GAYA turns 1 year old in May, 2021. We thank everyone who supported us, joined us, cheered us and inspired us. GAIA GAYA Session #15 is a happy birthday special session and we will have fun learning experience with you by playing "Our World Game", a multiplayer, facilitated online game that simulates taking the "real world" into the future.
Our World Game is inspired by the 2030 SDGs Game by Imacocollabo in Japan. It is a multi-player in-person card game played in more than 20 countries by 200,000 people in 4 years since it was developed in 2016.
COVID-19 pandemic in 2020 opened a new possibility for this powerful in-person game to be delivered online with equal, if not more, opportunities for discovery and learning.
What will you experience?
Simulating how we collectively take our world from today into the future
Discovering yourself (i.e. your mental models and assumptions)
Seeing a big picture of the world
Noticing new possibilities
Changing your perspectives
Being inspired to take actions to create a better world
How will the event flow?
Welcome! Meet and Greet Everyone (20 min)
Introduction and Instruction (40 min)
Play Game! (45 min)
Reflection and Debriefing (30 min)
Who can join?
You can!
This is an innovative, unique and highly collaborative approach to real world issues. The more diverse the game participants are, the more representative of how our society it is.
Who will facilitate the game?
GAIA GAYA Core Team (Martin Semilla, Chenny Galano, Dada Salud and Abbie Abion) will co-facilitate.
We are all certified facilitators of the 2030 SDGs Game.
Any preparation needed?
Good question!
There is a pre-session learning. To registered participants, we will send you some links for the videos to watch, prior to joining the session. It will take about 15 minutes to watch all 3 videos.
Hardware & software requirements?
Computers for the game. Tablets or mobile phones may NOT be used for the game, but may be used for Zoom communication as a second device.
Browser to access the game should be only Chrome, Edge or Safari.
Reasonably fast and stable network connection for gameplay and communication.
Headset for communication
Version of Zoom: 5.3.0 or later.
Please have a pen/pencil and paper/pad handy with you for journaling practice.
Familiarity requirements?
Zoom: How to Rename, Mute, Text chat, View change, Move in/out of breakout rooms
Web Browser: How to adjust the screen size using zoom in/out.
If you have technical difficulties to join the game on the day of the event, please contact us and we can discuss how we can proceed from there.
Minimum Required Participants
The minimum number of participants/players required to run this event effectively is 6. If fewer than 6 register, the event will be cancelled, and you will be informed 48 hours prior.
GAIA GAYA will take place on Zoom online meeting platform. The Zoom meeting room link and the link to register for the Our World Game will be sent to registered participants 48 hours before the start of the event.
See you all at GAIA GAYA Session #15 on Wednesday, May 22, 2021 on Zoom meeting from 15:00 to 17:30 Philippine time (GMT +8)!
GAIA GAYA Core Team of Learning Nation Foundation, Inc.
Dada, Chenny, Martin and Abbie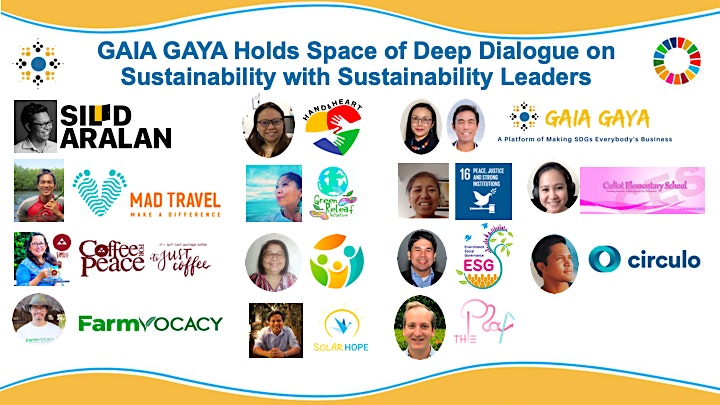 Date and time
Location
Refund policy
Refunds up to 7 days before event