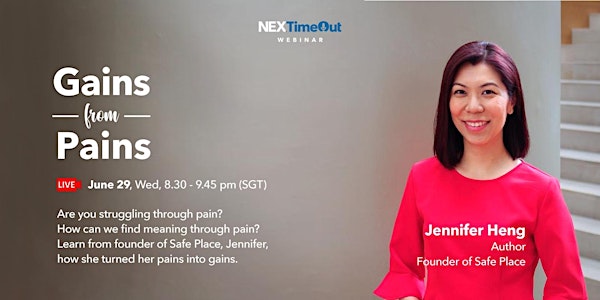 Gains Through Pains
Join Jennifer Heng, founder of Safe Place as she redefines the meaning of pain to navigate through life's crisis.
Date and time
Wed, 29 Jun 2022 05:30 - 07:00 PDT
About this event
Recovering from Pains: Family Dysfunction, Depression & Hope.
Are you struggling through pain? How can we find meaning through pain? Does a world without pain exist?
SPEAKER: JENNIFER HENG
Jennifer has been at the forefront of the movement to build a culture of Life for more than 10 years. She is currently the director of Safe Place, an initiative to empower women with unsupported pregnancies to make life-giving choices. She tells her inspiring story in the book "Walking Out of Secret Shame", and is a regular speaker at conferences, churches, schools and the prisons. A former pastor, Jennifer is happily married and dreams of travelling to Antarctica one day.