Gardens Within series: Tending Your Inner Nature Workshop (Forest Bathing X...
Event Information
Location
Bliss Shala Yoga Studio
Ang Mo Kio Ave 5
560648
Singapore
Description
Xiu Nature Connections is delighted to partner with Bliss Shala to bring you this first workshop of the Gardens Within series. Gardens Within: Tending to Your Inner Nature (forest bathing X breathwork)
"Now is the time to listen within, tend to your inner garden mindfully so that new flowers, new blessings can blossom." - Herman Hesse

In this 2-hour workshop, you will:
experience quietude and mindfulness through indoor forest bathing and intentional breathwork,

explore the current state of your 'inner garden' or inner being through a guided meditation,

nourish your inner garden with flower mandala creations.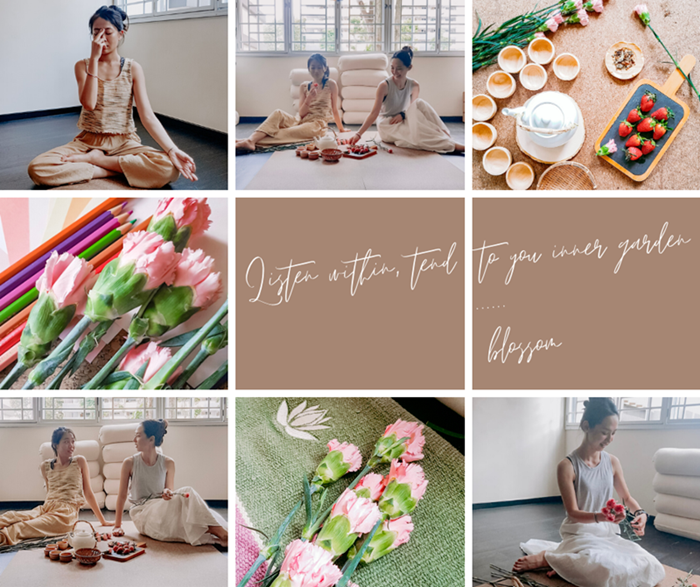 Nature and forest bathing is a sensory experience of slowing down and exploring with nature. Partnering with an abundance of flowers, leaves and wood in this indoor edition of forest bathing, you will be invited to take a sensory rest. Research has demonstrated the health benefits of forest bathing to include lower blood pressure, lower stress hormones and better immunity.
In breathwork, you will be guided to reawaken your inborn, but often dormant, ability: to breathe deeply. When we cease to breathe, we cease to live. Yet, we rarely notice our breath. When you breathe deeply, your diaphragm can move freely. The lowest portion of the lungs where many small blood vessels instrumental in carrying oxygen to cells reside gets a full share of oxygenated air. Reawakening ths capacity to breathe deeply allows you to tap one of your body's strongest self-healing mechanisms.
OTHER DETAILS
This workshop is suitable for everyone.

Minimum 6 pax (full refund applicable if class does not proceed).

EARLY BIRD >>> Register by 5 April 2020 for early bird privilege!

We also have reserved slots for a Pay-What-You-Can system. This is our little way to support. Simply contact hello@xiunatureconnections.com .

A detailed information kit will be sent to you upon registration.
---
ABOUT 'GARDENS WITHIN' WORKSHOP SERIES

We all have a garden within. An inner sanctuary or a haven that we can re-treat and re-turn to. A space that holds important stories and lessons for us, if we are to quieten and receive. Gardens Within is a journey to discover and nourish your garden within. Each workshop supports you to connect with the current state of your inner garden, then introduces you to a wellness practice to nourish your inner garden. When we tend to our gardens, we grow.

ABOUT YOUR 'GARDENERS'
Youmin is a certified nature and forest therapy guide and a yoga nidra facilitator. A pioneer and leader in Singapore and the Southeast Asia, she is passionate about sharing nature connections and deep restorative rest for well-being, especially for stressed out and disconnected city dwellers. In this frantic world we live in, she hopes to share a safe and nurturing space for people to rest in the gap of no-thing-ness, honouring self, then rising up and thriving in the well-rested versions of themselves. Working with individuals, groups and organisations, Youmin's intention is to support them to rise up as well-rested leaders. She has also guided and taught at overseas workshops, retreats and seminars including Finland, Bangkok, Chiang Rai and the Philippines. Her work has also been shared at international and local conferences, as well as publications. She is the founder of Xiu Nature Connections.
Krisa is currently a certificate candidate in Trauma Centre Trauma Sensitive Yoga (TCTSY). She is a long time yoga practitioner and completed her traditional Yoga and Ayurveda in India. As a mother, she believes in mindful birthing and is a Pre and Post Natal instructor. She constantly accredits meditation as the transformative force in her life. It was only through much introspection and development of her inner awareness that she is now able to bring joy and maturity into each class she conducts.
"Many times our answers are within. I too, was constantly seeking for external validation, when true joy lies within. My dharma (duty) is to give back so that others can also discover completeness within themselves. When that happens, total health – physical, mental, social and spiritual health naturally follows."
Krisa extends her deepest gratitude to all her teachers S.N Goenka, Dr Omanand and family for teaching her unconditional love and forbearance.
---
Important class details such as the exact studio's address etc. will be sent to you via a confirmation email from Eventbrite after registrations. Please read and retain that email.
Please read our Terms and Conditions.
Questions? Please contact hello@xiunatureconnections.com
Date and Time
Location
Bliss Shala Yoga Studio
Ang Mo Kio Ave 5
560648
Singapore
Refund Policy