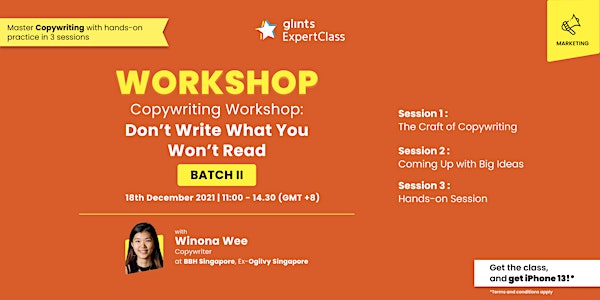 [GEC INT] BATCH II - Copywriting Workshop: Don't Write What You Won't Read
Learn more about Copywriting techniques with exclusive hands-on session from Winona Wee, Copywriter at BBH Singapore & Ex-Ogilvy
Refund Policy
Contact the organizer to request a refund.
Eventbrite's fee is nonrefundable.
About this event
This class will use English as its language.
If you're bored while writing an ad, the reader will probably be bored reading it too.
This hands-on copywriting workshop will focus on two areas of improvement: firstly, crafting compelling copy. You'll learn the basics behind what makes people not hit that "skip ad" button and how to parkour between print ads, radio ads, video scripts while adjusting your tone of writing for the appropriate audiences.
Secondly, we'll learn how to move away from just writing buy-now banner ads to coming up with creative ideas that get people talking. To do this, we'll focus on developing our creative conceptualization skills by learning how to identify business challenges and coming up with creative solutions.
Finally, our workshop will end the session with a hands-on brainstorm session where we will break out into smaller groups and conduct brainstorms to tackle a client brief.
With Winona Wee - Copywriter at BBH Singapore, Ex-Ogilvy Singapore, we will share some insights on:
Session 1: The Craft Of Copywriting
Before you even write
Headline vs body copy
Writing for different channels
Case studies
Q&A session
Session 2: Coming Up With Big Ideas
Why big ideas matter
Distilling a client brief
Turning a business problem into a creative solution
Case studies
Q&A session
Session 3: Hands-on class
Expert's exercise: Conceptualizing for a client's brief in teams
Feedback from expert
About the Expert
Hi, I'm Winona, I'm a copywriter at BBH Singapore creating awesome experiences for a variety of games including League of Legends, League of Legends: Wild Rift, and VALORANT.
I'm an integrated creative with 6 years of experience on local/regional/global accounts, with a strong interest in ancient history & humanizing digital spaces.
I was listed as one of Singapore's most awarded creatives both in 2020 and 2021 and my work has been awarded at festivals like the One Show, Clios, D&AD, LIA Awards, and Cannes Lions — but the highlight of my career has to be when I managed to connect victims of marital rape to counselors in their state.
What Will You Get?
Full practical insights and skills from the Expert
Speaker's presentation material
E-certificate
This Class is Suggested for:
Junior to Mid-level Copywriters who are currently sharpening their skills in copywriting
Junior to Mid-level Content writers want to learn more about copywriting
People who have an interest in these fields:
Campaign Marketing
Journalism
Brand Communication
Scriptwriting
UX writing
Advertising executive
University Students want to have new knowledge in a professional setting
Fresh Graduates
TERMS & CONDITIONS
Soundcheck will start at 10:55 (GMT+8).
The class will start at 11:00 (GMT+7).
Please provide us with your valid full name and email address. We will send the Zoom link through your registered email.
This class will use English as its language.
If you bought the bundle ticket, please inform your partner(s) email address to andi.asyari@glints.com.
You may contact our customer hero at andi.asyari@glints.com for further assistance.