Description
What: Geek Girl Gathering: What you need to know to reach your audience and create your digital future! organized by BNOW.org
When: Saturday March 19th 2016, 12noon- 5pm
Where: DraftBoard, 12A floor, Orakan Building, ( BTS Chidlom)
Fee: Early bird price: THB 800 if registered before 11/ Mar/16. Door price THB 1000. Ticket price includes lunch for the pre-booked and coffee break for all. Limited seating and RSVP is highly recommended!
RSVP: Call 02 662 5622, email info@bnow.org or visit www.bnow.org


To celebrate the month of International Women's Day in March and this year's theme on Pledge For Parity., BNOW.org is organsing a "Geek Girl Gathering", a workshop on Digital Marketing and Coding for Non-Coders. To make tech easy and accessible for women starting up a business, whether she has a stall at a Farmers' market or a 20 person company, this workshop is useful for beginners to intermediate level. This is co-hosted event with BSD Academy, DraftBoard and BNOW.org
Click here to e-meet Sophia Nazer from BSD Academy.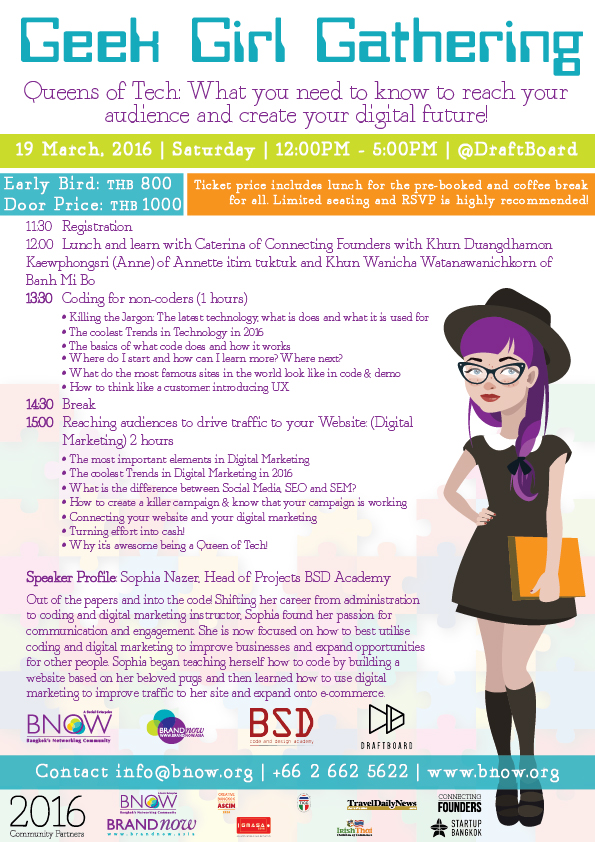 Just to make sure that this event is open to all genders. :)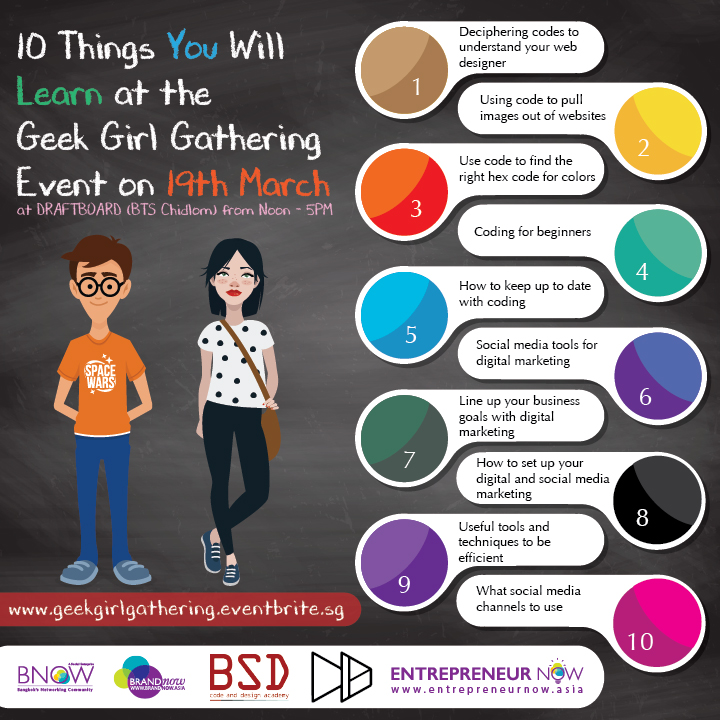 Organiser of Geek Girl Gathering
The Bangkok's Networking Community, BNOW for short, was conceived in late 2003 by a group of friends who shared similar challenges and wanted to make a difference. The group's aim is to create a forum that can help professional business men and women living and working in Bangkok. Members are encouraged to contribute, be active and positive. The monthly meetings are a way to have professionals meet and interact, enabling them to put faces to names and to make new friends and business connections in this transient town.