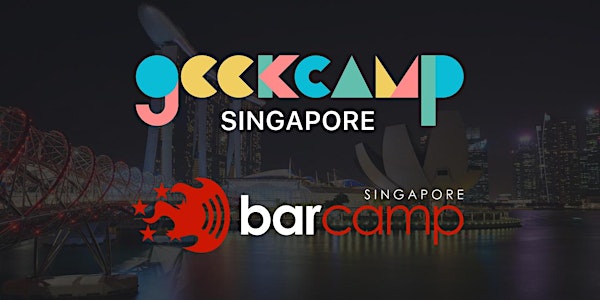 Geekcamp x BarCamp SG 2022
The one-stop event to get acquainted and grow your tech network in Singapore
When and where
Location
SP Digital 180 Clemenceau Avenue Singapore, 239922 Singapore
Refund Policy
Contact the organizer to request a refund.
Eventbrite's fee is nonrefundable.
About this event
Geekcamp x Barcamp SG 2022 is a tech conference organised by geeks, for geeks.
GeekcampSG has been confined to the virtual world for the past 2 years due to COVID. This year we have collaborated with BarcampSG to organise a conference that will be the one-stop event to get acquainted with and grow your tech network in Singapore. Our end goal: to reignite vibrant and inspiring meetups in the tech community.
Each ticket will allow entry into both Geekcamp and Barcamp SG.
This year, we will have multiple tracks:
Main track: Headline talks, featuring representatives from each of the local tech community groups eg RubySG, Hackware, GoSG, Junior Dev SG, etc
Parallel track(s): In-depth talks and workshops for a smaller audience
Barcamp track: More details below
WHAT IS GEEKCAMP?
Geekcamp is a FREE event that brings together hundreds of geeks to share about technologies and knowledge. Its objective is to connect the community through curated talks; by Geeks, for Geeks. If you're unable to make it in-person that day, feel free to join us online by registering for the online ticket.
The schedule for our event will be confirmed at a later date, check out our website for more information!
WHAT IS BARCAMP?
Barcamp is an unconference meetup where people come together to learn from each other. Attendees are interested in learning new things, picking up new skills and they decide which topics they want to discuss.
As participants enter the venue, they will see the topic wall. Those who are keen on presenting or leading a discussion will post their topics on the wall. If you would like to lead a discussion or make a presentation, take the topic sheet from the nearby desk, fill in the details and post it on the topic wall.
The other attendees will walk around to check out the listed topics. If they like a topic, they will vote for it. If a topic has received a sufficient number of votes, it will be assigned a room and a time slot. Attendees are free to join any of the talks at any time.
Please note that attendees may only participate in Barcamp in-person.
Check out BarcampSG's website for more information.
HOW WILL GEEKCAMP X BARCAMP SG BE CONDUCTED?
This year, the organisers of GeekcampSG and BarcampSG have collaborated to bring both events together in the same venue. The main hall will host GeekcampSG's main technical track, while the breakout rooms will host Geekcamp's parallel tracks and Barcamp's tracks. Participants are free to roam between Geekcamp and Barcamp tracks.
Geekcamp talks will be curated by the GeekcampSG team. Barcamp talks will be proposed by the attendees on the voting board and scheduled by the Barcamp team once there are sufficient votes.
One ticket will allow entry for both events.
TICKETS
Tickets to Geekcamp x Barcamp SG are FREE! You can choose to join us in real life or virtually. In-person tickets are limited so register early if you'd like to join us in person! Please note that if you would like to participate in Barcamp, you'll need to be present in-person.
If you'd like to support the event directly, you can contribute a small amount to the running costs of our conference by buying a Donation Ticket at $8, $16, $32, $64, $128. As a gesture of thanks, we'll prepare a small token of appreciation for you!
Join us for an experience that you'll never forget!