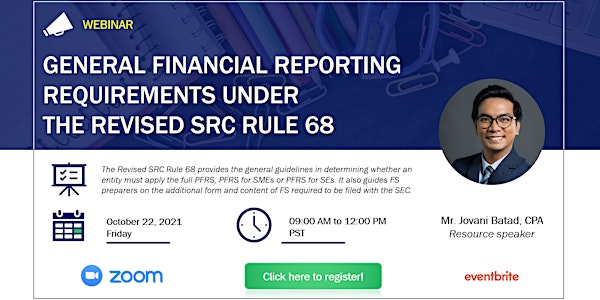 General Financial Reporting Requirements under The Revised SRC Rule 68
This webinar discusses guidelines in determining the appropriate accounting framework and additional form and content of FS.
Refund Policy
Refunds up to 7 days before event
About this event
The Revised SRC Rule 68 provides the general guidelines in determining whether an entity must apply the full PFRS, PFRS for SMEs or PFRS for SEs. It also guides FS preparers on the additional form and content of FS required to be filed with the SEC.
Determining the appropriate financial reporting framework to use
Ensuring completeness of the Statement of Management's Responsibility (SMR)
Review on the supplementary schedules attached to the FS
Schedule of filing of FS for corporations
Comparative financial statements, presentation and its corresponding Auditor's Report
Scale of fines and penalties, and test of materiality
Material Uncertainty Related to Going Concern paragraph, capital deficiency
This webinar is best suited for small practitioners, auditors and FS preparers.
Course level: Intermediate
Order of the day
08:30 – Attendance and check-ins
09:00 – Webinar proper with quick breaks in between
11:30 – Q&A
11:45 – Kahoot games (with prizes)
It's best practice to check-in early to sort any technical issues.
Note: This webinar will not earn you CPD credit.