Multiple Dates
GeopoliticsNow! - Deep Insights for Leaders, Entrepreneurs & Executives
Geopolitics is no longer a good to know but a must know for any international executive, consultant and entrepreneur.
About this event
𝗔𝗿𝗲 𝘆𝗼𝘂 𝗮𝗻 𝗲𝘅𝗲𝗰𝘂𝘁𝗶𝘃𝗲, 𝗰𝗼𝗻𝘀𝘂𝗹𝘁𝗮𝗻𝘁 𝗼𝗿 𝗲𝗻𝘁𝗿𝗲𝗽𝗿𝗲𝗻𝗲𝘂𝗿 𝗱𝗼𝗶𝗻𝗴 𝗯𝘂𝘀𝗶𝗻𝗲𝘀𝘀 𝗿𝗲𝗴𝗶𝗼𝗻𝗮𝗹𝗹𝘆 𝗼𝗿 𝗶𝗻𝘁𝗲𝗿𝗻𝗮𝘁𝗶𝗼𝗻𝗮𝗹𝗹𝘆? Are you an expatriate manager leading teams and operations in Asia?
𝗜𝗻 𝟮𝟬𝟮𝟬𝘀, 𝗲𝘅𝗽𝗲𝗰𝘁 𝘁𝗼 𝘀𝗲𝗲 𝗶𝗻𝗰𝗿𝗲𝗮𝘀𝗶𝗻𝗴 𝗱𝗶𝘀𝗼𝗿𝗱𝗲𝗿 𝗮𝗻𝗱 𝘂𝗻𝗲𝘅𝗽𝗲𝗰𝘁𝗲𝗱 𝘂𝗽𝗵𝗲𝗮𝘃𝗮𝗹𝘀 𝗶𝗻 𝗶𝗻𝘁𝗲𝗿𝗻𝗮𝘁𝗶𝗼𝗻𝗮𝗹 𝗮𝗳𝗳𝗮𝗶𝗿𝘀. 𝗬𝗼𝘂𝗿 𝗱𝗲𝗲𝗽 𝘂𝗻𝗱𝗲𝗿𝘀𝘁𝗮𝗻𝗱𝗶𝗻𝗴 𝗼𝗳 𝗴𝗲𝗼𝗽𝗼𝗹𝗶𝘁𝗶𝗰𝘀 𝘄𝗶𝗹𝗹 𝗯𝗲 𝘆𝗼𝘂𝗿 𝗰𝗿𝗶𝘁𝗶𝗰𝗮𝗹 𝗰𝗼𝗿𝗲 𝗰𝗼𝗺𝗽𝗲𝘁𝗲𝗻𝗰𝘆 𝗮𝗻𝗱 𝘂𝗻𝗳𝗮𝗶𝗿 𝗮𝗱𝘃𝗮𝗻𝘁𝗮𝗴𝗲 𝗶𝗻 𝘁𝗵𝗶𝘀 𝗻𝗲𝘄 𝗱𝗲𝗰𝗮𝗱𝗲. Join this highly interactive and insightful masterclass to appreciate the past, present and future of international affairs and the impact on your business.
In the age of escalating geopolitical tensions, the shift from power from West to East and intense superpower competition, geopolitics has returned to the fore. In today's highly integrated global economy, international politics, economics and trade have a deep and direct impact on regional companies' strategies, growth and performance.
Geopolitics is no longer a good to know but a must know for any international executive, consultant and entrepreneur. Your ability to plan key strategies, make intelligent decisions and execute responsively depends on your appreciation of what is happening around the world across political, economic, technological, environmental and social spheres.
"This is an extremely useful and unique sharing session on Geopolitics by Charlie Ang. He does not merely scratch the surface but deepdive into the core of current state of affairs to help us understand the past and present and, better still, anticipate the future of global developments. He is able to connect complex topics like history, geography, psychology, economics and politics into easy to digest narratives. Highly recommended for any manager and entrepreneur doing business or managing operations in the region!", Wee Chin Chuan, Executive Director, Oriel Group of Companies
In this interactive and insightful talk, Business Futurist, International Analyst and Cultural Expert Charlie Ang will help you filter the essence from the noise and cut through the fog to truly understand the international affairs of today.
In a no-holds barred, crisp and clear style, Charlie will elucidate the past, current and future state of affairs, from the lens of history, politics, geography, economics, psychology, civilizations, culture and technology. If you come with a fuzzy world view, you will leave with a clear eyed perspective that will forever change the way you view the world.
Understanding geopolitics will be a core competence of international executives in 2020s!
Do you want to know:
The future of the world in 2020s?
What is the state of humanity and where is it heading?
The 5 major civilizations and how do they think differently at a fundamental and deep level? (Protestant-Western, Hindu-Indian, Catholic-Tropical, Muslim-Arabic, Confucian-Chinese)
Why certain societies succeed and others fail?
How does the West and China innovate differently?
How will the world be reshaped by the 4th Industrial Revolution?
Why is the Islamic world in serious conflict and will it be resolved?
What is the foreign policy and strategic thinking of each major nation?
Which are the countries and markets to watch in the next ten years?
Are we heading towards a climate catastrophe and can the climate be saved?
How will the future of technology and energy will be transformed and how will they re-configure international politics? And vice versa?
Why are Western liberal democracies in trouble and can it be fixed?
What is the strategy, motivations and future of China's Belt and Road Initiative?
Why is there no Clash of Civilization but Collision of Values instead?
Why is capitalism failing and is Marxism making a comeback?
What is happening in the Middle East and where is it headed?
What is Singapore's strategy and can it win in the future?
Why is ASEAN the most exciting market in the 2020s?
Are we heading towards a new Cold War between USA and China?
What is the fate of US, China, Japan and India and who is best positioned to do well in the future?
How might the new World Order look like with the two superpowers of US and China?
What are the Chinese leadership's ambition, psyche, principles, organization, strategy and future?
What is the China model and will it thrive or fail moving forward? Why is China closing up instead of opening up in recent years?
Using an unConference format, actual day participants will choose the questions from the list above for Charlie to answer. No Powerpoint but maps and flipcharts will be the key presentation tools. You will be provided with useful resources and reading guide to continue your learning journey after the event.
"Thanks very much Charlie. Greatly appreciate your thought-provoking and highly insightful presentation on the geopolitics now and future, as well as the potential implications to the world order. You have adroitly juxtaposed the disciplines of history, psychology and geography and weaved a coherent storyline of future possibilities and challenges that face humankind, as well as sounded a clarion call to action, which if unheeded, will have far-reaching consequences for decades to come.", Vincent Lye
Who Will Benefit:
• Corporate Leaders and Executives
• Entrepreneurs and Business Owners
• Consultants and Analysts
• Diplomats and Government Officials
• Bankers and Investors
• International Trade and Investment Professionals
• Reporters and Journalists
• Trainers and Educators
• Human Resources Managers and Practitioners
Benefits:
• Deepen your appreciation of international affairs, global economy and national markets
• Understand the cultural psychology of governments, companies and consumers of respective countries
• Learn how cultures think, behave and interact with others
• Anticipate the future of the world, new paradigms of business and fate of nations
• Plan key strategies, make intelligent decisions and execute responsively with international affairs and geopolitical considerations in mind
• Improve your strategic analysis, business development, human relations, employee management and operational performance when working across countries and cultures
About the Speaker:
Charlie Ang is a Keynote Speaker, Business Futurist and International Analyst. He is the author of the upcoming book, "Humanity's Strategic Inflection Point in 2020s". As a a former trade diplomat with the Singaporean government, he was based in Indonesia and Philippines as the Head of Commercial Department in the Singapore Embassy.and Centre Director of International Enterprise Singapore.
He was elected as the Vice President of Enterprise Singapore Society, the alumni society of Enterprise Singapore and on the Governing Council of Singapore Chamber of Commerce Indonesia (SCCI). He has delivered guest lectures and programmes at Civil Service College and Lee Kuan Yew School of Public Policy. He is a recipient of several government awards including Singapore Civil Service's Star Service Award, Singapore Ministry of Trade's GEMS Award (Top IES Winner) and IE Singapore's Service Excellence Award (Top Winner).
Today, he is a leading Business Futurist in South East Asia and his views has been featured in International and Asia media, including BBC, Al Jazeera, The Telegraph, Financial Times, Straits Times, Business Times, Asian Scientist, Channel NewAsia, Esquire and others. He is the Founder of Everything 4.0 and Ambassador of SingularityU Singapore, the local chapter of Singularity University.
Charlie is trained in strategic futures, design and innovation at Singularity University (in Silicon Valley), Oxford University's Said Business School and Stanford University. He received his MBA from the NUS Business School and BSc (First Class) Honours in Computer Science from University of Manchester, UK.
With a diverse career in international relations, government, private sector and entrepreneurship, Charlie is able to connect disparate dots from multiple vantage points to tell compelling and easy to digest narratives of the world and our future.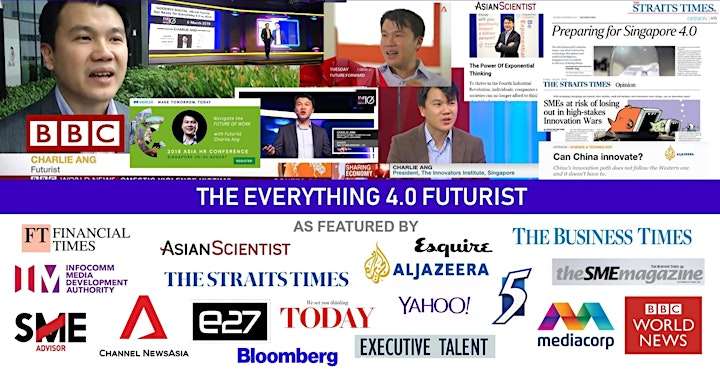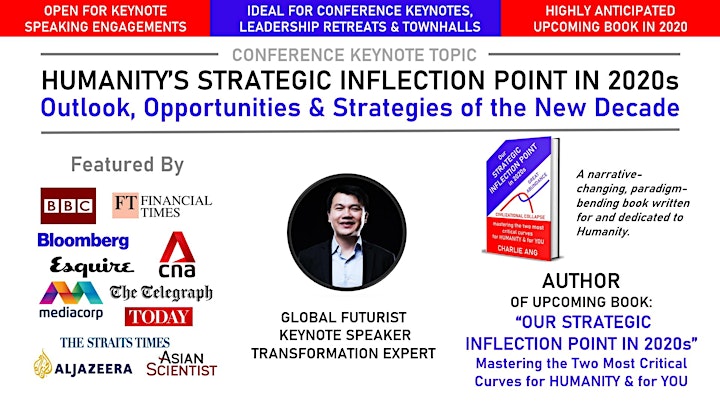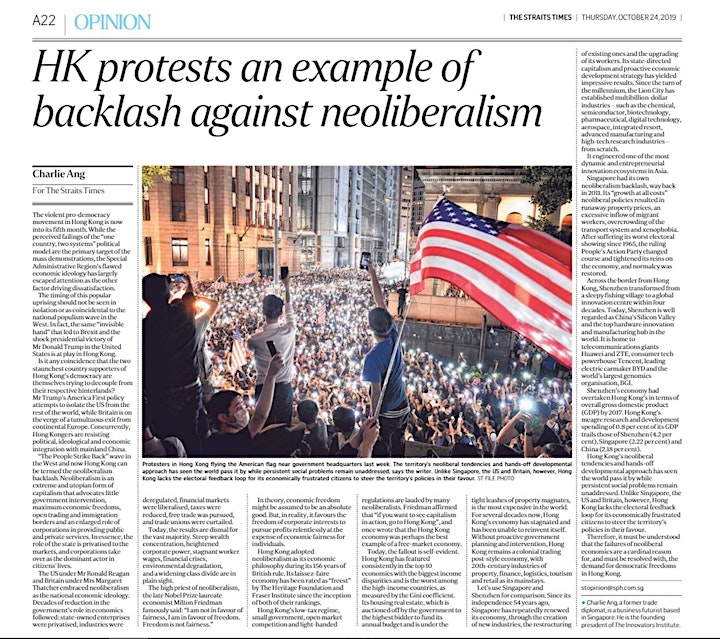 Organiser of GeopoliticsNow! - Deep Insights for Leaders, Entrepreneurs & Executives