Multiple Dates
Get into the Game of Recycling by The Green Collective
Join the green movement by taking part in the passion-led workshops & get rewarded with environmentally friendly picks from eCapitaMall.
About this event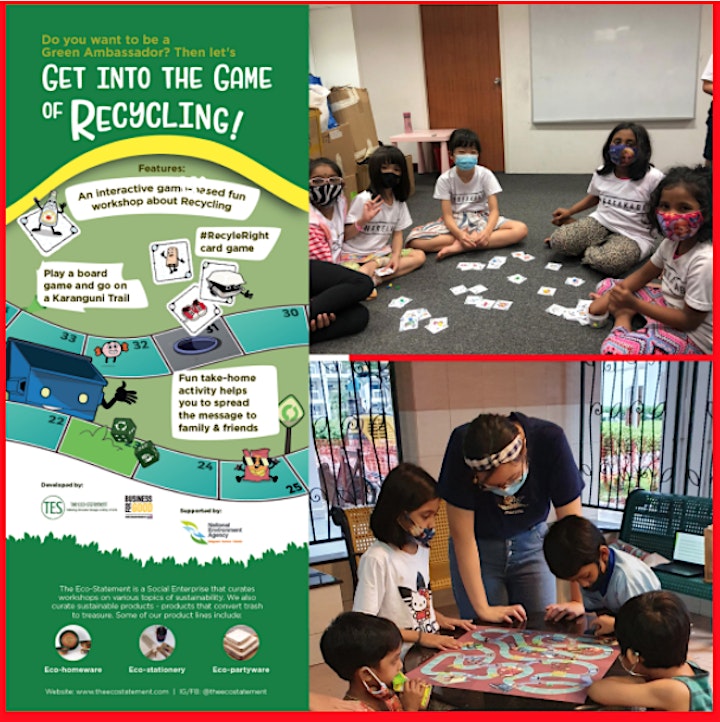 Want to have fun and at the same time learn as a family how to improve the domestic recycling rate in Singapore? Then join us for a fun afternoon & get into the game of recycling with us.
Join The Eco Statement (ww.theecostatement.com)for this workshop is specially designed for families and kids, particularly those aged 5 years to 10 years.
Highlights:
• Interactive session on #RecycleRight
• Play #RecycleRight card game
• Go on a Karaguni Trail on a board
• Fun sorting competition
• Take-home activity to help spread the message with friends & family
At the end of the session, you will be able to:
• State what is Recycling & why is it important to Recycle.
• Identify the colour of the recycling bin.
• Identify the kind of materials that can be put into the recycling bin.
• Differentiate between recyclables & non-recyclables.
• Learn how to #RecycleRight at home.
Note: This workshop is supported by NEA under the project – Get into the Game of Recycling
This workshop requires a minimum of 3 attendees to run.
TERMS AND CONDITIONS
1. All attendees require a ticket regardless of age.
2. All workshop tickets are non-refundable.
3. Any exchange of workshop dates or participant names will be considered on case-by-case basis. Participants should inform us of any proposed changes at learn@ediblegardencity.com at least 3 days before the actual day of the workshop.
4. In the case of no-show, late attendance or early departure, no refund, replacement, make-up or exchange will be made.
5. Terms and conditions are subject to change without notice at any time and at the sole discretion of the organiser.
6. Please ensure that all information provided is accurate. Should any of the provided information be untrue, inaccurate, not current or incomplete, the organiser will not be held responsible or liable for incomplete/failed delivery of the service/product.
7. This event might be cancelled if the minimum pax requirement is not reached. In that event, you will be notified one day before the stipulated event date via email. If cancellation is initiated by organiser, you will be refunded in full.