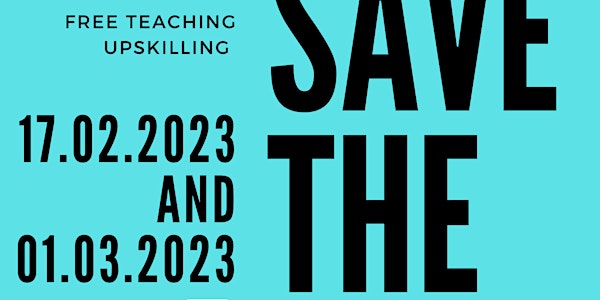 Get your teaching skills improved!
Sind Sie ein leidenschaftlicher Fachmann? Möchten Sie mehr über nicht-formale Lernmethoden erfahren und einige digitale Lehrmittel testen?
By Iberika Education group GmbH
When and where
Date and time
Fri, 17 Feb 2023 11:00 - 13:00 CET
Location
iberika education group gGbmH Mehringdamm 29 10961 Berlin Germany
About this event
Liebe Lehrer, zukünftige Lehrer und Lernende,
wir von der Iberika education group GmbH sind auf der Suche nach leidenschaftlichen Fachleuten und Lernenden, die gerne einige unserer Projekte, Lehrplattformen und andere Lehrmittel testen möchten :)
Nach der Veranstaltung erhalten Sie ein Teilnahmezertifikat, das Sie berechtigt, die getesteten Plattformen in Ihrem zukünftigen Unterricht einzusetzen!!!
Hier eine kurze Beschreibung unserer Projekte, die durch das Erasmus+ Programm kofinanziert werden:
Aid Kit: Unser Projekt Aid Kit for Autonomous Online Classes zielt darauf ab, Ausbilder von Erwachsenen, die mit gefährdeten Gruppen arbeiten, mit relevanten digitalen Werkzeugen und Beispielen aus der Praxis auszustatten, die sie bei der Erstellung qualitativ hochwertiger nicht-formaler Online-Programme unterstützen. Wir werden über Themen wie die spezifischen Unterrichtsbedürfnisse von Lernenden aus gefährdeten Gruppen diskutieren und einige motivierende Methoden zur Integration anwenden.
Digital Practices for Inclusive Programs: Wir werden die Vorteile der Verwendung von "Sprach- und Videobotschaften" beim Sprachenlernen vorstellen und Sie ein digitales Tool testen lassen. Das Treffen bietet auch einen geschützten Raum, in dem Sie über Ihre Probleme mit dem digitalen Lehren und Lernen diskutieren können und darüber, wie sich Ihre aktuelle Lebenssituation auf Ihren Lern- und Integrationsprozess auswirkt und was Sie dagegen tun können.
YouCreate: zielt darauf ab, junge Menschen mit unterschiedlichem kulturellem und nationalem Hintergrund und Jugendbetreuer zu befähigen, zu einer nachhaltigeren Politik und Praxis beizutragen, die Führung zu übernehmen und die Kreativität zu nutzen, um aktiv an der Umgestaltung unserer Gesellschaft hin zu einer nachhaltigeren Zukunft teilzunehmen. Während des Treffens werden wir unser kostenloses Online-Lernprogramm GREATIVE vorstellen. Wenn Sie lernen möchten, wie Sie Ihre grünen und kreativen Fähigkeiten verbessern können, und wenn Sie daran interessiert sind, EU-Projekte widerstandsfähiger und zirkulär zu gestalten, dann sind Sie hier genau richtig!
Wir freuen uns darauf, Sie alle zu treffen!
Mehr Informationen über unsere Projekte finden Sie hier:
https://inclusivedigitalpractices.eu
---------
Dear teachers, future teachers and learners,
At Iberika education group GmbH, we're currently looking passionate professionals and learners that would like to test some of our projects teaching platforms and other teaching tools :)
!!After the event you will get a certificate of participation that allows you to use the tested platforms in your future classes!!
Here brief descriptions of our projects, co-funded by the Erasmus + Program:
Aid Kit: Our project Aid Kit for Autonomous Online Classes aims to upskill adult learners' trainers working with vulnerable groups, with relevant digital tools and real-life examples that will guide them in creating high-quality non-formal online programs. We will discuss about topics such as the specific teaching needs of learners from vulnerable groups, and practice with some integrating motivating methodologies.
Digital Practices for Inclusive Programs: we will present the benefits of using "voice and video messages" in language learning , and let you test a digital tool. The meeting will also offer a safe space to discuss your problems with digital teaching and learning, how your current life situation impacts your learning and integration process and what to do about it.
YouCreate: aims to empower young people from diverse cultural and national backgrounds and youth workers to contribute to more sustainable policies and practices to take the lead and utilize creativity to actively participate in the reshaping of our society towards a more sustainable future. During the meeting we will present our free educational online training GREATIVE. If you'd like to learn how to enhance your green and creative skills and you are interested in making EU projects more resilient and circular, this is your place!
We are looking forward to meeting you all!
You can find more info about our projects here:
https://inclusivedigitalpractices.eu