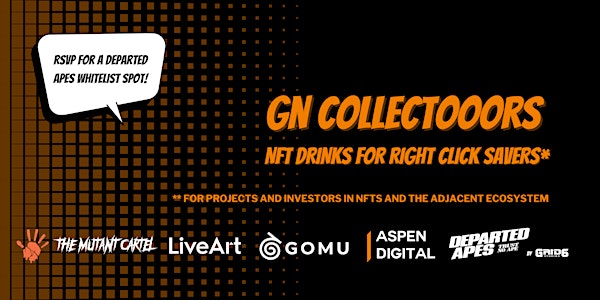 GN Collectooors - NFT Drinks for Right Click Savers
Aspen Digital, Gomu, Departed Apes, The Mutant Cartel and LiveArt are hosting drinks during the week of TOKEN2049.
When and where
Location
Ballroom by Barbary Coast 16 North Canal Road #02-01 Singapore, 048828 Singapore
About this event
This event is for serious investors only. Attendance increases the chance of your NFT floor price going up again. NFA though.
Date: September 28, 2022 (Wednesday)
Time: 4:00 PM - 6:00 PM
Location: Ballroom by Barbary Coast – 16 North Canal Rd, #02-01, Singapore 048828
About Aspen Digital
Aspen Digital is a crypto asset management platform that helps HNWIs and institutions allocate into the digital asset industry. We help investors allocate into yield, quant (market neutral, DeFi yield farming), smart beta, and venture investments. Key venture investments include the 6529 NFT Fund, Yuga Labs, Animoca Brands, UpBit and Merkle Science.
Aspen Digital was co-founded by Everest Ventures Group and TTB Partners. Its shareholders include Rothschild Investment Trust, Liberty City Ventures and C.P. Group. Learn more at https://www.aspendigital.co/ and follow us on LinkedIn and Twitter to stay updated.
About Gomu
Gomu provides industry-leading data and developer tools for creators, businesses and developers to build native web3 applications and experiences easily and securely for their users.
Our core founding team has led executive teams at Coinbase, CoinMarketCap, Chainlink, Millennium Management and Zendesk, building world-class data APIs and software products. As one of the most outstanding data-focused teams in the industry, we bring together years of Web3, crypto, product management, software and enterprise development, big data and financial technology experience to scale the next generation of Web3 software infrastructure.
For more information, please visit https://www.gomu.co or follow us on LinkedIn and Twitter.
About Grid6 Studios and Departed Apes
Grid6 Studios is founded by Stephen Fung, Media Asia Films and Everest Ventures Group bringing significant experience across film and television in combination with digital assets and blockchain technologies.
Grid6 Studios founded the NFT collection, Departed Apes. The NFT collection is based on the internationally acclaimed crime thriller, Infernal Affairs, which was then remade into The Departed. Departed Apes consists of a limited number of characters roaming around the Infernal Affairs metaverse game. Artwork was done by Logan Lubera, a Marvel Comic Books cover artist.
About The Mutant Cartel
The Mutant Cartel is a creation studio dedicated to expanding and enriching the MAYC ecosystem and the IP of its holders.
With over 4,000 members, the Cartel is the largest Mutant-centric community existing within the Yuga IP Ecoystem and possesses multiple decentralised storytelling services, and a soon to be released MAYC expansion pack in the form of a 10,000 collection series of "Mutant Hounds."
About LiveArt
LiveArt is the global Web3 platform disrupting the art market, built by a team of entrepreneurs with multiple successful exits and leadership roles at Sotheby's and Christies, the world's largest art companies. LiveArt is the preeminent destination for art market analytics and the world's largest peer-to-peer fine art exchange. Already in the top 5% of global art businesses, LiveArt is an industry leader with an enormous network of globally recognised artists, creators and collectors. LiveArt's Web3 platform provides an all-in-one solution for brands to engage both their traditional audiences and the crypto-natives with customised projects that can be launched in days.