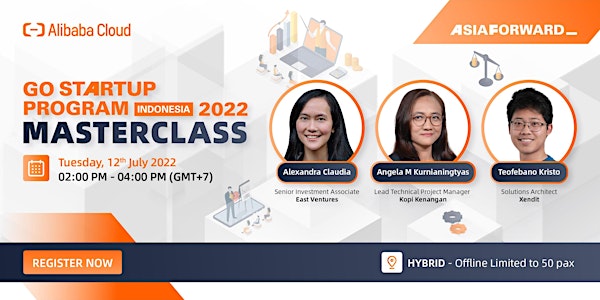 Go Startup Program Indonesia - Masterclass
Our upcoming hybrid Masterclass is specially crafted for early-stage startup founders that are going to scale and bracing for fast growth!
When and where
Location
CoHive 101 Mega Kuningan 1 Jalan Mega Kuningan Barat Kecamatan Setiabudi, Daerah Khusus Ibukota Jakarta 12950 Indonesia
About this event
As part of the Go Startup Program Indonesia line-up, we have our upcoming Masterclass specially crafted for early-stage startup founders that are going to scale and bracing for fast growth! We are excited to have our speakers from East Ventures, Kopi Kenangan, and Xendit to share their experience and insights at this session.
This event will be held in Bahasa Indonesia.
Please note that seats are limited and will be on a confirmation basis! If you are not certain that you can attend the event in person, please sign up for the virtual ticket to free up the spot for another founder :)
Sebagai bagian dari rangkaian Program Go Startup Indonesia, event Masterclass kali ini dibuat khusus untuk para pendiri startup tahap awal yang siap untuk berkembang dan tumbuh dengan cepat! Beberapa pembicara dari East Ventures, Kopi Kenangan, dan Xendit akan berbagi pengalaman dan wawasan mereka di sesi Masterclass kali ini.
Acara ini akan dibawakan dalam Bahasa Indonesia.
Harap dicatat, untuk mengikuti sesi ini secara offline, anda harus RSVP dan mendapatkan konfirmasi registrasi terlebih dahulu. Jika anda tidak yakin dapat menghadiri acara ini secara langsung, silakan mendaftar untuk mendapatkan tiket virtual sehingga slot yang ada dapat diisi oleh peserta lainnya :)
Agenda
13:30 to 14:00 Registration
14:00 to 14:05 Opening by Alibaba Cloud
14:05 to 14:30 Hear from a VC: Common pitfalls and metrics that matter for a growing startup | Hal-hal yang perlu dihindari dan metrik yang penting untuk dimengerti oleh startup yang siap berkembang
Speaker: Alexandra Claudia, Senior Investment Associate at East Ventures
What you will learn: Leaders will learn how to make your startup stand out from competition, what exactly are the things that VCs are looking at— that will help you clinch that investment, and what are the pitfalls that leaders must avoid while growing their business.
Apa yang akan anda pelajari: sebagai pemimpin, anda akan mempelajari bagaimana membuat startup anda "stand out" dalam persaingan yang ketat, apa sebenarnya hal-hal yang dilihat oleh VC yang akan membantu anda meraih investasi dari mereka, dan hal-hal yang perlu dihindari para pemimpin saat mengembangkan bisnis mereka.
There will be a 5-minute Q&A.
14:30 to 14:55 Ensuring your startup is equipped to scale | Memastikan startup anda siap untuk berkembang
Speaker: Angela M Kurnianingtyas, Lead Technical Project Manager at Kopi Kenangan
What you will learn: Business leaders hustle at the forefront, scaling heights and clinching deals. But what does the technical team need to be equipped with so they can support your ambitions? How should you be prepared to manage data now that the volume is increasing quickly?
Apa yang akan anda pelajari: Sebagai pemimpin bisnis, anda berdiri di garis depan untuk mengembangkan usaha anda ke tingkat yang lebih tinggi dan mengatur berbagai kesepakatan bisnis. Tetapi apa yang perlu dilengkapi dengan tim teknis agar mereka dapat mendukung ambisi anda? Bagaimana anda harus siap untuk mengelola data yang volumenya kian meningkat dengan cepat?
There will be a 5-minute Q&A.
14:55 to 15:20 Balancing cost efficiency with growth: what can you save on, and what must you spend on? | Menyeimbangkan efisiensi biaya dengan pertumbuhan: biaya apa yang dapat anda pangkas , dan apa yang perlu anda keluarkan?
Speaker: Teofebano Kristo, Solutions Architect at Xendit
What you will learn: Leaders will understand how to budget for technical spending; what are some areas that must be spent on and why, what are some products that can help my startup manage technical costs efficiently when I am expecting to scale?
Apa yang akan anda pelajari: sebagai pemimpin, anda akan diberikan pemahaman tentang penganggaran untuk pengeluaran teknis seperti: area apa saja yang perlu investasi biaya dan alasannya, serta produk apa saja yang dapat membantu startup untuk mengelola biaya teknis secara efisien dan siap untuk berkembang?
There will be a 5-minute Q&A.
15:20 to 15:45 Introduction to Alibaba Cloud & Recommendations of related products | Pengenalan akan Alibaba Cloud & Rekomendasi produk terkait
Speaker: Eggy Tanuwijaya, Head of FSI Solution at Alibaba Cloud Indonesia
There will be a 5-minute Q&A.
15:45 to 15:55 Alibaba Cloud Startup Program
Speaker: Darlin Valentine, Marketing Manager at Alibaba Cloud Indonesia
15:55 to 16:00 Closing
16:00 to 16:30 Networking