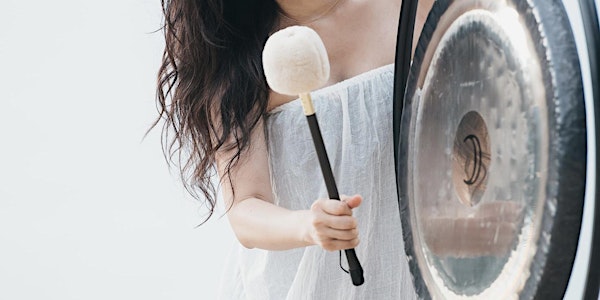 Multiple dates
GONG MASTERY TRAINING COURSE LEVEL 2
This training will give you the tools and techniques to conduct Gongs sound healing sessions for self, and one-on-one private sessions.
Date and time
August 2, 2021 · 8am - April 3, 2022 · 12pm +08
Location
SPACE2B 2B Stanley Street Singapore, 068721 Singapore
Refund Policy
Contact the organizer to request a refund.
About this event
This training will give you the tools and techniques to conduct Gongs sound healing sessions for self, and one-on-one private sessions for individual clients. A journey of Self Mastery and Awareness through the sacred sounds of Gongs.
Contents:
Advanced Playing Techniques and Sequences
Playing with Multiple Mallets and Gongs
Using Breath work, Meditation and Movement
How to create a full experience of sound with rhythm, volume, and playing patterns
How to shift energy blockages, in creating relaxation and transformation in clients.
What Makes You Come Alive?
The Inner Sanctuary
Symmetry: Reflection or Translation?
Intuitive Playing
Deep Listening
Be Like a Child
Sound and Beyond
Working with Energy, Shamanism
Finding your Style
Handheld Gong Playing
Group Gong Bath, Gong Meditation
Designing and Giving an Individual Gong Therapy Session
Who should attend / who is this for?
This Training Course is suitable for all including yoga teachers, sound healers, and therapists from all backgrounds and experiences. For anyone and everyone interested in the power of sound, in the healing field or getting started in sound healing as a career, and access a better understanding of yourself. No prior experience required.
YACEP – Yoga Alliance® Continuing Education Program for yoga teachers.
Registered Yoga Teachers (RYT®s) who take courses with us, this training course count towards meeting your Yoga Alliance® Continuing Education Requirements (YACEP).
You will receive a Certificate of Completion fully recognised by Yoga Alliance at the end of this course.
About James
Before discovering yoga, James used to think yoga was just easy stretching but little did he know that one trial class would change his life forever. He fell in love with how yoga made him understand his physical body and how it changed his outlook on life spiritually. He dove deeper into the philosophies of yoga and meditation which opened up a multitude of experiences and exploration.
After attaining his Yoga Alliance Accredited Yoga Teacher Certification, James went on to pursue his love for Sound Healing and completed his Gongs, Crystal Bowls and Tuning Fork Practitioner Mastery with Christina Nikolovski. Since then, he has helped many students cope with their anxiety, stress, sleep disorders, chronic pain and mood swings. As he continued on his journey of discovery, his students have taught him so much more in his never ending quest for self-betterment, compassion and non-judgement.
Marrying his passion for yoga and sound healing, James' yoga nidra and gongs meditation sessions are well sort after for its simplicity but effective means for students to effect change into their lives and re-frame their mental awareness. Studies have shown that 1 hour of yoga nidra is as restful as a few hours of sleep. James' private sessions include sound healing with Alchemy Crystal Bowls and Gongs sound healing for feeling grounded and calm. He also uses Tuning Forks to entrain the brain to achieve desired brain wave states.
Format: Talk 20%, Practices 70%, Q&As 10%
Wear: Loose, comfortable, layered clothes to sit on
Bring: Lots of water, notebook and pen
Location: The course will be held at SPACE2B, 2B Stanley Street, Singapore 068721
Enquiries: Whatsapp James 8893 8629 or Email info@space2b.sg
Booking & Payment:
Please confirm your place in the course by paying in advance. Only those students who are fully paid in advance will be considered as booked. Space is strictly limited to ensure personalized attention.
To pay, via credit card, clink on this link. You can choose to transfer funds into SPACE2B PTE LTD bank account DBS account no: 0109056769, or PAYNOW to SPACE2B PTE LTD UEN no: 201814703K. And send us a copy of your bank transfer slip.
Cancellation Policy:
Should you pay in full and then cancel 2 calendar months prior to the first day of the course you will be refunded 75% of the total fee paid. 25% is withheld for administrative costs.
Should you pay in full and cancel one calendar month prior to the first day of the course, you will be refunded 50% of the total fee paid.
Should you cancel between one month and 7 days before to the first day of the course, you will be refunded 25% of the total fee paid. Less than 7 days notice, you will forfeit the entire amount.
Cancellations must be made in writing and received by us and their receipt confirmed.
Available Dates:
2 August 2021, Monday
4 October 2021, Monday
1 November 2021, Monday
6 December 2021, Monday
3 April 2022, Sunday
4 December 2022, Sunday
If above dates are not suitable, do write to us at info@space2b.sg for possible alternatives.
Hours: 8:00am – 12:00pm
Teacher: James Hou
Investment: $600 per person.
Where: SPACE 2B, 2B Stanley Street, Singapore 068721