Description
Google AdWords for Business 2017: Create Google Ads That Sell!
(Updated for May 2017)
---
What you will take away from this Hands-On Workshop:
Know all the fundamentals you need in order to DRIVE SALES and generate QUALIFIED LEADS!
Use the tools of Google Advertising from our "hands-on" training class
Produce ads that will INCREASE your sales, leads and enquiries!
p.s This is our FINAL Workshop Series - this is your LAST OPPORTUNITY!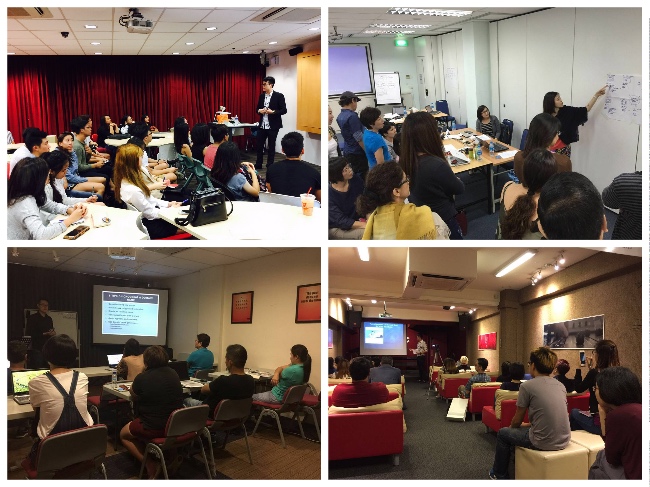 SUCCESS Stories - What Past Participants Say About the Workshop:
"...i am thoroughly AMAZED with the tools and resources taught during the workshop. As promised, we instantly generated 37 leads in ONE DAY. Value for money."
- Lucas Lim, Marketing Director - Foodstar Supplies Ltd
".....in just the first week after the course, i managed to break my sales record by over $12,000! Very confident with my future marketing campaigns now!"
- Ivory Seow, Sales Manager - Delight Media Holdings
"They had co-instructors to help me as i am not very technical savvy. The co-instructor was very helpful, patient and able to help me catch up with the pace."
- Ernest Chia, Business Owner
"The workshop is very good and conducted at a comfortable pace for a beginner like myself. Overall very satisfied and highly recommended!"
- Ken Lee, Civil Servant
"I find the many real-life examples and hands-on training the most valuable part of the workshop. I would definitely recommend it to my friends as it will be very helpful to their businesses!"
- Manikandan Rajagopal
"The trainers are so good - thanks to their patience, I was able to pick up the knowledge very quickly. I enjoy the hands-on training and will recommend it to my friends as it is very effective."
- Mohammad Abdel Hady Al Naggar, Business Owner
"The contents of the course are very organized and clear. I would recommend it to my friends - it is very good. The trainer is very friendly and answers our questions well."
- Norazah Md Yusof
"Highly recommended - unique content unlike any other seminars (I have attended). Interactive as well. The trainer was friendly and engaging."
- Magdelene Phua
"The workshop was most valuable and very beneficial as it exposed me to more tools. I would recommend it to my friends! The trainer was able to articulate all the information properly."
- Joshua Lim
"The different tips on reaching out to consumers were useful to me. Really insightful. Very clear in explanation. Well-paced."
- Amira
"The interaction between the speaker and audience is what I like most about the workshop. Yes I definitely recommend it to my friends because it is beneficial and relevant. The trainer is also very interactive."
- Joo Yong Hui
"The knowledge I picked up has been very valuable and helpful for our marketing plans. We are able to benefit from a lot of the information shared which we previously did not know."
- Nur 'Aisyah
"The workshop opened up so many possibilities for my marketing efforts and the speaker was engaging and clear in his explanations"
- Randall Teo
"I highly recommend this to my friends, especially to novices wanting to learn more about this topic."
- Avon Ang Ming Yang
"I learnt a lot of new things that I have never heard about from other similar workshops. Highly recommended. Trainer was very approachable."
- Shanice Ang
"The course has aided me in thinking more in-depth about the topic. Yes I would recommend it to others. Trainer is friendly. I would love more hands-on activities."
- Lunar Lim
"Interesting new models that I have never come across elsewhere. Engaging and fun! 5 stars!"
- Yeo Bon Jae Ren
"I highly recommend this course as it was in-depth and filled with activities. It was perfect for me."
- Ow Jian Cheng
"The speaker was very engaging and friendly and gave us opportunities to revise what we learnt. I hope to procure more business opportunities after attending this workshop!"
- Jeremy Teo
... PLUS MANY MORE SATISFIED LEARNERS!
WHO SHOULD ATTEND THIS COURSE?
• Business Owners, Freelancers, Sales Professionals, Current or Aspiring Marketers.
• ENTREPRENEURS who wants to SUPERCHARGE THE GROWTH of your future business using Google AdWords advertising
• Any other professionals who wants to GENERATE MORE SALES AND LEADS, EXPAND THEIR SKILLSET by picking up USEFUL KNOWLEDGE of Google AdWords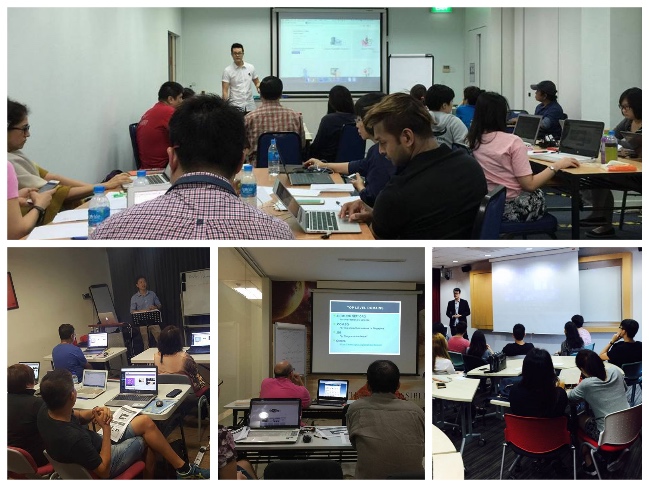 WHAT WILL BE TAUGHT IN THIS HANDS-ON GOOGLE ADWORDS COURSE?
1. Introduction to Google AdWords
2. Execution and Development of a Google Ad Campaign (Hands-On)
3. Managing the Ad Level (Hands-On)
4. Ads Optimization (Hands-On)
5. Advanced AdWords Techniques that Will Blow Your Competition Away
OVER $180 WORTH OF EXCLUSIVE BONUSES
Certification of Completion from STC Singapore
Templates, Mind Maps, Cheat Sheets worth $89.90
Access to discounted web hosting, marketing products worth up to more than $99
---
CERTIFICATION OF COMPLETION BY STC SINGAPORE
At the end of this course, you will also receive a Certificate of Completion by STC Singapore.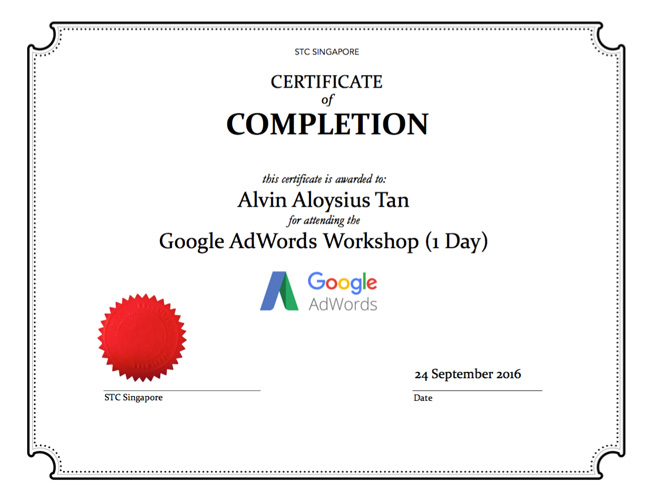 ---
Event Details :
One Day Training
Date: 28th July 2017
Time: 9am to 5pm
Venue :
Sunshine Plaza (Office Tower)
91 Bencoolen Street
#06-04
Singapore 189652
Facilitator: Rei Lim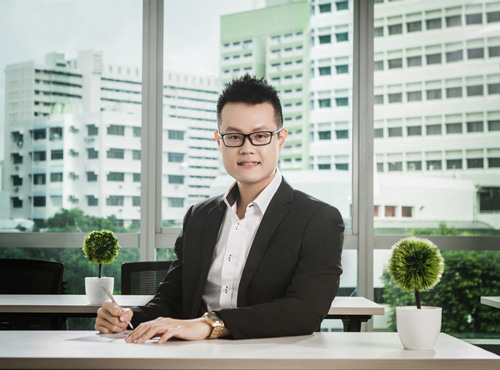 Certified Google Professional, Singapore WDA trained Facilitator, Marketing Advisor to the Arts. Rei has appeared on various platforms such as television, seminars, classes to over 1 million people.
With more than 300 Hours of experience in training adults, Rei is capable to make learning interactive, productive and help learners retain high amount of knowledge.
Known as a guerilla marketer, Rei is equipped with modern resources, tools and techniques that has helped businesses increase profit, leads and prospects by over 1000%!
Join this workshop to produce similar results NOW!
---


*This course is eligible for 40% PIC claim*
More About PIC Grant: https://goo.gl/4cFiJy
---
Important Notes:

You will need to bring a laptop to the class that is installed with the latest Google Chrome browser. Please bring your laptop power supply too!
Classes will be conducted in English.

Lunch is NOT provided. We will show you where the good stuff is and you can pick!

We reserve the right to change the venue to accomodate participants.
---
Google Advertising Course FAQs
1. Will this course cover basic tasks like Google AdWords setup?
Yes. This is a basic 101 course designed for beginners with minimum or no knowledge of Google Advertising.
2. Do I need to sign up for any software prior to the course?
No you don't have to sign up for any software prior to the start of the lesson. In the event that you need help on this, our instructors will be there to assist you on the day itself.
3. Will I be able to continue asking questions after the training?
Yes definitely, in fact, after the course, we have a channel for all our attendees to continue getting to interact among themselves easily and ask questions when help needed.
General FAQs
1. Where can I contact you with any questions?
You can contact us by e-mailing to info@successtraining.com.sg
2. What are my transport/parking options getting to the event? Will my venue change?
Depending on the number of sign-ups, we reserve the right to change our event venue. In such circumstances, we will provide at least 3 days advance notice by Email, SMS, and Phone.
3. Is my registration/ticket transferrable or refundable?
Yes, all tickets are transferrable. Ticket(s) are fully refundable if the request for refund is made at least 2 weeks before the start of the event.
4. Do I have to bring my printed ticket to the event?
You can print the ticket or show the ticket via your Mobile Phone.
5. Is there a minimum class size to proceed?
Yes. We require a minimum class size of 6 people to proceed. In the event that there is insufficient number of participants, we reserve the right to reschedule the class or provide a full refund.
P.S. If you are one of those who like to skip directly to the end, here is a summary :


This is a Hands-On Google AdWords Workshop. We will teach you all the fundamentals you need in order to DRIVE SALES and generate QUALIFIED LEADS!


Using the tools of Google Advertising from our "hands-on" training class, you will gain more confidence in producing Ads that will INCREASE your sales, leads and enquiries!
P.P.S This is our FINAL Workshop Series on Google AdWords for Beginners: Create Google Ads That Sell! This is your LAST OPPORTUNITY!