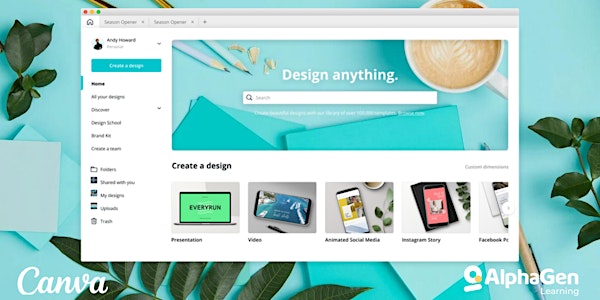 Graphic Design Ages 7 - 9
Draw inspiration from the world around you. Best suited for: Everyone! Watch your young learner blossom as they showcase their creativity!
About this event
Graphic Design
$225/camp
5 days • 90 minutes per day
Artistic expression has a great role to play in the development of your child's unique blueprint. In today's world, kids need to be confident presenters and communicators. Graphic design equips your child with the tools to share clear, concise, and memorable messages with peers and teachers. Canva is an intuitive yet powerful platform that equips users with an array of templates that they can customise to suit any requirement.

Graphic Design
Canva makes it easy to get projects underway, and allows young learners to tinker endlessly until they learn what
elements work best to achieve a desired look and feel.
A focus on STEAM (Science, Technology, Engineering, Arts, Math) helps develop hard and soft skills to solve problems. Artistic exploration helps expose students to the creative process and increase their critical thinking skills.
Core Learning
Boost your child's confidence in completing homework and school projects
Deepen understanding of visual design through hands-on trial and error
The possibilities are unlimited. Watch your young creator design posters, cards and more!
Add a unique dimension to projects using photo editing, filters, and a stunning range of special effects.
Prerequisites: This is a beginner level camp with no experience necessary.

System Requirements
A laptop or tablet with connected keyboard and mouse, webcam, and a good Wi-Fi connection.