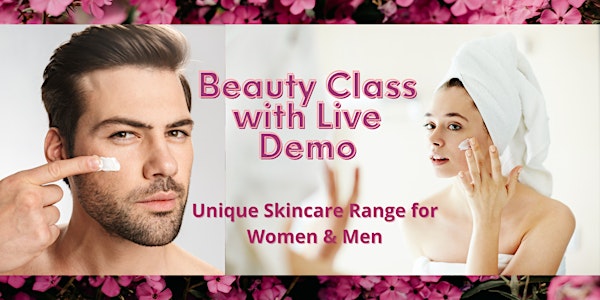 Growth Factors For Youthful Skin-No Chemicals,Cutting,No More Problem Skin!
Unique Skincare With Growth Factors (*online webinar)
When and where
Location
Singapore Singapore Singapore, 238828 Singapore
About this event
(NB: This is an online webinar)
Sensitive skin? Oily skin? Prone to breakouts? Dry skin? Combination skin? Acne?
Solve the problem at its roots - at the cellular level.
That's right. There is a unique and cutting-edge skincare range by a doctor who is a pioneer in stem cell technology formulation. It solves your skin problems at the cellular level. The skincare range uses self-healing technology whereby your stem cells are empowered to do what they do best, to heal themselves.
This is truly, beauty from the inside out.
Come to this virtual beauty class, ladies and gentlemen (yes! Men too as you have stem cells, right?) and learn what this range of cellular regeneration skincare can do for you. And see live how to use it effectively, to maximise the benefits for your skin.
* The webinar link will be sent to you after you have registered.
See you at the Beauty Class. 😃
.
.
.
#skincare #skincareroutine #skincareaddict #skincareproducts #skincareaman #skincareluxury #skincarejunkie #skincaretips #skincarelover #skincareobsessed #skincarehalal #skincarethailand #skincareregime #skincareproduct #skincarejakarta #skincaremalaysia #skincarereview #beauty #beauytroutine #effective #effectiveskincare #simpleskincare #allskintypes #skincondition #skinproblems #skinissues #skinhelp #youthessentialssg