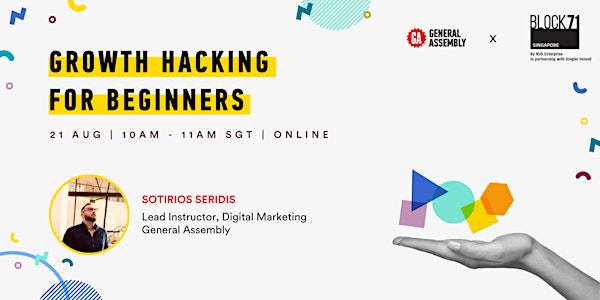 Growth Hacking for Beginners
A series of FREE learning sessions offered by BLOCK71 SG and GA to the community whereby everyone can learn and grow from each other!
About this event
Growth Hacking for Beginners
Sotirios Seridis, Lead Instructor, Digital Marketing
About this Event:
Originating in the start-up world, growth hacking is commonly thought of as marketing on a lean budget — but there's more to it. Growth hackers go beyond paid marketing, think outside the box and leverage technology to drive more personalized marketing, and constantly keep testing and measuring the success of their experiments. This makes growth hacking a combination of marketers, analysts, and developers.
In this workshop, you'll not only learn about growth hacking and the methods that come with it, but you'll also be able to start applying new strategies to significantly increase your customer base.
About the speaker:
Sotirios Seridis, Lead Instructor, Digital Marketing
Sotirios is a Growth Marketer, Digital Strategist, and Startup enthusiast with a solid track record across all core digital specialties: PPC, SEO, Media Planning, Data Analytics, and E-Commerce. He worked for 3 of the world's leading media agencies: HAVAS, MediaCom, and Ph.D. and a number of successful startups in 3 of the world's major regional hubs: London, Dubai, and Singapore. Along the way he managed countless digital campaigns and built 2 digital performance departments from the ground-up, working with a diverse portfolio of local and multi-national companies – including some of the world's biggest advertisers: Unilever, Volkswagen, and Etihad Airways. Moreover, he is a huge start-up enthusiast, helping promising startups to rise off the ground.
Sotirios is a life-long learner, holding an MSc in Strategic Marketing from Cardiff University (UK), a CAM in Digital Campaign Planning from the Chartered Institute of Marketing (UK), and a BSc in International Economic Relations and Development from Democritus University of Thrace (Greece).