Description
In Fundamental Analysis, there's 2 camps: Value and Growth Investing.
While the former looks at stocks trading below their intrinsic value, the latter focus more on the future potential of a company.
What if you can combine tenets of both growth investing and value investing to find Undervalued stocks with sustainable growth potential?
That's where great investors use the Growth At A Reasonable Price (GARP) Strategy.
This is the workshop which you will learn how to use the GARP strategy to become a better investor.
Our speaker and community member, James from SmallCapAsia will teach you:
What is GARP Investing

Who are the proponents of GARP approach

Characteristics of GARP stocks

1 Quick Way to value a GARP stock

How to Value-add with 2 Important Indicators

3 Case Studies using GARP strategy
During the sharing session, various case studies and Singapore-listed growth stock examples will be used.
There will also be a Q&A and mingling session so that members of the community may engage in open dialog and discussions in order to deepen their understanding of Growth investing.
Join James as he offers his take and style on investing to both novice and seasoned investors alike.
Mark your calendars for 28th February, Wednesday. Registration starts at 6.30pm.
Mingle and network with other fellow users after the seminar. Do bring along your notebook and pen to take down notes. There will be a short 15 mins presentation by CSGCIMB Singapore.
No refreshments provided. Limited seats only.
---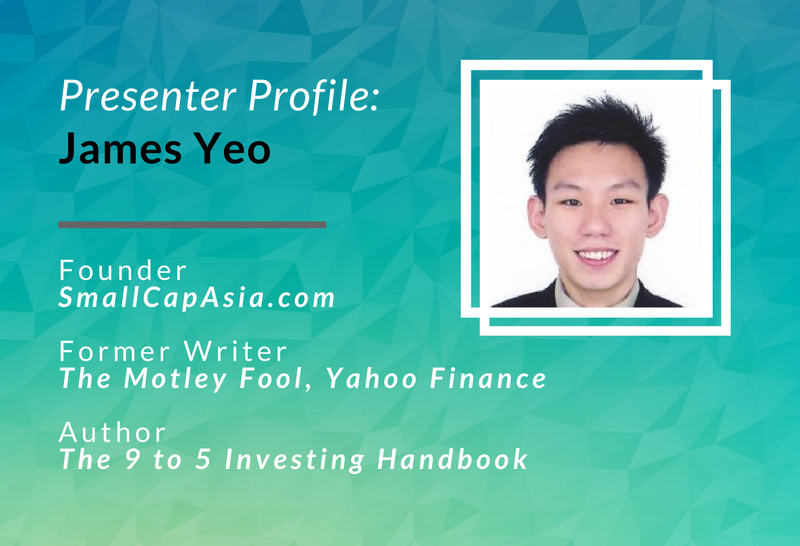 James is the founder of SmallCapAsia.com. He is an avid growth investor since 2007 and has chalked up more than 10 years of experience with a decent track record.
James started his investing journey since his army days and had made countless mistakes along the way. His turning point came when he joined the Motley Fool Singapore as a writer and joined a group of like-minded investors. It was also during that time where he learnt the great works of successful investors such as Warren Buffett, Peter Lynch, Sir John Templeton, and more.
In addition, James is also a former writer for the Yahoo Finance and The Motley Fool where he regularly talks about hidden gems with tremendous growth potential. Having chalked up more than 10 years of investing experience and a decent track record, he aims to provide the essential research, tools and analysis for you to build your net worth faster. One exemplary case is his latest book titled - "The 9 to 5 Investing Handbook" where it uncovers the secrets on how to pick winning reits and stocks.
Lastly, when he's not busy with analysing quarterly reports and working on his website, he can be found chilling out with his family in the malls but still always on a lookout for new investment opportunities.
He is also the provider behind the service Top Stocks Under $2.