Guest presentation by CapitaLand on the proposed acquisition of Ascendas-Si...
Description
CapitaLand Limited
CapitaLand Limited (CapitaLand) is one of Asia's largest real estate companies. Headquartered and listed in Singapore, it is an owner and manager of a global portfolio worth over S$100 billion as at 31 December 2018, comprising integrated developments, shopping malls, lodging, offices, homes, real estate investment trusts (REITs) and funds. CapitaLand's market capitalisation is approximately S$13 billion as at 31 December 2018. Present across more than 180 cities in over 30 countries, the Group focuses on Singapore and China as core markets, while it continues to expand in markets such as Vietnam, Europe and the U.S.
CapitaLand's competitive advantage is its significant asset base and extensive market network. Coupled with strong design, development and operational capabilities, the Group develops and manages high-quality real estate products and services. It also has one of the largest investment management businesses in Asia and a stable of five REITs listed in Singapore and Malaysia – CapitaLand Mall Trust, CapitaLand Commercial Trust, Ascott Residence Trust, CapitaLand Retail China Trust and CapitaLand Malaysia Mall Trust.
Broad Outline of Presentation
In this session, CapitaLand will be covering the following areas:
•CapitaLand's proposed acquisition of Ascendas-Singbridge
•CapitaLand's FY 2018 performance and strategy outlook for FY 2019
* Lunch will be provided
Distinguished Speaker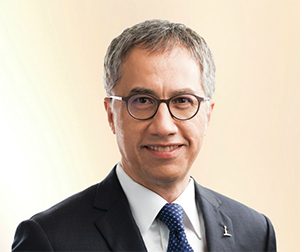 Mr Andrew Lim, Group Chief Financial Officer
Mr Andrew Lim is the Group Chief Financial Officer of CapitaLand Group. In his role, he has direct oversight of the functions of treasury, financial reporting and controls, risk management, tax, investor relations, compliance, and looks after the administrative matters of the internal audit department of CapitaLand. Mr Lim also has oversight responsibilities for the managers of CapitaLand's real estate investment trusts. He is a Director of CapitaLand Mall Trust Management Limited, a Director of CapitaLand Commercial Trust Management Limited, a Director of Ascott Residence Trust Management Limited, a Director of CapitaLand Retail China Trust Management Limited and a Director of CapitaLand Malaysia Mall REIT Management Sdn. Bhd.
Mr Lim is the President of the Real Estate Investment Trust Association of Singapore. He is a member of the Institute of Singapore Chartered Accounts' CFO Committee, a member of the Accounting Standards Council, and represents CapitaLand as a founding member of the first Accounting for Sustainability Circle of Practice in Asia. He is also a member of CNBC's Global CFO Council.


IMPORTANT NOTES FOR SEMINARS:
Please note that under the Singapore Personal Data Protection Act (PDPA) 2012, Phillip Securities Pte Ltd respects the privacy of all our customers and visitors, and are committed to safeguarding the personal information you provided to us. For event registrations, you will be requested to provide your personal particulars, which include but are not limited to the following:
a) Full Name
b) Contact details, including telephone number/s and/ or email address
Please note that Phillip Securities Pte Ltd will send out "Email Confirmation", Short Message Service (SMS), and event/seminar information via email to all registrants for all Phillip Securities Pte Ltd events. All personal data held by Phillip Securities Pte Ltd will be kept confidential, and will not be used and disclosed to third parties.
For further enquiries, please email us at hgtan@phillip.com.sg